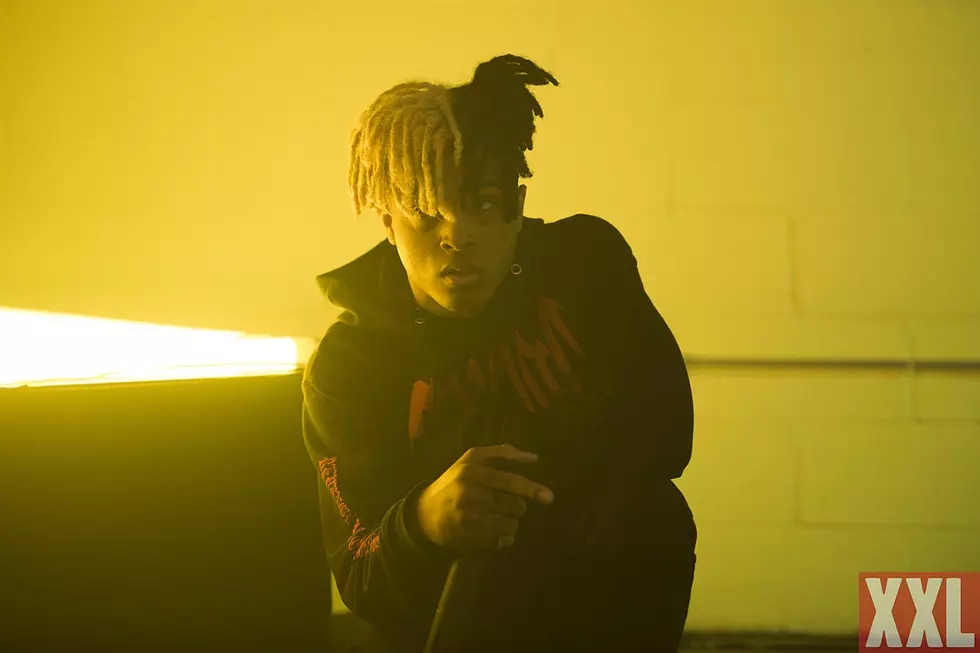 Watch Unreleased Outtakes From XXXTentacion's 2017 XXL Freshman Cypher
Lauren Gesswein for XXL
In the days that followed his death, X's fans have mourned the loss of the blossoming superstar as they clamored for newer bits and pieces of his artistry. Many of his loyal supporters even reached out to XXL and asked that the alternate version of his 2017 XXL Freshman cypher be released.
On April 24, 2017 in New York City, XXXTentacion took part in the photoshoot for the 2017 XXL Freshman cover, and during the course of the day, he chilled with many of his fellow 2017 XXL Freshman Class members—Kamaiyah, A Boogie Wit Da Hoodie, PnB Rock, Playboi Carti, Madeintyo, Aminé, Ugly God, Kap G and Kyle—and met many of them for the first time. Throughout the day, X also performed a freestyle, spoke on his come up in an interview and delivered a memorable cypher that featured himself, Playboi Carti, Madeintyo and Ugly God. While X's famously dark a cappella freestyle is the one that ultimately made the cut for the cypher, the rapper actually delivered a few others before he arrived at his final take.
Historically, XXL usually showcases one final version of an XXL Freshman cypher. Since his untimely death, X's fans have continually requested for the unveiling of any outtakes from his 2017 XXL Freshman cypher. With this in mind, to celebrate the legacy of XXXTentacion, XXL has decided to showcase previously unreleased outtakes from his cypher.
Despite the grim nature of his final cypher and the emotionally dark quality of most of his music, a quick scan through the cypher outtakes reveals a more playful XXXTentacion. Throughout the footage, you can hear bits of laughing from X and company as the rapper smiles and delivers some playful lyrics. At one point, he even mimics Playboi Carti's flow as the Atlanta rapper smiles in approval and Sonny Digital provides the beat.
Watch the outtakes from XXXTentacion's 2017 XXL Freshman cypher for yourself below.
See Outtake Photos of XXXTentacion at the 2017 XXL Freshman Shoot