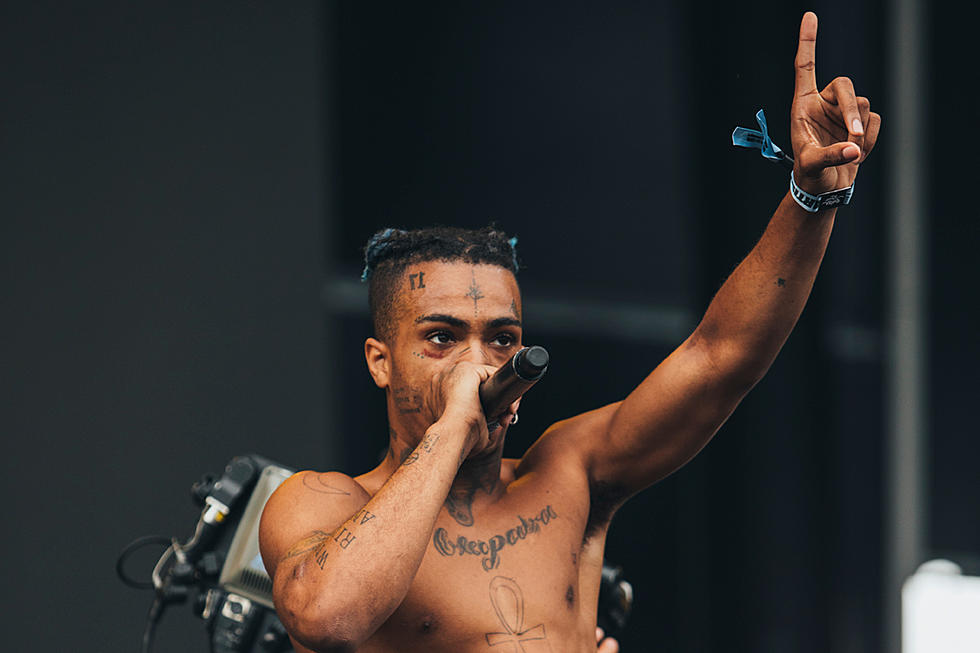 XXXTentacion Dead at 20 After Being Shot in Florida
@theinfamousjc
XXXTentacion was fatally shot in Deerfield Beach, Fla. on Monday (June 18). The rapper, born Jahseh Onfroy, was 20 years old.
According to TMZ, X was shot inside his vehicle while shopping for a motorcycle at Riva Motorsports. The Florida rapper was found slumped over in his car after a gunman approached him and opened fire.
Local authorities report that it's possible that the 17 rhymer was followed by as many as three vehicles after he withdrew money from a bank. Witnesses at the scene told police the suspects took a Louis Vuitton bag from XXXTentacion's car before fleeing. In audio of the dispatch call, police report the incident may have been a drive-by shooting, and the shooter allegedly fled in a black Dodge Journey.
XXX was transported to Broward Health North as a level 1 trauma patient, where he was listed as comatose. Level 1 trauma describes a patient without a pulse.
Shortly after he was taken to the hospital on Monday, XXXTentacion was pronounced dead by the Broward County Sheriff's office.
An official statement from XXXTentacion's team was sent to XXL on Tuesday (June 19). "On June 18, 2018, Jahseh Onfroy—known worldwide as XXXTentacion—tragically passed away from a gunshot wound in Deerfield, Florida," it reads. "It is with great sadness that the news is confirmed in this official statement by his team—manager Solomon Sobande, EMPIRE, Bob Celestin, Esq. and AKW PR. In deference to his family, friends, and loved ones and in light of further investigation, we ask that their privacy be respected at this time. XXXTentacion touched the lives of millions around the globe and will forever reside in the hearts of countless fans who listened to his music, attended his concerts, and felt the glow of his uncontainable, undeniable, and unique spirit."
"News about memorial services to be issued forthcoming," the statement concludes.
XXXTentacion's death follows a year in which the young artist experienced breakout commercial success that was frequently overshadowed by his alleged history of domestic violence. Onfroy was facing 15 felony charges, including counts of false imprisonment, aggravated battery of a pregnant woman and domestic battery by strangulation for incidents involving his ex-girlfriend in 2016.
The rapper spent time in jail and on house arrest while awaiting trial for the charges. Last summer, he appeared on the 2017 XXL Freshman Class cover and subsequently released his first two studio albums, 17 and ?. Both debuted strongly on the Billboard 200, with 17 reaching No. 2 and ? peaking in March at No. 1. In May, Spotify temporarily banned the rapper's songs from its in-house playlists due to a policy change intended to curb the promotion of artists with alleged histories of hateful conduct.
Born and raised in Broward County, Fla., XXXTentacion built an early audience on SoundCloud with a strain of lo-fi rap featuring distorted bass and guitar riffs, abrasive melodic vocal approaches and melodramatic lyrics derived from punk and emo. He was reported to be working on a new album titled Skins before his untimely death.
Those with any information are being encouraged to reach out to Broward Sheriff homicide detectives Walt Foster or John Curcio at (954) 321-4210, or an anonymous tip line at anonymously, at (954) 493-TIPS. Information from anonymous tips that lead to an arrest are eligible for an award of up to $3,000.
See Photos of XXXTentacion Performing at 2018 Rolling Loud