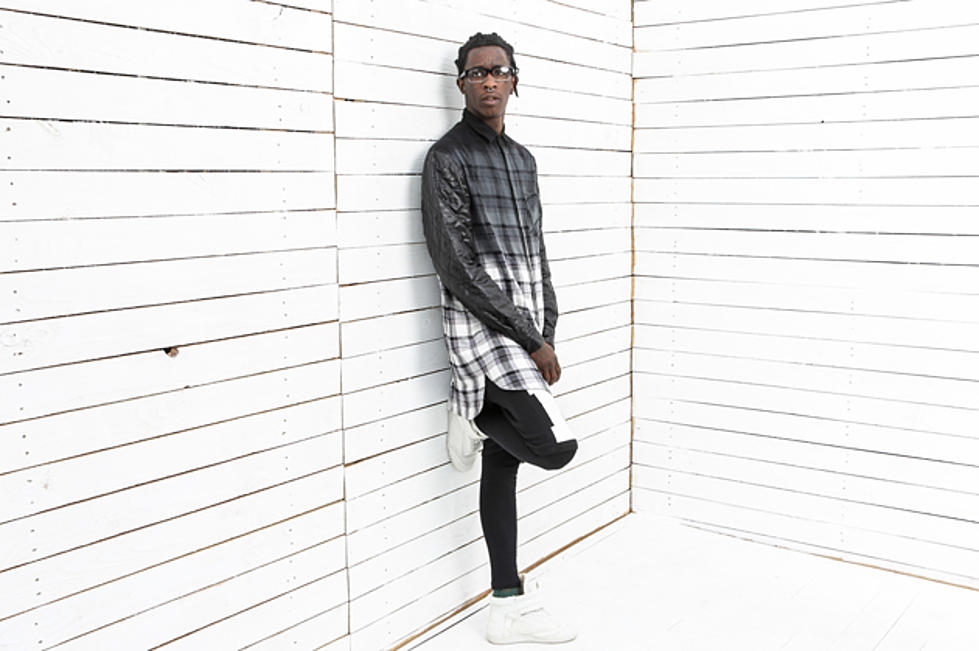 Young Thug Talks Drugs, New Collabs & Young Money/ Cash Money [EXCLUSIVE INTERVIEW]
Roger Kisby, Getty Images
Young Thug's story is a complicated one. The Atlanta rapper is no newcomer to the industry, having been at work in the studio long before the success of 'Stoner.' In fact when this writer suggested 2011 as his first year, Thug quickly responded in his signature murmur, "Nah, before that, when you noticed was probably in 2011."
Regardless, it's just now that the Atlanta native, born Jeffrey Williams, is beginning to see the results of his grind. Over the past 10 months, the aforementioned 'Stoner' track and most recently his 'Danny Glover' smash have both taken off leading every major label to hit Thugger's phone in hopes of snatching him from Gucci Mane's grip over at 1017 Brick Squad.
You see, as much as the Young Stoner Lifestyle leader would like to sign on to Young Money/Cash Money -- even outright claiming to have signed at the start of 2014 -- his contractual obligations lie with 1017 for now. In the meantime, this minor encroachment isn't keeping the rapper from knocking out copious amounts of work now that the world's watching. "I work way harder now 'cause back then no one noticed," he tells The Boombox with a shrug. "So I really had no reason to do it. I was just doing it. So now that people are noticing, I do way more."
Still, there's a difference in the rhymer's output, or else why would rap fans be noticing him more at this very moment? "I had the same voice then but I was really just kinda shy," he discloses. "But now you've gotta be on the level, you can't be shy. I don't know [what changed me]." Then, "I think, drugs. Drugs, drugs, drugs ... "
Listen to Young Thug and Metro Boomin's 'The Blanguage'
The rapper's signature ad libs, consisting of yelps mainly, are usually coupled with some bass-heavy production further contributing to the appeal. Then there's his penchant for collaborating. During our interview, the 22-year-old ran down the list of projects and songs to come later this year, including one with Chief Keef and another with Kanye West.
Young Thug's most recent project had him linking up with A1 signee Bloody Jay for the 'Black Portland' tape and he's also cited that there will be a mixtape with Rich Homie Quan coming sooner than later. With all of his collaborative efforts, the '1017 Thug' creator says there's a method to the madness. "If [my collaborations] ain't guys from Atlanta, they paid," he reveals. "I f--- with people from my hometown that was with me before all this."
"I ain't just collab-ing with anybody," he elaborates. "Because I don't care about making friends. I got enough friends. Way too many killers, way too many family members, so I don't care about anything else."
Thug doesn't seem to care really about too much -- he just sort of coasts through the infinite talk about who he is exactly. As if there isn't enough going on with his rumored signings, there's also the hearsay concerning Thugger's sexual preferences. From his wardrobe of eccentric pieces -- including one leopard-print tunic -- to his scandalous hashtags on Instagram. "Me and Stunna man ... lookin' like a million!!!! #KissinEachOtherLove!" he wrote. No one actually knows whether or not Young Thug is actually gay or simply applying a strategy to keep people talking.
When it was implied that the question of his sexuality was one that may be asked, his management responded with: "You're not gonna like the way he talks to you if your question is what I think it is."
Regardless of who the young rapper sleeps next to at night, one thing's for certain, he's only at the beginning of what is already appearing to be one fiery career. Young Thug is making major show money ("$15,000 a show, please," he quips with a grin) and working even harder than before with a thousand-plus songs waiting in his hard drive for the perfect moment.
Listen to Young Thug's 'Stoner'