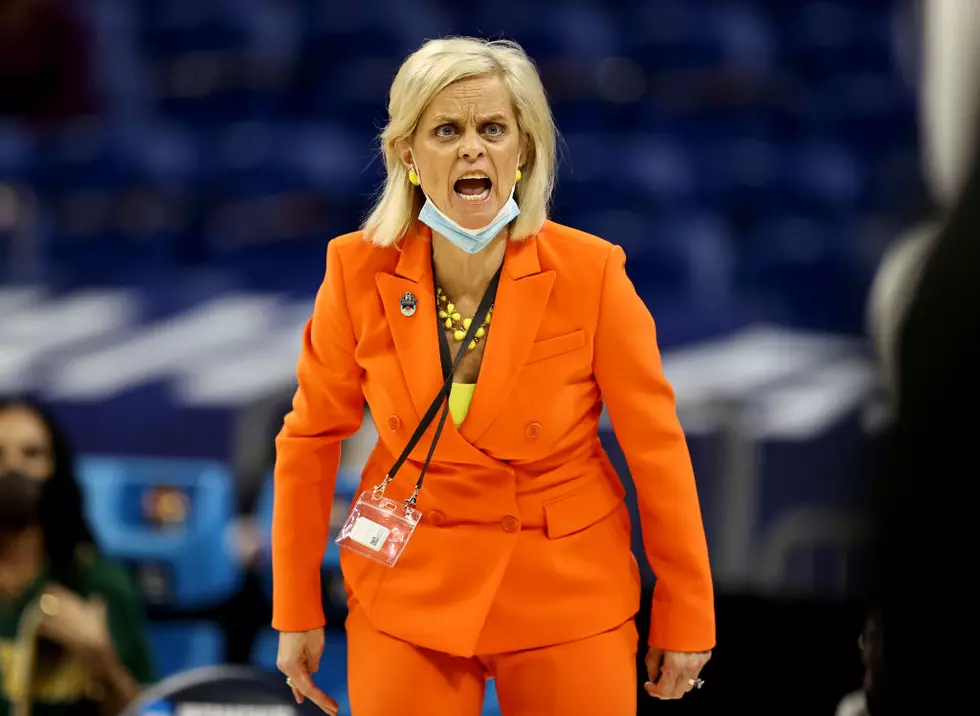 10 Things Most People Didn't Know About LSU Coach Kim Mulkey
Getty Images
We know a few things about the Tigers Head Coach Kim Mulkey. She's a sideline Fashionest for one! She always has a mean outfit on. Everyone knows about Kim Mulkey ie is one hell of a basketball coach! In 2021, she sent shockwaves across the world of women's college basketball when she left Baylor University to coach in her home state, Louisiana.
After 21 seasons as head coach at Baylor, where she had a massively successful career, she gave it all up to lead LSU's Women's Basketball program. Let's just say, that was a history-making decision. A couple of years later, on April 3, 2023, she would win LSU's first NCAA Basketball Championship in school history, men's or women's.
Turns out, Coach Mulkey has a long history in sports and winning. For example, her recent LSU title was her sixth championship as a player or coach and fourth as a head coach! Speaking of titles, Mulkey ranks number three among women's head coaches.
As she makes history with her new mega million-dollar deal at LSU, we figure you'd like to know more about her. So, here are 10 Things Most People Didn't Know About LSU Coach Kim Mulkey
1. A native of Tickfaw, LA. Kim Mulkey played baseball in the Dixie Youth Boys' Leagues in the 1970s.
2. She led Hammond High School to four consecutive state championships in girls' basketball in 1977-80. She went All-American point guard at Louisiana Tech and won two national championships.
3. She was an excellent student with a perfect 4.0 GPA, graduating high school as a valedictorian. She achieved high academic honors while attending Louisiana Tech.
4. Being an overachiever in athletics runs in the family! Coach Mulkey's son, Kramer Robertson, played shortstop for LSU, hitting .307 with eight home runs and 43 RBIs in 2017. He was drafted in the fourth round by the St. Louis Cardinals that same year and remains with the organization.
5. Kim Mulkey was the first person in NCAA women's basketball history to win a national championship as a player (1982 at Louisiana Tech), as an assistant coach (1988 at Louisiana Tech), and as a head coach (2005 at Baylor).
6. The basketball coach was an inductee into the College Sports Information Directors of America Academic Hall of Fame for her classroom achievements at Louisiana Tech.
7. Mulkey was inducted into the Women's Basketball Hall of Fame in 2000 and into the Naismith Memorial Basketball Hall of Fame in 2020.
8. After her time as assistant coach at Louisiana Tech, Mulkey left in 2000 to become the head coach for a Baylor program. The Bears had never made the tournament until Mulkey took over.
9. Mulkey is a three-time Olympic gold medalist and a silver medalist! The Tigers basketball coach represented the U.S. at the 1983 Pan American Games held in Caracas, Venezuela. That same year she won a silver medal while playing for the USA National team in the World Championships, held in Sao Paulo, Brazil. In the 1984 Los Angeles Olympic Games she scored a gold medal. Those same years she won a gold at the Jones Cup in Taipei.
10. Kim Mulkey did all this standing 5ft 4in!
30 famous people you might not know were college athletes
Stacker
dug deep to find 30 celebrities who were previously college athletes. There are musicians, politicians, actors, writers, and reality TV stars. For some, an athletic career was a real, promising possibility that ultimately faded away due to injury or an alternate calling. Others scrapped their way onto a team and simply played for fun and the love of the sport. Read on to find out if your favorite actor, singer, or politician once sported a university jersey.