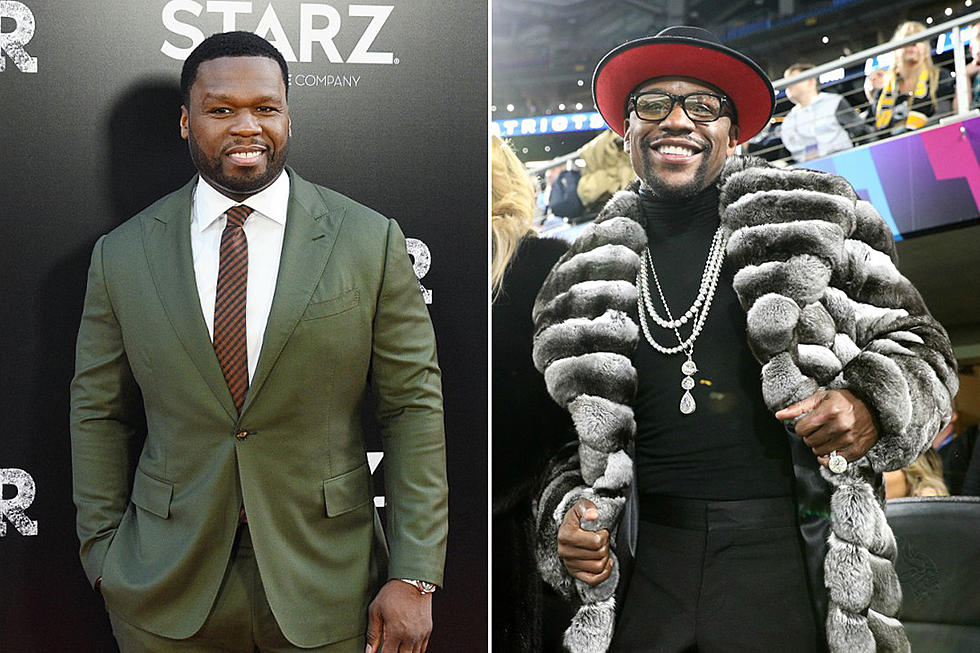 50 Cent Claps Back at Floyd Mayweather, Jokes Boxer Won't Be Able to Read Response
Nicholas Hunt / Patrick Smith, Getty Images (2)
The Queens rapper hopped on Instagram a few hours following the slight from the undefeated boxer with an underhanded compliment.
"Tell Floyd I said he won he is the greatest of all time," 50 captioned a photo of himself. "And nobody I mean nobody can ever take that away from him what he's done with his life is amazing. I'm done with all of the back and forth. Now Can Someone Please Read This To Champ. #POSTIVE VIBES."
It didn't take long before Floyd added more fuel to the fire. A couple hours later, he posted a graphic showing a decline of 50's albums sales since the release of his diamond-selling debut Get Rich or Die Tryin.'
"50cent 🐀 went from selling 15million to 200,000 😂 you talking about career been over," he captioned the post.
Frienemies 50 and Floyd have been going back and forth for years, but it is unclear what sparked this latest round of insults. Floyd kicked it off by posting a mini dissertation explaining why he thinks 50's career is over. Coincidentally, 50 performed in Mayweather's current residence of Las Vegas on Saturday night.
Check out Floyd's reply to 50's slight below.
See Hip-Hop Fans Name The Most Disrespectful Diss Track of All Time