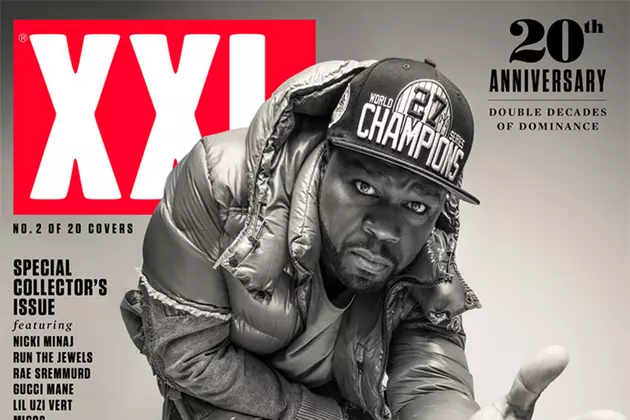 50 Cent Wants to Stay Out of Younger Artists' Way in XXL 20th Anniversary Interview
Travis Shinn for XXL
For most rappers, gracing the cover of XXL Magazine means an arrival on the music industry's main stage, or a return to it. For 50 Cent, who's appeared on 14 covers since the magazine launched back in 1997, it's more like heading back home.
Since first appearing on the magazine cover more than 14 years ago, the South Jamaica, Queens native, who's been shot nine times and embroiled in numerous beefs in his career, has gone on to become a living emblem of gangsta rap's perilous peak and the infinite financial opportunities presented by the genre.
In the winter of 2003, Fif shook up the world with his Get Rich or Die Tryin' album, a tour de force of hit-making and poignant storytelling from the streets of the Rotten Apple. The album moved 872,000 traditional copies in its first week of release and debuted at No. 1 on the Billboard 200 chart. That same year, he found himself on the cover of XXL with Dr. Dre and Eminem.
As the years passed, 50's accomplishments would continue to pile up, with landmark achievements like his even-bigger selling sophomore album, The Massacre, the launching of G-Unit and G-Unit clothing, his successful show Power and now, a new TV series on BET (50 Central) being added to his trophy collection. Usually, there have been accompanying XXL magazine covers, too, so no one was too surprised when Fif ended up being on a cover for our 20th birthday—and his 15th cover.
"When you do 20 covers of XXL Magazine, people may ask you, 'Is 50 Cent gonna be on the cover?'" 50 says in his Fall 2017 cover story, written by XXL Editor-in-Chief Vanessa Satten. "I've done so many covers for XXL over the years, but I've done so many covers for myself because XXL's been the platform that you needed to reach the actual audience through, you know?"
50 Cent is one of XXL's 20 special edition covers. Like 50, these artists have been documented by XXL through the extent of their careers and have always shown love to the brand that helped raise their profiles along with away. 50's fellow cover stars are Nicki Minaj, a queen in hip-hop building her own pinkprint in the game; Diddy, the man who not only reinvented the remix but paved the way for rap moguls; Wiz Khalifa, the cool, calm and collected superstar; Cam'ron, Harlem's swag connoisseur; Lil Uzi Vert, the face of hip-hop's new generation; Migos, three rappers who helped redefine the culture; Snoop Dogg, the Doggfather of the game; Pusha T, a success story as a group member, solo artist and record executive; Future, a trendsetting trap god; T.I., rap's gangsta and gentleman; Fabolous, a highly respected New York MC; Rae Sremmurd, the real crowd-pleasers; Birdman, a No. 1 stunna with a revered empire; Run The Jewels, partners in rhyme and reason; Yo Gotti, a testament to tenacity; Gucci Mane, the true comeback kid; Tech N9ne, an independent icon; E-40, hip-hop's in-the-know uncle; and The Lox, a trinity representing for the streets.
See All XXL Magazine 20th Anniversary Covers