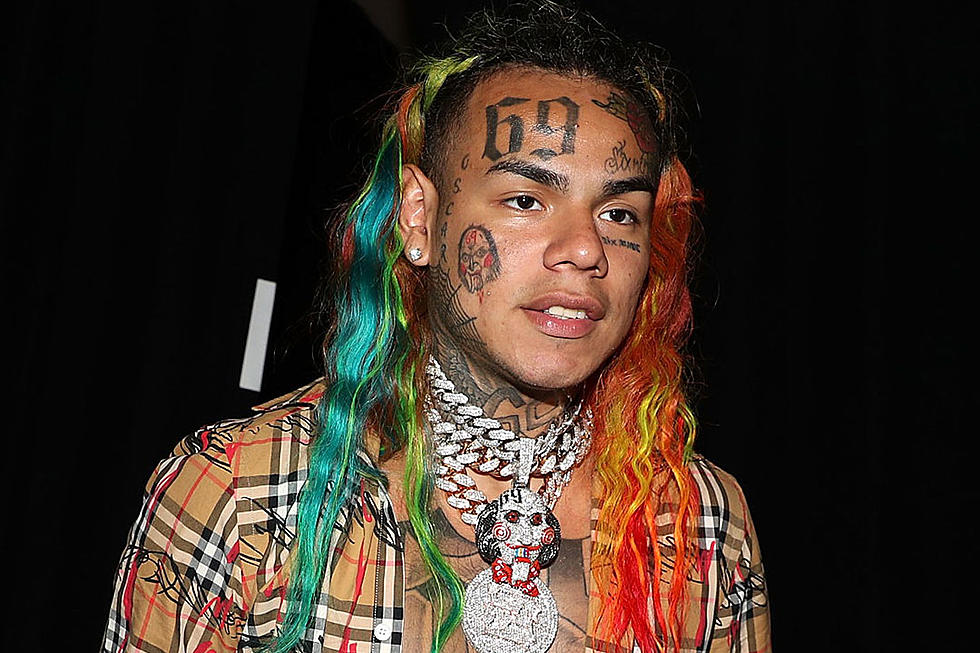 6ix9ine Associate Sentenced to 20 Years in Prison for Attempted Murder, Racketeering Charges: Report
Shareif Ziyadat, WireImage
One of 6ix9ine's co-defendants has reportedly just been handed a lengthy prison sentence.
According to Inner City Press reporter Matthew Russell Lee, Nine Trey Gangsta Bloods member Aaron "Bat" Young was sentenced to 20 years in prison during a Monday (Dec. 2) hearing at Manhattan's Thurgood Marshall United States Courthouse.
Young, whom prosecutors say tried to kill Shane "Snow Billy" Hardy in January of 2018,  reportedly apologized to his own family and the court before receiving his punishment. "I apologize to my daughter, 6-year-old, I made a bad decision, I would like to put this behind me," Young reportedly said.
Judge Paul Engelmayer took a few minutes to gather his thoughts before he announced his decision. Afterward, the judge reiterated the severity of Young's alleged crimes, which also include attempted murder and assault.
"Mr. Young, these are my thoughts. Under Sec 3553a, I am to consider just punishment. Your crime could scarcely be more serious," Judge Engelmayer reportedly told Young. "You shot a man named Snow. You believed you had killed him, telling [testifying witness Christian Cruz] you had bodied him."
The judge also admonished Young for being a member of the Nine Trey Gangsta Bloods and his involvement selling dangerous drugs. "I have to send a message to others to discourage them from committing similar crimes," said Judge Engelmayer.
On Nov. 15, Young's attorney, Aaron Mysliwiec, wrote a letter to Judge Engelmayer asking for leniency in sentencing his client. Mysliwiec stated that Young was born "extremely premature" and was addicted to crack cocaine after being exposed to it in utero.
Elsewhere in the letter, Mysliwiec argued that Young is less deserving of a serious sentence than 6ix9ine's other associates, Jamel "Mel Murda" Jones and the rapper's former manager Kifano "Shotti" Jordan. Jones was sentenced to more than 11 years in prison. Meanwhile, Shotti was given a 15-year prison sentence.
6ix9ine, who pleaded guilty to several federal charges back in January, is scheduled to be sentenced on Dec. 18. During his testimony against two Nine Trey Gangsta Bloods members, Tekashi said he expected to be released from prison in 2020.
You can read what went down in the courtroom from Inner City Press' report in tweets below.
See 22 Hip-Hop-Related Police Raids