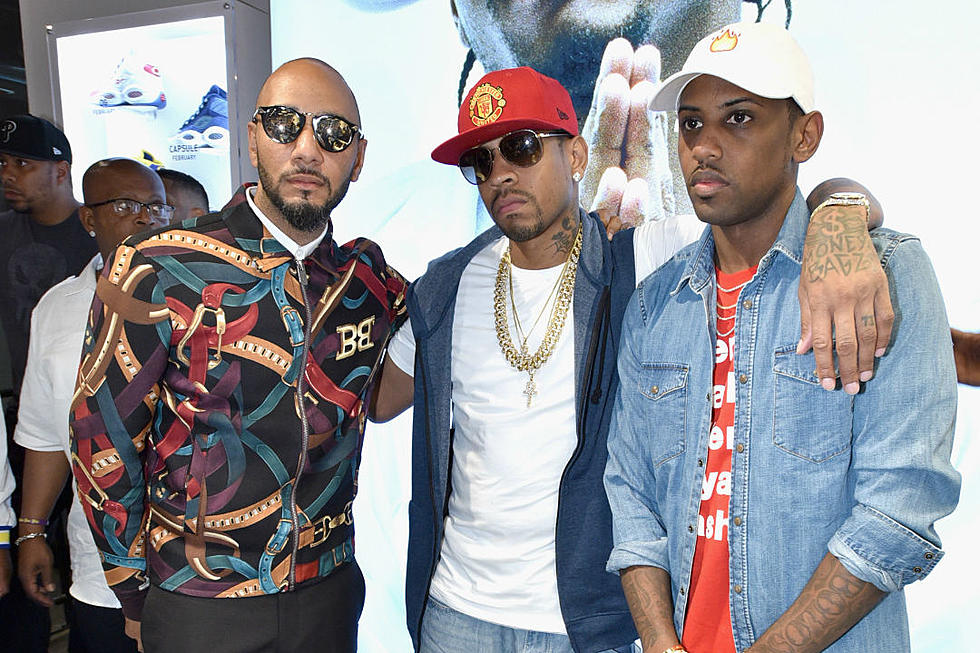 Allen Iverson Says His Career Has Been Inspired by Hip-Hop
Reebok
It's no secret hip-hop loves Allen Iverson and the sentiment was echoed last night (Sept. 15) as Reebok and Packer Shoes paid homage to the 11-time NBA All-Star player for his induction into the Naismith Memorial Basketball Hall of Fame. To celebrate the career milestone, an unveiling of the special edition Reebok Question Mid Curtain Call took place -- the signature sneaker A.I. wore on his feet during his glory days. Celebrating the 20th anniversary of the Question sneaker as well, the former Philadelphia 76ers star pulled up to Reebok's Union Square store in New York City to join the festivities.
Along with the unveiling of the new Reebok shoe, the American sportswear brand also previewed a photo book of A.I. Shot by famed photographer Gary Land, rare, memorable photos of The Answer were featured. To give attendees a taste of the book, the special Reebok Classic and Packer pop-up shop featured a gallery of iconic A.I. photography along the walls of the store.
Joined by family, friends, media and rappers like Fabolous and Swizz Beatz, an emotional Iverson spoke to the crowd about his recent induction to the NBA Hall of Fame as well as his relationship with the Reebok brand and his sneaker line. Afterwards, Iverson walked around the store to check out the photo gallery and get a better glimpse of the Packer Shoes and Reebok Question Mid Curtain Call collaboration.
XXL caught up with Allen Iverson and Reebok Vice President Todd Krinsky to discuss the basketball legend's impact on the game and his Hall of Fame induction.
XXL: Congrats on your induction into the Hall of Fame. I loved your speech especially the part when you thanked Biggie Smalls, Cam'ron, Fabolous, Redman and others. Why did you want to thank those hip-hop guys?
Allen Iverson: It was just important. It was important to me to acknowledge the people that inspired me. The people that I love. Those guys that I talked about, their everyday life inspired me as well, not just their music. Just their hustle and what they had to go through to become who they are. It was important to me.
You gave Jadakiss your top 5 rappers. What about your top 5 hip-hop albums?
AI: You knew you were giving me the hardest goddamn question ever and I should have all day to have to think about it. Obviously it's Big, Pac, Jadakiss, Redman, to me. Jay-Z. I love Nas, too. Man, I don't know.
You talked about being a sneakerhead. You remember back-to-school shopping? Do you have any memories of that?
AI: I always wanted a pair of Jordans or Air Force 1s.
How special was it for you and for the Reebok brand for Allen Iverson to give you a shout out during his Hall of Fame speech?
Todd Krinsky: It was cool because we've been on such a journey together. It was an emotional journey. I had my son with me and Allen knows my son very well. He's 15 now but he met him practically when he was born so the whole thing was really cool and a little bit surreal. I was really proud of him.
You and Iverson go way back, so how did he end up signing with Reebok and who sparked the idea of signing Iverson to the brand?
TK: Honestly, it was with Que Gaskins because I was working in product at the time and he was working in marketing and so Que was in the big house with all the marketers and he and I were basketball heads, so I brought him the product and he helped figure out the Question and he brought me into marketing because in the big board meeting they were like, "We don't really need Allen Iverson" and Que was like, "We're going to the boardroom today!"
I didn't know what a boardroom was at the time, so we went in there and literally it was this moment where a lot of people in Reebok felt like they needed another guy. They didn't really think it was a good idea. I think it was the conviction that we had that Paul Fireman saw the vision and he ended up saying, "Okay, we're going to do it!" For me and Que, there'll always be a connection between Iverson and us. It's special.
One of the most memorable sneaker commercials of all time is Allen's A5 commercial with Jadakiss. How did that pairing between Jada and A.I. come about and what do you remember from the shoot?
TK: That was A.I. because they wanted to pair him up with someone else. A.I. has a lot of friends in hip-hop, but A.I. and Jada have this special relationship. I don't know how it started but they are close and so I think when we wanted to do something in the hip-hop space that's who we wanted. You know there might've been bigger names at the time that agency was throwing around, but A.I. was not having it. Allen was guiding a lot of what we did back then so that was his relationship.
Why has Reebok been so connected to hip-hop throughout the years?
TK: I think when the industry was all about sports and the business motto was athlete sneaker, we were like, "Yo, maybe there's another way of doing it." We've always been a company to try stuff and be innovative. So at the time we were like if guys like Gary Payton and Charles Barkley can sell a shoe, why can't Jay Z? He's pushing culture more than these guys, right? So we tried it. People were skeptical. We tried with the Jay Z shoe and the first pair sold 10,000 units in Philly. It was a wrap from there we knew we had something. We also knew the other sports brands weren't going to be able to navigate it the way we did because we had the autonomy to do it.
See Photos Proving Hip-Hop Still Loves Allen Iverson