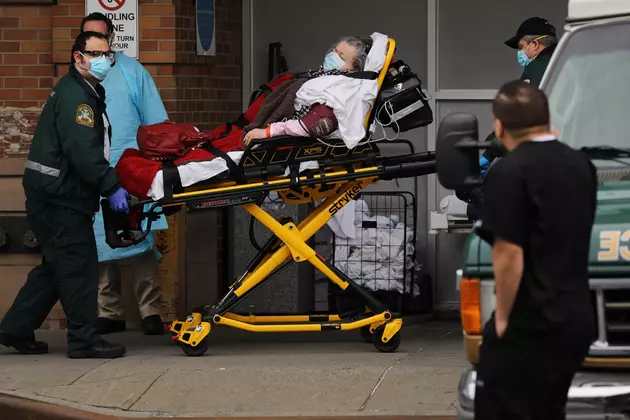 Are visitation restrictions to strict due to the uprising of COVID cases?
Getty Images
I was talking to one of my brothers back home earlier today. Since my mother passed away in January, my 3 remaining brothers and I have gotten much closer and talk often just to make sure that everyone is doing well. During my call today, my brother sounded a little down. While he is generally an optimistic guy and comes with cheerfulness often. I could hear in his voice that he was bothered by something that was weighing on him pretty heavy.
His wife who he's been with for over thirty years recently got sick during the Christmas holidays. It was a blow because not long after that our mother passed away. While I loved my mother deeply, I was away from home. This particular brother went to see her everyday and made sure that she had what she needed. Every since his wife got sick, he has been in and out of the hospital with her and by her side through it all. We recently with the uptick of COVID cases, they have started restricting even harsher it seems the people who visit them. He told me that he can go and see her, but he can't hug her or have any other connection with her other than speaking with her on the phone. Sure he can see her, but it is from a distance and I truly believe that now more than ever, she needs all of the love that she can get.
This is why my question is, are the restrictions a little too strict. I truly understand that not everyone is vaccinated, nor does everyone abide by keeping their distance or even wearing. However, when it comes to family we all want to be with our loved ones. Even during my mothers last few days, they only allowed one of us at a time in the room. Fortunately, I was able to visit with her and one of my other brothers was as well. Yet, 2 of my other brothers didn't get the chance too. Personally, I feel like they were robbed and that is something they will live with forever.
If we agree to wear mask, and keep them on during our visit. I feel like we should be able to be there with our loved ones. There are so many people who have been robbed of their last moments because of the denial of being able to see that special person. It's sad when the people we love the most in some cases have to spend their last moment surrounded by people they don't know. Will the medical facilities and even prisons consider this for the future? We have to do something because living with the pain of not being able to say goodbye is truly a traumatic event that no one wants to endure.
Celebs Share Their Personal Paranormal Stories