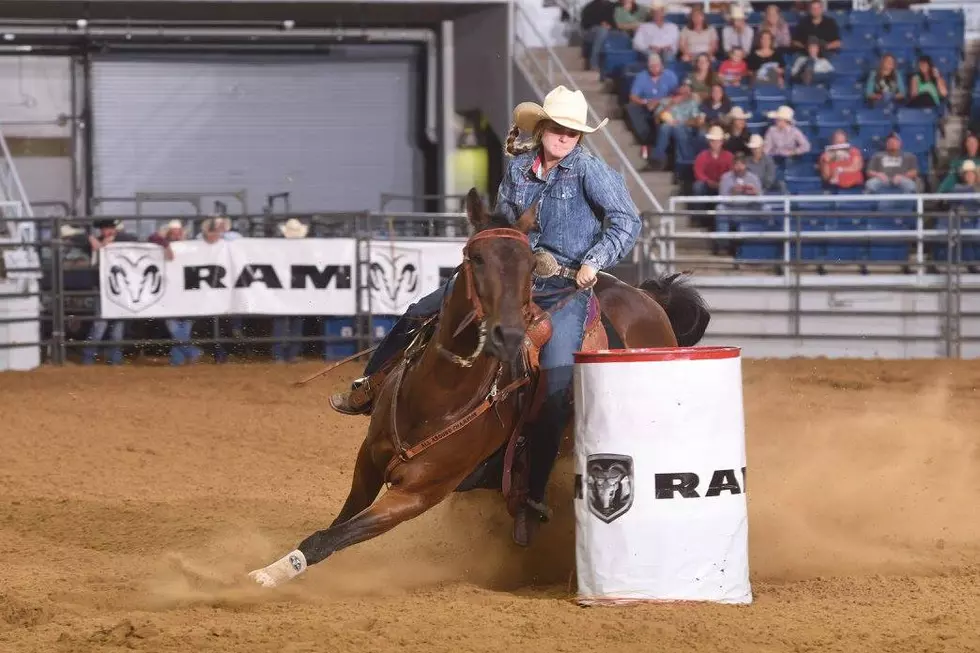 Athlete Of The Week: Kaylee Cormier From Iowa
Kaylee Cormier (Photo provided by Kasey Cormier)
This week's "Don's Automotive Group Athlete of the Week" is Miss Kaylee Cormier, from Iowa, Louisiana. She attends Iowa High School.
When reading all the things Kaylee does, she made me exhausted but impressed at the same time!  Here is just a small fraction of what this young lady has accomplished in the past few years.
Kaylee is a Senior at Iowa High school this year.  She is very active in many sports, which include her running cross country, playing varsity softball, and competing in High School Rodeo for Iowa High School.
What is really impressive is that she does all these extra curricular activities while still maintaining a 4.0 grade point average.
Oh, and if that isn't impressive enough, Cormier is also very active in 4H and National Honor Society.  She is also on the City of Iowa's Mayor Youth advisory council and the Calcasieu Parish Family & Youth youth advisory board. She also coaches local youth in horse riding lessons and rodeo events.
See what I'm saying?  She makes me tired!  Here are some of her accomplishments.
5 time Louisiana Little Britches All-Around Champion
2 time National High School Rodeo Qualifier (Goats)
3 time Louisiana High School State Finals qualifier (Barrels, Poles, Goats, Breakaway)
2015 LHSRA Reserve Champion Goat tier
2015 LHSRA Reserve Rookie All-Around Champion
2016 Louisiana State Goat tying Champion
2016 IFYR (International Finals Youth Rodeo) Champion Goat Tier
2017 Louisiana State Goat tying Champion
2017 Canadian Youth Elite Timed Event All around Champion
Have won over 10 All-Around champion saddles
Multiple event champions
Iowa High School Varsity Cross Country team for past 3 years
State qualifier for the past 2 years
Iowa High School Varsity Softball team – 4 years
All District 2nd team – Outfielder last year
Most Triples and Singles Award for I.H.S. Softball
Non Athletic accomplishments & other activities
2 time SW LA District Extemporaneous Speaking Champion
2 time Louisiana State 4H Horse Public Speaking Champion
2015 Louisiana State 4H General Public Speaking Champion
Started and maintains a parish-wide campaign to provide local vet/animal hospitals with blankets, newspapers, etc. for injured/sick animals
For past 6 years, has held rodeo clinics for local youth (barrels, poles, goat tying & horsemanship skills)
Calcasieu Parish Student of the Year – (8th grade)
4.0 GPA
Iowa High School Student Council – 3 years
Iowa High School National Honor Society President
Calcasieu Parish Youth Leadership Advisory Council – 4 years
City of Iowa Mayor's Youth Advisory Council – 3 years
Kaylee's mom told us, "I am blessed to be her mother. She really is amazing."
Next year, Miss Kaylee will go to McNeese State University where she will compete in College Rodeo.