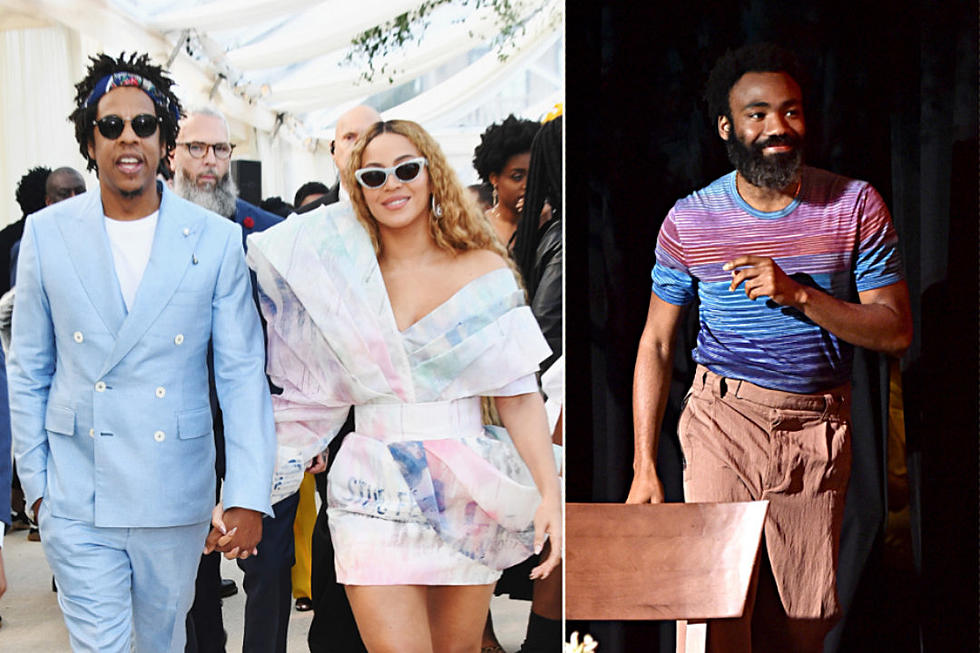 Beyonce "Mood 4 Eva" With Jay-Z and Childish Gambino: Listen to New Song
Kevin Mazur / Alberto E. Rodriguez, Getty Images (2)
On Friday (July 19), Beyoncé shared a quasi-soundtdrack for the upcoming remake of The Lion King titled The Lion King: The Gift, and the 27-title project features some hip-hop flair. One song, "Mood 4 Eva," has guest appearances from Jay-Z and Childish Gambino.
The new upbeat track is produced by DJ Khaled and Just Blaze. As the title infers, it captures the artists reveling about living their best lives 'til the casket drops.
"Forever, and ever-ever, and ever-ever (Yeah, yeah)/At the Saxon Madiba suite, like Mandela (Yeah, yeah)," Jigga rhymes. "Bumpin' Fela on the Puma jet, like we from Lagos (My daughter)/Mansa Musa reincarnated, we on our levels (He 'bout business)/That's a billi', a thousand milli'/First one to see a B out these housing buildings/I be feelin' like Prince in '84 (Ow)/Mike in '79, Biggie in '97, '94 Nas/Ali bomaye, no kumbaya."
Hov even uses a bar to reference his infamous awkward jet ski photo. "Helmet, on a jetski, you know the vibes," he raps.
Childish Gambino is on bridge duty. "All praise to/My enemies still praise/Get along/'Cause I've been all myself/I'm dancin'/Ancestors in my step/Now I move better, ooh/And I live on, on/I feel a change goin' on/Royalty in my blood, run the kingdom," he rhymes.
There is also a short selection on the album featuring Kendrick Lamar. Bey and Kenny reunite for the first time since 2016's "Freedom" on a brief cut titled "Nile."
Listen to "Mood 4 Eva" and "Nile" below.
See 65 Hip-Hop Albums Turning 20 in 2019