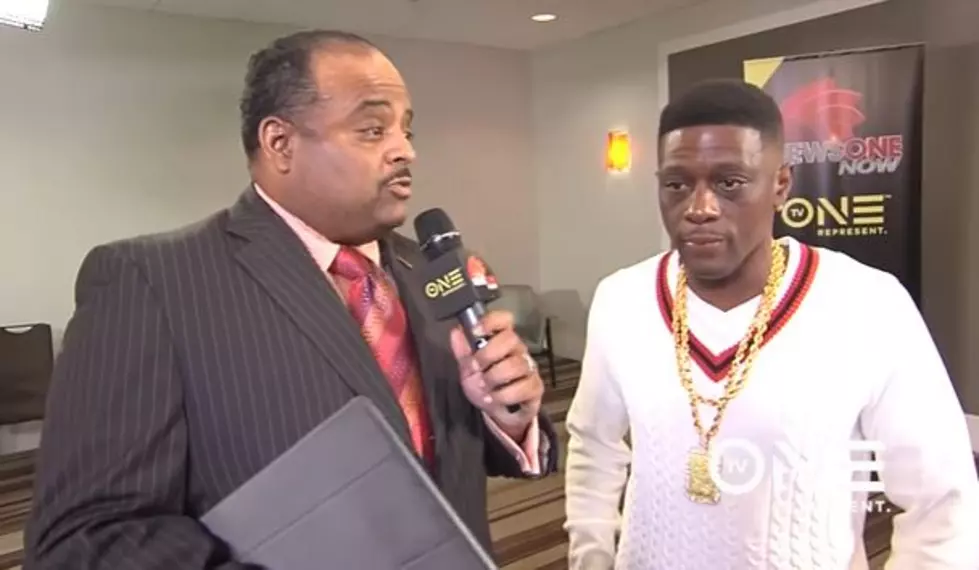 Biloxi Police Admit They Had Boosie's Jewelry, As The Rapper Takes Legal Action – Tha Wire
Roland Martin and Boosie BadAzz - YouTube
Today in Tha Wire, I'm with Boosie Badazz  this has got to be the craziest story ever.  In an update on the rapper's unfortunate experience in Biloxi, Ms. Tuesday (April 11, 2017.)  The star, reveals the Biloxi Police Dept. called him and admitted to having his jewelry!  Say what?!?!  As previously reported the rapper and his entourage encountered an angry mall security guard and the Edgewater Mall in Biloxi.  The guard reportedly followed and antagonized Boosie and his crew, hurling racist insults as he shouted at them to leave his mall.  I don't know exactly what caused the guard to react like that, because no one has made a statement on behalf of the guard or the mall yet.
It's not clear as to whether this happened before or after, but there was a disturbance in a between Boosie's niece (I think) and a store employee.  It appears in the video below, that the store employee accused her, and another female of shoplifting.  He grabs her and a male steps in and tells the employee, "that's a female, you can't just grab a woman like that."  The man and other female with Boosie's niece, were trying to explain to the man they didn't have anything.  Next thing you see is police officers putting the niece and other female in cuffs.
That entire day was insane!  Back on Boosie, his crew and the mall cop...The rapper said in his Instagram page, his people to remain calm when the security guard called them "boy" and that he wanted to just leave the mall at that point.  After cornering the rapper and his entourage in a Dillards store, the guard is seen on video shouting and spraying them with pepper spray as shocked customers looked on.  When Boosie and his crew left the mall, he states the guard continued to follow and spray them outside.
When they got into their vehicle and drove off, they were stopped immediately by Biloxi PD.  Five members(including a minor) in the rapper's entourage were arrested on a slew of charges from simple assault on a security officer, and assault on a police officer.   The stars van wound up being towed and impounded.  Somewhere during that madness, a bag containing $1 million in jewelry came up missing.  Boosie ask the Biloxi Police Department to return the jewelry, in which the police chief, a spokesman for the department and a city official all made separate statements reported there was no jewelry found.
Boosie then took to social media telling his millions of fans what happened to him at the mall, and put the Biloxi PD on blast for stealing his jewelry.  He also stated he was going to take immediate legal action, promising he would not let this go.  He kept true to his word too.  He made a few big market radio interviews, and did an interview with NewsOne Now's Roland Martin.  Low and behold right after his interview with Roland, the rapper got a call from the Biloxi PD, stating they found his jewelry.  WTF?  Peep the video below.
I am literally speechless!  We will see how this all pans out, trust we are going to be paying close attention.  Stay in the know and listen to Tha Wire every weekday on The People's Station 107 Jamz.