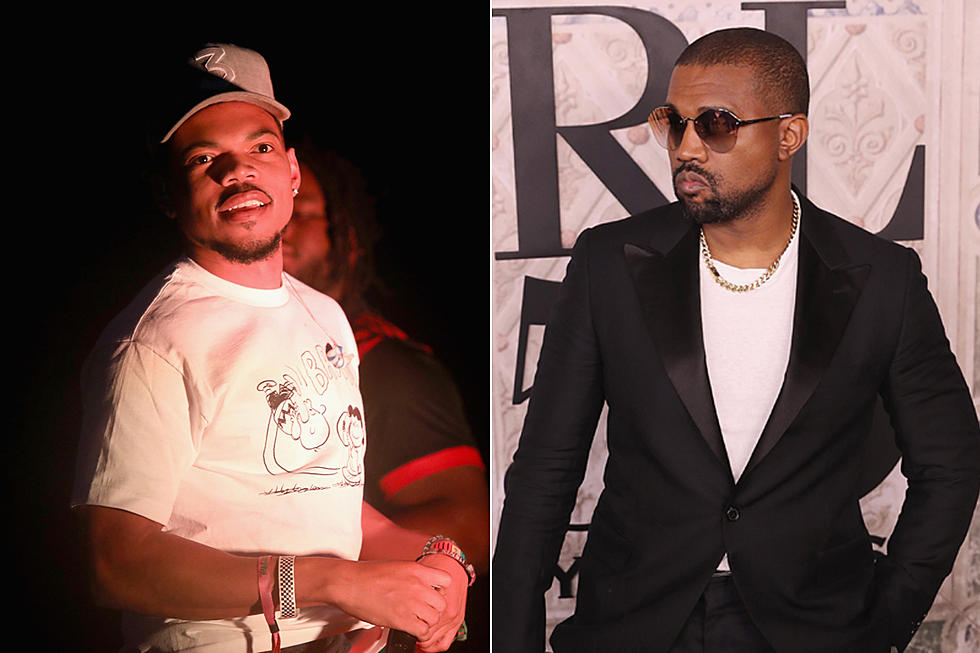 Chance The Rapper Fuels Rumors of 'Good Ass Job' Joint Album With Kanye West
Roger Kisby / Rob Kim, Getty Images (2)
It looks like Chance The Rapper and Kanye West could really be putting together their long-awaited joint album. The latest sign of this comes in the form of a simple Instagram post Chance uploaded yesterday (Sept. 16). For the upload, Chano posted an image of a pink background with the words "Good Ass Job" typed onto it.
Chance didn't provide a caption for the post, but he really didn't need to, because "Good Ass Job" is a phrase that's been linked to Chance's idol and fellow Chicagoan Kanye West from the outset of his career. It's also the name of the joint album Chance said he and Kanye were planning to work on a couple years back.
Speaking with Beats 1 Radio's Zane Lowe, Chano said, "The main thing [Chance and Kanye] want to connect on is this project called Good Ass Job."
Since Chance spoke on the project, which carries a title Kanye originally planned to use for the name of his fourth studio album, we haven't heard too much about the project. This past June, Chano spoke with Hot 97's Peter Rosenberg and revealed that 'Ye was all set to produce a seven-track album for Chano. A couple months later, in August, Kanye came to Chicago to work with Chance on his next album.
While none of the aforementioned bits of news about Kanye-Chance collabs deal directly with a joint album, it's clear the two have been in the studio a lot recently. Maybe some of the tracks they've cooked up will be for Good Ass Job. We'll see.
Peep Chano's somewhat cryptic IG post below.
See Photos of Kanye West's Different Looks Over the Years