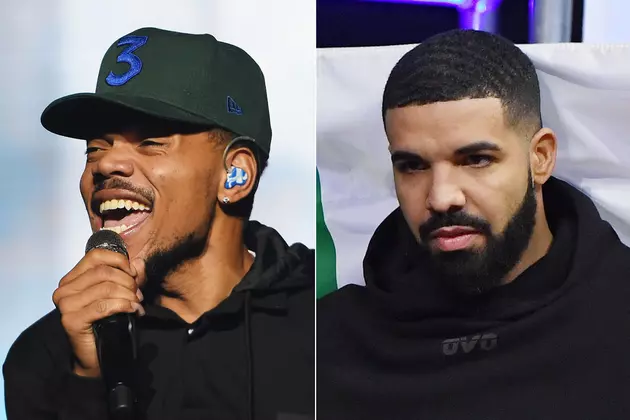 Chance The Rapper Shares Why He Didn't Respond to Drake's Callout on "Draft Day"
Nicholas Hunt / Ethan Miller, Getty Images (2)
Prior to the song, there wasn't a public beef going on between Drizzy and Chance. However, Chano did take a slight jab on his 2012 track "Family": "Sing all you want, just don't Drake on they ass." Perhaps that's why Drizzy decided to mention Chance on "Draft Day." "You should've followed all my move/You won't realize 'til after/And if I left this shit to chance/I would've picked a name like Chance The Rapper/Yeah, no offense 'cause I don't know that nigga," he raps.
During The Joe Budden Podcast, The Coloring Book artist asks Budden if he really wanted him to make a diss record against Drake. Chance explained that he saw artists take jabs at Drake in the past, which resulted in not one person caring. "I saw what it feels like to still be a good lyricist and rap at Drake, and nobody cares," said Chance. "'Cause you did it before."
Chance's last remark is in regards to the "Pump It Up" rapper going at Drizzy on diss tracks like "Making a Murderer," "Wake" and "Just Because." Budden even called the beef pointless at one point. The Chicago rhymer continued to explain himself by saying he is not into beefing. However, if the opportunity presents itself, Chance is well prepared. "I also am very good at finding what niggas are insecure about," he said, defending that he is up for the challenge.
In other Chance-related news, the MC recently donated $1 million to those who are seeking mental health resources. At the second annual Social Works Summit last week, Chance spoke to Chicago citizens and viewers worldwide through Periscope. He described his plans for the origination and why he wanted to help out with this important issue.
"We need a new space where people can get information on how they feel, on where to go and a network for us to interact and review our mental health spaces, and create a community of people helping people," he stated. "So I'm proud to announce that I'm pledging one million dollars towards mental health services in Chicago."
Take a look at Chance The Rapper explaining why he never went back and forth with Drake below.
See Photos of Chance The Rapper's Different Looks Over the Years