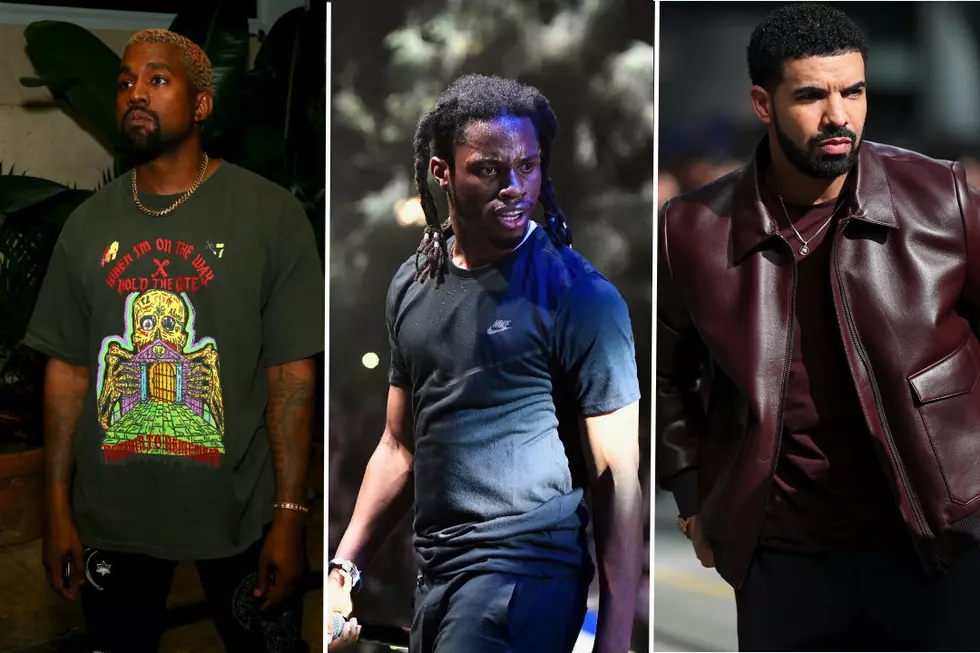 Denzel Curry Sounds Off on Kanye West and Drake Beef
Astrid Stawiarz / Frazer Harrison / Joe Scarnici, Getty Images
"FUCK THAT KANYE DRAKE BEEF SHIT LETS BE ON THE WAVE OF POSITIVITY," Denzel tweeted. "LESSON OF THE DAY DONT SPEND YOUR ENERGY ON POINTLESS SITUATIONS THAT WILL STRAY YOU OFF YOUR GOALS - PROFESSOR ZXLTRXN."
When actor Drake Bell, known for the popular Nickelodeon series Drake & Josh, chimed in on the beef as well by jokingly apologizing to Kanye, Denzel retweeted the post with laughing emojis.
Though the Florida rapper is looking to keep things positive and light-hearted, the beef seems to be much more serious. Earlier today (Dec. 14,) Kim Kardashian-West went on Twitter to issue a warning shot to Drake, telling him not to threaten her family. According to her husband, Drake has not only been sending threats but has been reaching out to the Kardashian matriarch, Kris Jenner, and it's not sitting well with anyone involved.
Though he took some time to comment on the feud that's captivating the internet today, Denzel Curry has been quite busy as of late. Earlier this week, he revealed via Twitter that he'd be shifting gears in his musical style to craft a dubstep album, as well as a collaborative project with legendary country singer, Willie Nelson.
2019 should be a good year for ZXLTRXN.
See Denzel Curry's Tweets on Kanye West and Drake's Beef