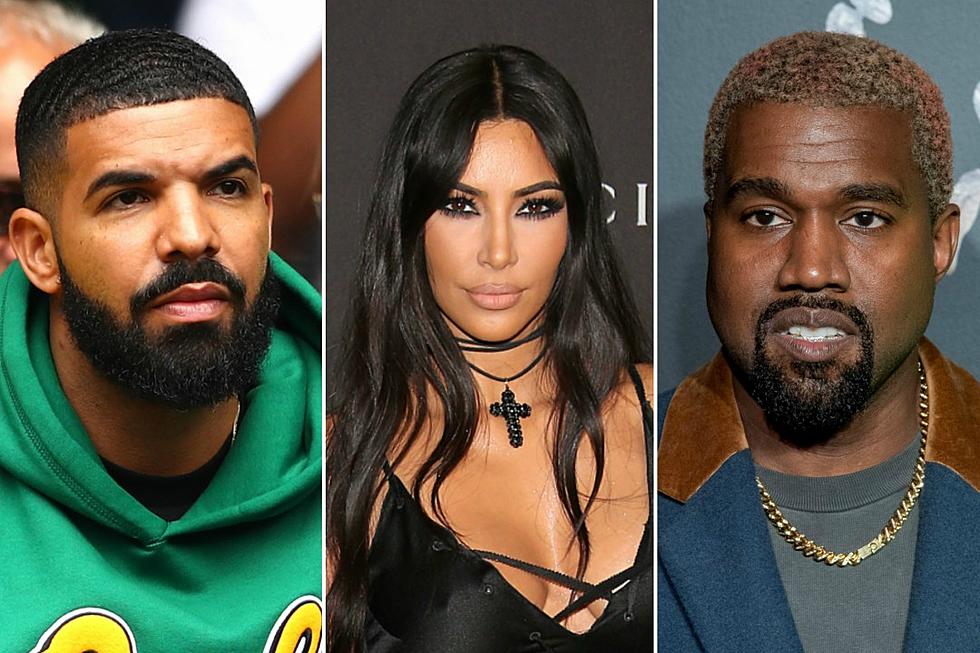 Kim Kardashian Tells Drake Not to Threaten Kanye West or Her Family
Michael Steele / Jesse Grant / Roy Rochlin , Getty Images (3)
In the early hours of the morning (Dec. 14), 'Ye's bae went off on her own Twitter tangent aimed at Drizzy shortly after the "One Minute" rapper dragged the Scorpion MC in a series of Twitter rants. Unlike her husband's tirade, Kim kept it short and sweet.
"@drake Never threaten my husband or our family," Kim tweeted. "He paved the way for there to be a Drake."
Clearly, Kim isn't happy that the "In My Feelings" rapper is not only texting her mother but also allegedly threatening her husband and family. Prior to her warning shot, Kanye alleged that Drake had called him and threatened him after submitting a clearance request for "Say What's Real," which is a Drake song that uses Kanye's "Say You Will" instrumental. After West got pissed and went off on his extensive Twitter rant aimed at Drake, Kim ensured her 59 million followers that Kanye will come out victorious regardless of the drama.
"My husband is the most brilliant person, the most genius person that I know," she added. "He has broken so many boundaries, everything from music, stage design, fashion and culture and will continue to change the world."
While Kim fires shots at Drake, 'Ye still seems upset at his Travis Scott. In another Twitter rant, the G.O.O.D Music founder vented his frustrations about Drake's sneak-dissing in Scott's "Sicko Mode," and believes the Astroworld rapper let it happen. After trashing the song, Kanye said he likes the chart-topping banger but refuses to let the disrespect go.
"I actually like sickomode but I don't like that that is was sneak disses," Kanye said. "If I wasn't here all artist would do memorial songs. I need that love and respect that we didn't give Michael while I'm alive. No artist should ever diss me for clout Period. Broke down doors for sneakers fashion music everything. I'm a man about my family and integrity. I've made mistakes and have karma. No man is perfect. The universe will test us. All positive vibes. All love."
Check out Kim Kardashian's tweets aimed towards Drake below.
See Photos of Kanye West's Different Looks Over the Years