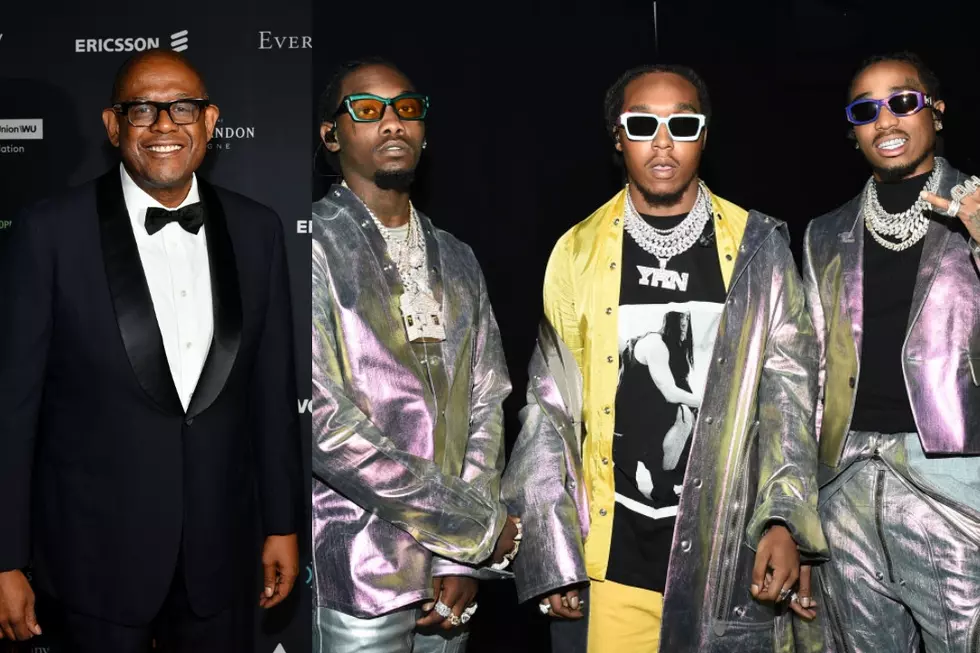 Actor Forest Whitaker Thinks Migos' Song Named After Him Is Brilliant
Slaven Vlasic / Ilya S. Savenok, Getty Images (2)
During a Tuesday (Nov. 5) interview with MSNBC's Ari Melber, Whitaker was asked if he had ever heard the song "Forest Whitaker" by Migos. He responds by letting Melber know he's a fan of the track.
"I listened to it and it's really pretty brilliant," reveals Whitaker, who says his daughter brought the song to his attention. "The way they took all these different films and things I've done and put them together in this amazing song. It was quite surprising actually."
On the song, Migos give plenty of shine to the 58-year old's multi-decade acting career. For his part, Quavo references Whitaker's roles in The Bulter, Panic Room and The Last King of Scotland in his verse.
"2 million on the mansion, got a butler in it,And the nigga name is Cecil/I'm the last king on the North/So I gotta look out for my people/Mansion got a panic room in it," Quavo raps on the song, which appears on the group's 2015 project, Back to the Bando. For good measure, the group also refers to Whitaker in the hook for the song.
Elsewhere in his interview with Melber, which was the focus of this episode of MSNBC's The Beat With Ari Melber, Whitaker also talked about his role in Godfather of Harlem, which is Epix's new series following a notorious crime boss. Whitaker made sure to thank Swizz Beatz for his contribution to the series, praising him for the talented artists he brought on while serving as the executive producer.
Check out the interview clip below, Forest Whitaker's comments about the Migos song starts at the three-minute mark.
See 20 of Your Favorite Rappers Naming Their Favorite Rappers