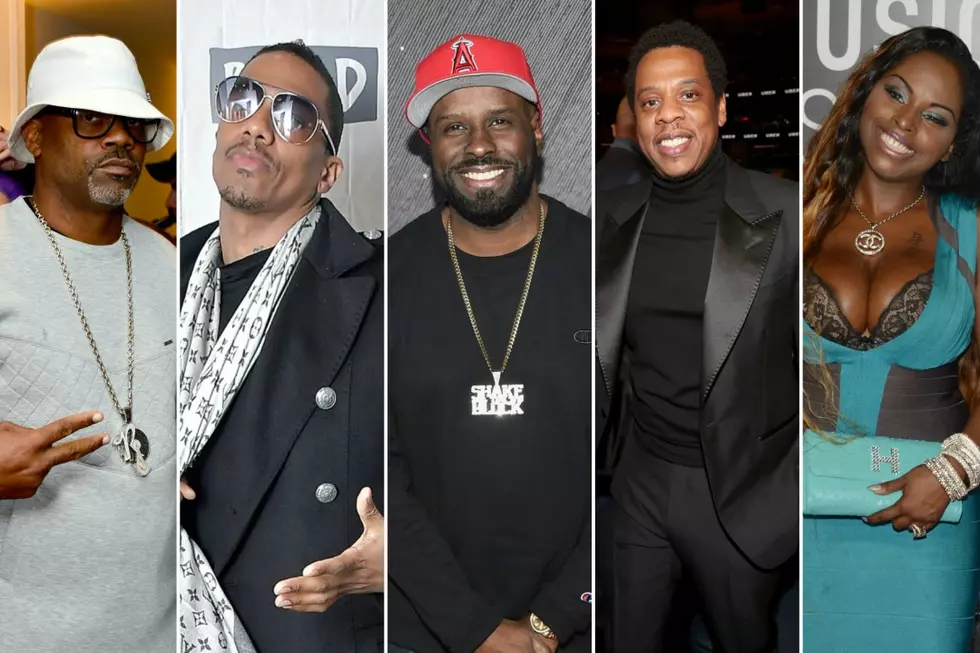 Funkmaster Flex Calls Dame Dash, Nick Cannon Disgraces for Talking About Jay-Z and Foxy Brown
Jerod Harris / Michael Loccisano / Bryan Bedder / Christopher Polk / Jamie McCarthy , Getty Images (5)
On Thursday (Jan. 10), Funk Flex hit up the "Get The Strap" rapper's comment section for his Dame-post and labeled both Dash and Cannon as "disgraces" from his era. He called them disgraces for having the conversation regarding rumors about Hov and The Firm rapper. He also says the Wild N' Out show host is "always commenting on a man chick."
"@50Cent 2 grown men giggling like bitches concerned about Jayz penis and who he touching! @duskopoppington x @nickcannon (Nick always commenting on a man chick.. but can't keep his chick! Dame intern/wife took all his shit! Y'all 2 are a Fucking disgrace from my era!!! FOH," Funk Flex said.
Cannon didn't take long to respond. Instead of returning fire, he shot back with an offer to talk it out and to have his boss call him.
"Ha!!! That's what you got out of that Big Homey??? Interesting! I was taught Solid recognize Solid and suckas recognize suckas... Let's talk about it! Let's Go bigger little fella!! Tell your boss to call me #MediaMogul," Cannon told Flex.
Flex decided to keep the conversation within 50's Instagram comments. The Hot 97 DJ continues by asking Cannon what Jay-Z's personal life had to do their conversation at hand. He also said that Foxy was smart because she always wanted to get ahead, and get into his Tunnel parties, so she "always lied about her age." He also insinuates that Dame had swiped Aaliyah from Hov back in the day, which is what really led to the demise of Roc-A-Fella Records.
Before the conversation on Cannon's Class, Dame and Flex had already fired viral shots at each other after the DJ defended YouTube Music executive Lyor Cohen. Flex also called Dame a liar and bashed his views on culture vulture philosophy.
Check out what went down in the comment section between Funkmaster Flex, Nick Cannon and Dame Dash below.