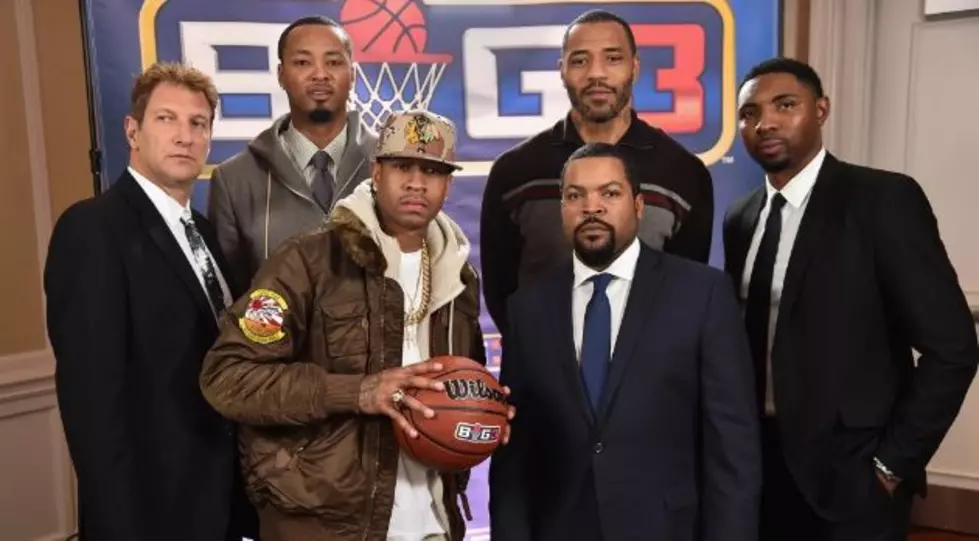 Ice Cube's BIG3 Pro League Summer Schedule And Rules Released – Tha Wire
Ice Cube BIG3 - michael Loccisano via Getty Images
Today in Tha Wire the stage is set for Ice Cube's professional 3 on 3 basketball league, BIG3. The new league's rules and full summer, 10-week schedule was released yesterday.  For more details click here.  Meanwhile more was revealed about what big names have signed on to play, as well as the coaches.  As previously reported Cubes new pro league is stacked with the who's, who of your favorite retired NBA players.
Each team will have five players (three starters, two subs), four games will be played every week and each in a new city, leading up to the championship game on August 12th. The first game of the season will jump-off June 24. So far those scheduled to play in BIG3's first season are as follows: Latrell Sprewell, Kenny Anderson, Smush Parker, Jamario Moon, Mahmoud Abdul-Rauf, Etan Thomas, Earl Boykins, J.R. Rider, Ruben Patterson, and Brian Cook.
Team captains include: Allen Iverson (player/coach), Ricky Davis, Stephen Jackson, Chauncey Billups, Jermaine O'Neal, Kenyon Martin, Mike Bibby, Jason Williams, Rashard Lewis, Bonzi Wells, Al Harrington, and Corey Maggette.
Coaches are: Clyde Drexler, Rick Barry, George Gervin, Gary Payton, and Rick Mahorn.
Some of the rules are as follows: The first team to score 60 points wins, halftime takes place once a team gets 30. A team must win by 4, there's no foul outs, rebounds must be shot behind the 3-point line, and there will be "4-point circles" on the court.
Can't wait to see the games and wish Cubes new league nothing but success.  Also real quickly, Mariah Carey is set to perform her new single, "I Don't," featuring YG.  This will be the first time she's performed live since the New Year's debacle.  I'm sure she'll nail it though.
Catch MiMi tonight on Jimmy Kimmel LIVE, check your local listings for the time. Meanwhile she uploaded the post and pic below on her Instagram page to announce tonight's performance.