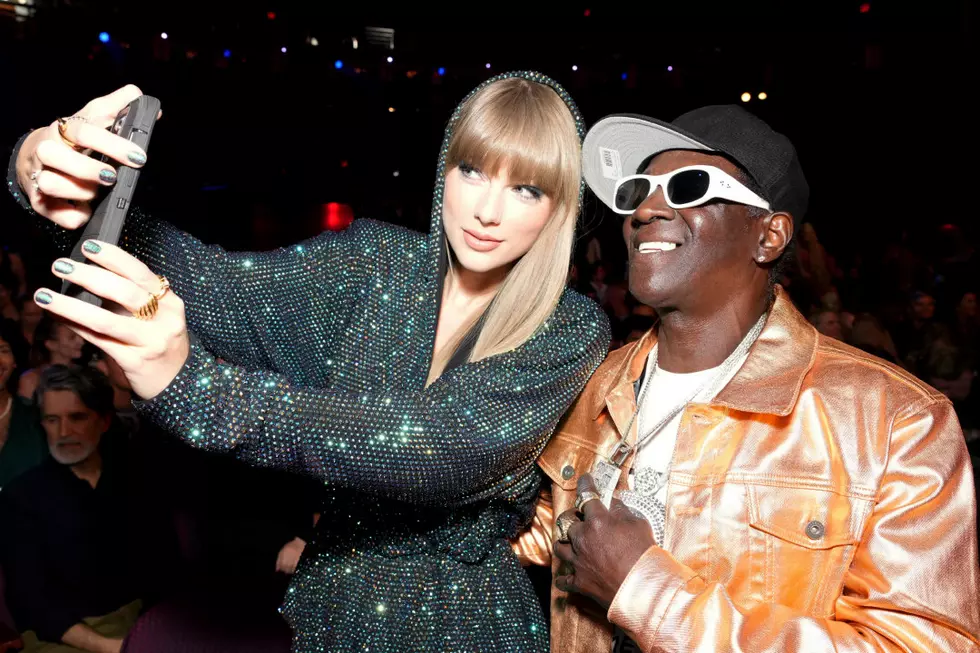 Flavor Flav Finally Gets His Wish to Meet Taylor Swift, Takes Selfie With Her
Kevin Mazur/Getty Images
Flavor Flav is a big Taylor Swift fan and the Public Enemy rapper finally fulfilled his wish to meet the pop star.
On Monday (March 27), Flavor Flav attended the 2023 iHeartRadio Music Awards at Dolby Theatre in Los Angeles, Calif., where he made it clear on multiple occasions that one of his objectives was to finally meet Taylor at the event.
"I love me some Taylor Swift, man. Always did, you know what I'm saying. Word up," Flavor Flav told one Billboard reporter on the red carpet for the event while wearing a shirt that read "I come back harder than a '90s trend," a lyric from Taylor's song "Willow." "Yo, check this out. I heard Taylor Swift keeps her clock on 12. Just like mines. And the reason I keep my clock on 12, is because 12 o'clock points straight up. Everyday, I'm straight up with you."
In a second red carpet interview, Flav doubled down on his excitement to meet Taylor.
"I always loved Taylor Swift's music. I'm here to support her. I'm here to support my girl," Flav added. "I got 'good blood,'" he continued, referencing the Taylor track "Bad Blood." "I ain't got no bad blood, today. I got the good blood, you know what I'm saying. Word up. On the strength. But I want to meet her, too, one day...I hope to meet her. I just want to shake her hand. I just want to shake her hand, take a picture with her. Let her know I'm from Long Island just like you. I love all of her music, man."
Flav got his chance to meet Taylor at the event. Inside the award show, Flav ran into Taylor and the duo took a selfie.
"FLAVOR FLAV::: I come back stronger than a 90s trend," Flav captioned the photo on Instagram, which shows him grinning from ear-to-ear with Taylor Swift at his side.
Twitter users have been weighing in on the revelation that Flavor Flav is a Swiftie.
"I didn't have Flavor Flav being a swiftie, wearing a Taylor Swift lyric inspired shirt to the iHeartRadio Award, and getting a picture with her on my 2023 bingo card," one Twitter user posted.
"Flavor flav fangirling over taylor swift at the i heart radio music awards, wearing a shirt with lyrics from willow, and having his clock necklace set to midnight is just …. everything," another person posted. "And i am happy he got to meet her. if one of us got to, im glad it was him."
Taylor Swift took home multiple trophies at the award show including Song of the Year, Best Lyrics, TikTok Bop of the Year and Favorite Use of a Sample.
See More Reactions to Flavor Flav Being a Swiftie Below
See 20 of the Best-Selling Hip-Hop Albums of All Time