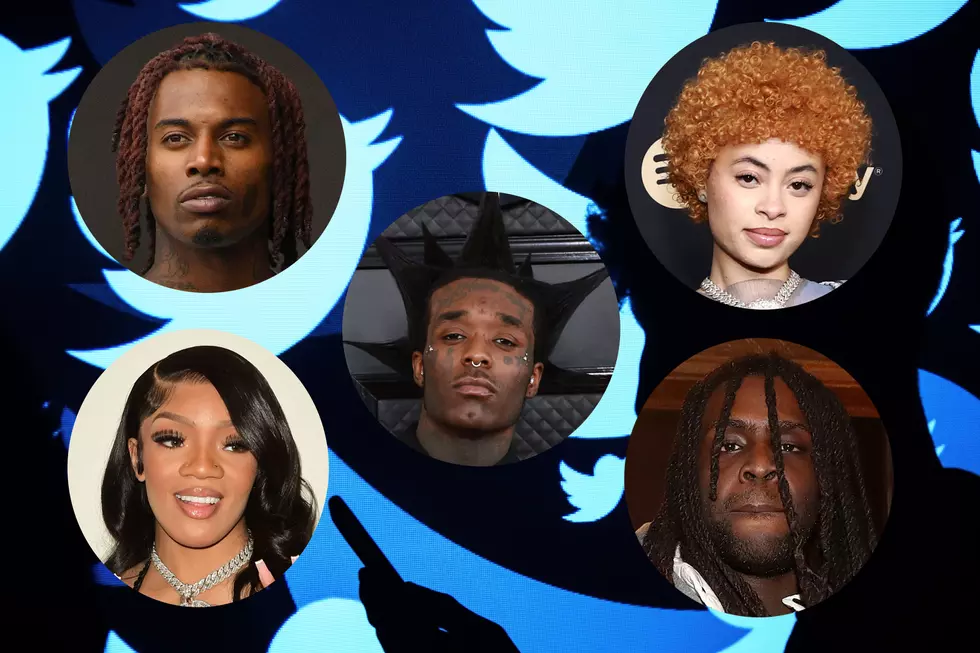 These Are Rappers' Bizarre Tweets You Need to See
Dia Dipasupil/Matt Winkelmeyer (2)/Getty Images for Spotify/Getty Images for The Recording Academy/Vivien Killilea/Getty Images for Universal Music Group/Leon Neal/Getty Images (2)/Johnny Nunez, WireImage
The dark web of social media is Twitter. There are no limits to the content that lives on the platform, which combines the random thoughts of millions around the globe. The app really started popping off in the late 2010s, a time when the music industry and the internet started joining forces. Around that time, most rappers, like everyone else, launched their accounts and started firing off any and everything, leaving a current archive for what's oftentimes a bunch of bizarre tweets.
A lot of fans would argue that Joe Budden's internet access sits somewhere between comical and controversial. Back in 2012, he posted what most would deem as "insane." The post reads, "I'm so horny right now I swear I could create a whole new hole. Lol.: Now, that random yet hilarious tweet lives rent-free in the minds of those who remember when it all went down. Upon digging, 50 Cent is another artist who had some interesting things to say once upon a time. "Good morning,😆 if you used that energy in the GYM you would look to good to have to touch your self all the timeLMAO," he tweeted in 2016 along with a screenshot of a Pornhub message that read: "Error: You have watched every goddamn video we have."
Younger acts have pushed their fair share of questionable content as well. Take Lil Pump for example. In 2020, he got on the platform and questioned the recurring process of hygiene. "Why shower if your getting dirty again," he typed. Furthermore, nothing is safe on the internet, even when tweets are taken down later. Playboi Carti, Lil Uzi Vert, Ice Spice, Chief Keef and GloRilla, among many others, have some peculiar tweets in their history. So here, XXL delivers a lengthy, definitive list of the most bizarre tweets from rappers. Check it out below.
See the Definitive List of Bizarre Tweets From Rappers