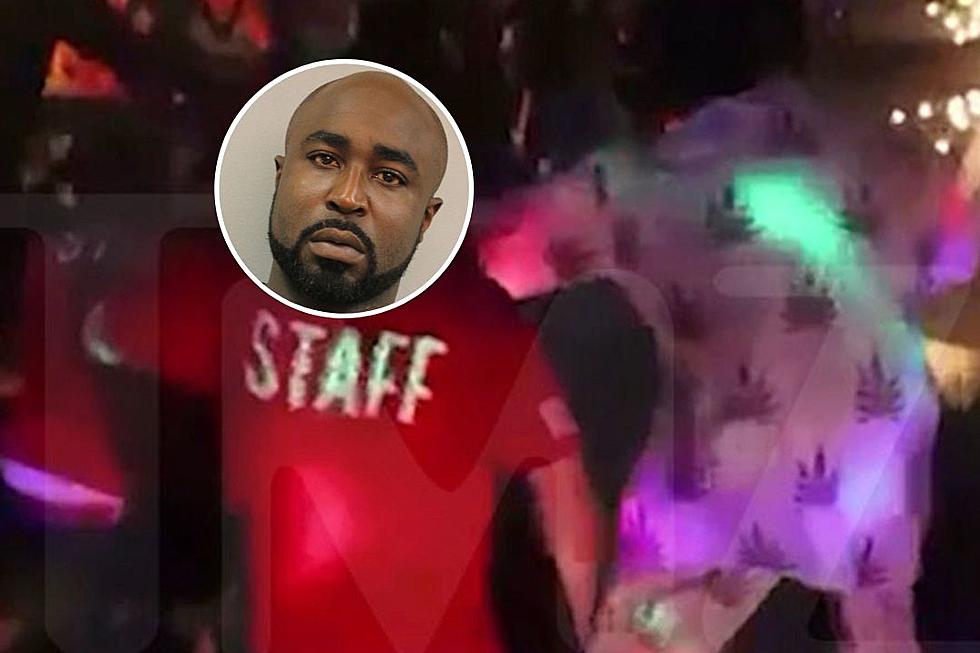 Young Buck Gets Into a Crazy Fight With Afroman's Crew
TMZ/Davidson County Sheriff's Office Police Department/Getty Images
Young Buck reportedly got into a crazy fight with Afroman's crew a couple of weekends ago.
Young Buck Got Into An Altercation with Afroman's Crew
On Sunday (July 2), TMZ posted a video showing Young Buck getting into some type of altercation with Afroman's crew. The incident happened at the Zarati Shop in Abingdon, Va., on June 25.
In the clip, the former G-Unit member appeared to be inebriated when he got into a fight with Afroman's up-and-coming artist Lil Sodi, according to sources familiar with the incident. Apparently, Afroman and Young Buck were both scheduled to perform at the event.
After Buck left the stage and while Afroman was prepping for his performance, a fight broke out in the VIP room which then escalated into a full-scale brawl between Buck and Sodi. In the video, Sodi accuses Buck of punching him in the stomach. You can also see the "Shorty Wanna Ride" rapper throwing haymakers at someone but missing completely. After a few minutes of tussling, several venue staff members separated Buck and Sodi.
A visibly drunk Buck is eventually carried out of the venue by two people before the video ends.
Afroman Explains What Happened
Last Tuesday (June 27), two days after the incident, Afroman hopped on his Instagram page to explain what had happened.
According to his memory, Young Buck came into his VIP Room belligerent and yelling the N-word, which is an expletive he prohibits his crew from saying around him. The rap veteran alleges that Buck attacked his social media photographer and then allegedly attacked Sodi. That's when all hell broke loose.
He writes: "[I] went to do a show the venue told me to be there at 9:20 when I got there I had to wait because somebody was still on the stage. The venue had to close at 11 I was waiting with my social media photographer, my bodyguard and my artist Lil Sodi when Young Bucc entered the room. I am anti N-Word Young Bucc yells out fucc all n-words who don't do drugs. He was behaving, hostile and aggressive."
"We were on the right side of the VIP section. He entered the room going to the left side of the VIP section yelling, all kind of insults," he continues. "[Buck] changed his direction and walked bacc over 70 feet He walked over to my socials media photographer, and with a bacc hand strikes him in the side of his stomach. Then he moved on over to Lil Sodi, calling him n words, and telling him to do drugs as he was calling him, the N-word."
"Young Bucc bacc handed Lil Sodi in the stomach. Lil Sodi thought he was really drunk, and he tried to checc him verbally with a shove. Young Bucc would not go away, and he kept advancing so the altercation occurred. We came to sing we didn't see Young Bucc on the flyer we didn't even know he was going to be there my employees felt violated, direspected and the staff needed to do more to control young Bucc plus get him out of our environment."
Afroman concluded his message with this: "Young Bucc is my blacc brother[.] Young Bucc is my brother in Christ[.] Young needs to stop punching people he don't know in the stomach[.] Young Bucc needs to control his alcohol and drugs. If he's going to be out in society, he needs to be civil. I forgive Young Bucc. I'm praying for Young Bucc God bless you brother."
It looks like Young Buck had a wild night.
Watch Young Buck Get Into a Crazy Fight With Afroman's Crew Below
Read 10 Wild Stories That Took Place During Hip-Hop Tours