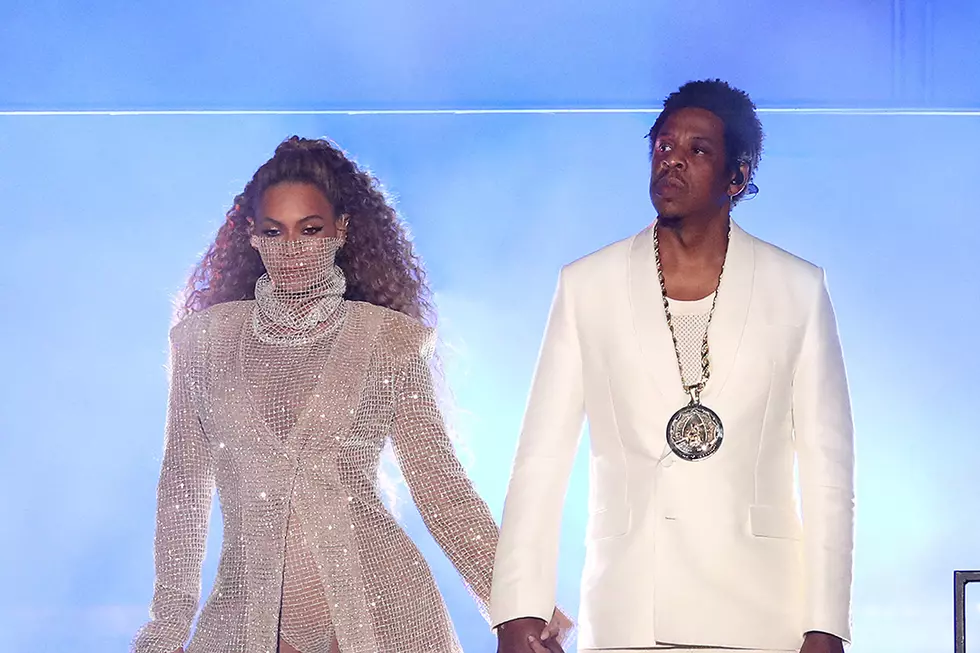 Jay-Z and Beyonce's Stage Malfunctions During Poland Concert
Raven Varona / Parkwood Entertainment
Jay-Z and Beyonce's On the Run II Tour was hit with technical difficulties over the weekend after a moving stage malfunctioned midway into their performance on Saturday (June 30).
In footage captured by fans, the couple were wrapping up their set on Saturday night at Poland's National Stadium when a moving stage left the "Ape Shit" lyricists stuck in the middle of its runway. The mishap called for six stage hands to help secure a ladder for Jay and Bey, who was wearing heels no less, to safely climb down off of the platform.
The Lemonade singer, however, made light of the ordeal by continuing to entertain fans by breaking out into a few dance moves and blowing kisses into the direction of the crowd. Now, that's a professional.
The floating stage has become an integral part of The Carters' current show routine, as it ascends 20-feet into the air during the conclusion of their stirring set of performances. A series of clips from the night reveal that the technical difficulty abruptly interrupted Bey's cover of Ed Sheeran's "Perfect" and eventually led to the show coming to a close earlier than anticipated.
Early last month, Jay-Z and Beyonce kicked off their On The Run II Tour in the U.K. Shortly afterwards, hip-hop's favorite royal couple dropped off a surprise joint album titled Everything Is Love.
Take a look at the footage of Beyonce making a graceful exit following the technical mishap below.