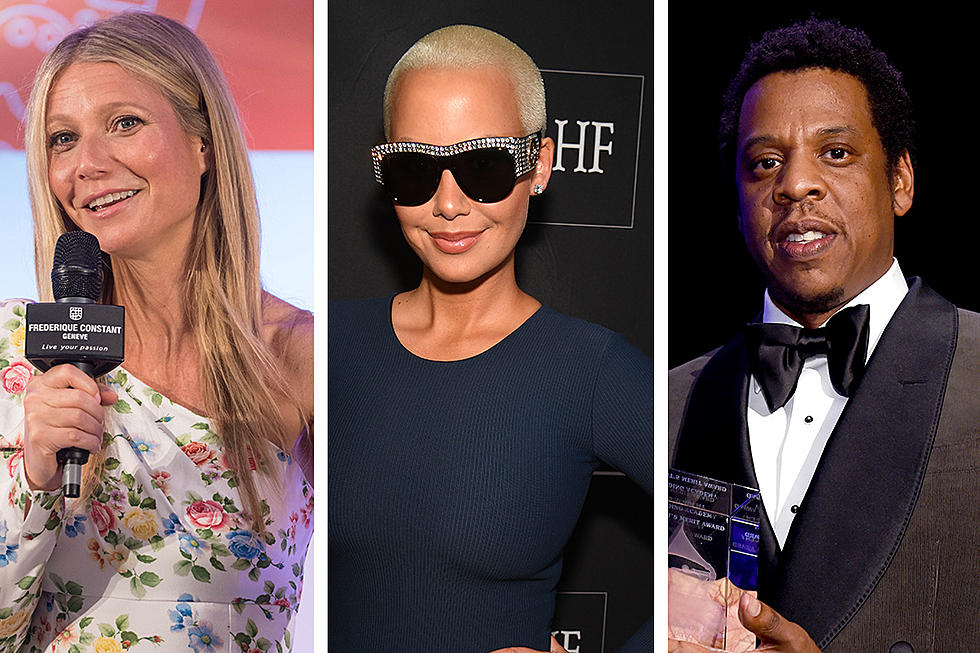 Amber Rose Claims She Was Joking When She Said Gwyneth Paltrow Is Jay-Z's "Becky With the Good Hair"
Ian Gavan / Michael Kovac, Getty Images (3)
Amber Rose landed herself in hot water earlier this week after she made a few eyebrow-raising jokes that actress Gwyneth Paltrow was in fact Jay-Z's rumored mistress, or as his wife Beyonce's 2016 effort "Sorry" simply put it: "Becky with the good hair."
Rose's theory came to light during the most recent episode of reality TV stars Spencer Pratt and Heidi Montag's podcast titled Make Speidi Famous Again. During the candid sit-down, Rose shared her thoughts on the presumed identity of the mystery woman who nearly led to the demise of the hip-hop royal couple. "I definitely think that Gwyneth Paltrow is 'Becky with the good hair,'" she speculated. "I really feel like she's the one who was, like, fucking Jay-Z."
"They were like friends, and then, like, you don't see Gwyneth Paltrow with Beyoncé anymore," she continued. "But like Beyoncé's still with Jay."
Beyonce's song, "Sorry," famously addressed the mysterious mistress. "You better call Becky with the good hair," Bey sang. Shortly after Rose's soundbite made its rounds, a rep for Paltrow confirmed to People that the social media star's allegations are "completely absurd and 100 percent false." A source also added, "Gwyneth and Beyoncé and JAY Z are still very close friends so none of this makes any sense."
In light of the controversy, Rose has since clarified her statements via Twitter. On Thursday afternoon (July 26), Rose penned a response to her fury of critics. "Bruh we were joking on a Podcast! Lol stop with the Clickbait!," she wrote. "I have no information about anyone's Personal Life."
Rose's comments come nearly two years after Bey released her critically-acclaimed sixth studio album Lemonade, in which she detailed the many troubling aspects of her marriage to the rap mogul with infidelity being the most poignant. Initially, fashion designer Rachel Roy was believed to be the "Becky" in question after she shared a now-deleted cryptic Instagram post.
Check out Amber Rose's response to her critics below.
See Photos of Jay-Z's Different Looks Over the Years