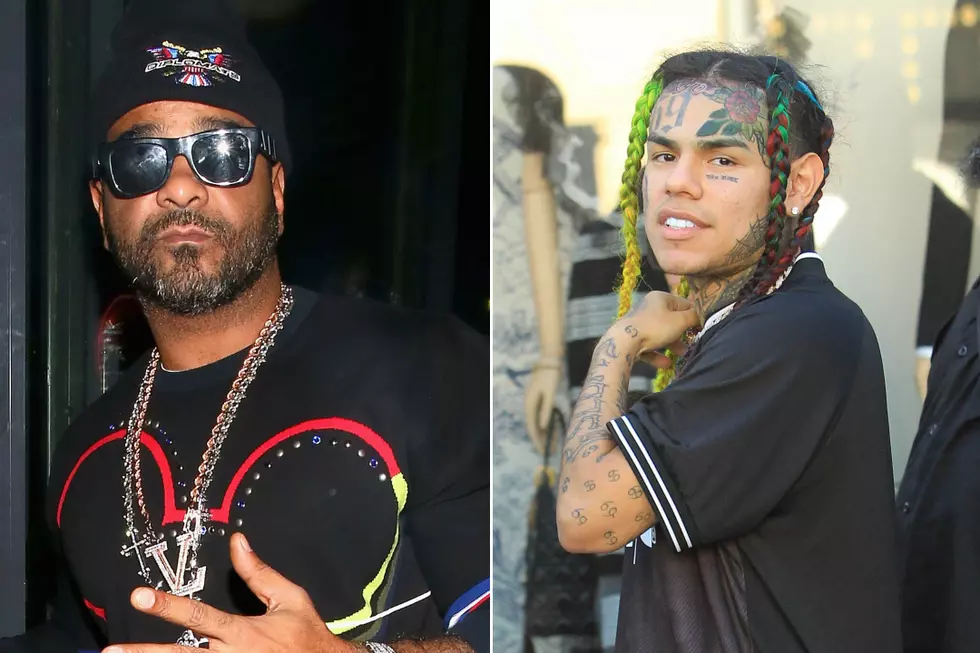 Audio of Jim Jones' Alleged 6ix9ine Conversation Leaks From Courtroom: Listen
Astrid Stawiarz / SMXRF/Star Max, Getty Images (2)
On Thursday night (Sept. 19), Fox 5 NY reporter Lisa Evers uploaded audio of Jones' allegedly 6ix9ine-focused conversation to her Instagram account. In the audio, which appears to be the same wiretapped phone call TMZ cited when claiming Nine Trey Gang members were planning to "super violate" 6ix9ine, listeners can hear what prosecutors say is a conversation between high-ranking Nine Trey member Jamel "Mel Murda" Jones and Jim Jones.
In the clip, two men discuss how to deal with someone who's been all over TMZ and YouTube. While they never say 6ix9ine's name, the context of the conversation points toward him being the subject.
"Nah, Shotti gotta handle that shit," Jones says in the audio. "He get on TMZ, he need to talk his talk, he need to talk his shit, you dig? And he need to be very, very, very articulate about what he say and why he made people think that nigga was a gang member. He need to let niggas know that he was never a gang member. He was always a money play for the gang members. He gotta figure it out. But, they gonna have to violate shorty 'cause shorty on some bullshit. And shorty think he could be going to the strip clubs and all that type of shit? Like, Shotti better get on his A-game."
As previously reported, the embattled rapper is on the stand to testify against Nine Trey Gangsta Bloods Aljermiah "Nuke" Mack and Anthony "Harv" Ellison. During his testimony, he's also listed the alleged gang ties of rappers like of Casanova and Trippie Redd.
Listen to the leaked audio for yourself below.
See 22 Hip-Hop-Related Police Raids