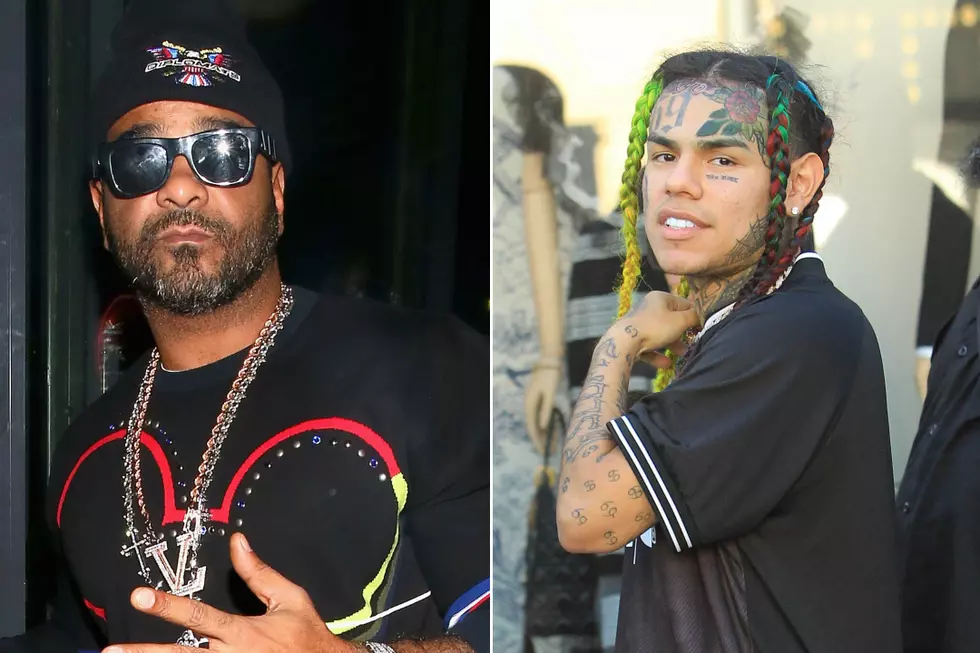 Jim Jones Speaks on 6ix9ine: "You a Rat, You a Rat Forever"
Astrid Stawiarz / SMXRF/Star Max, Getty Images (2)
While some people might still enjoy listening to 6ix9ine 's music after the rapper cooperated with federal authorities in his racketeering case this past January, Jim Jones isn't one of them.
During his recent stop at The Cruz Show on Real 92.3 in L.A earlier this week (June 12), Jones was asked which new artists he's been rocking with lately. Jones begins by naming a few notable rising stars like Rae Sremmurd, DaBaby, Lil Baby and Gunna. However, things shifted once J. Cruz mentioned 6ix9ine's music. El Capo wasn't having it.
"We can't," Jones said as he shook his head. "His history is erased. We not even gon' say what we liked or what we [don't like]. Screw him. He did some actions that he can't come back from, so his name non-mentionable."
6ix9ine is still sitting behind bars after being indicted on federal racketeering charges and subsequently informing the U.S. government of the felonious acts he and his Nine Trey Gangsta Bloods gang members allegedly committed. The Brooklyn rapper reportedly has a plan to be released from jail by September. 6ix9ine's eventual release won't change Jones' designation for him.
"I don't know what he can do. I don't give a fuck what he could do. That's not my job," Jones said. "If he did step foot in there they probably should stay far away from him. I grew up in an era where certain things you cannot come back from. There's no fixing that. If you Black, you Black forever. If you a rat, then you're a rat forever. That's a subject we don't even have to touch on.
Watch The Cruz Show's full interview with Jim Jones and hit the 18:50 mark to catch his comments about 6ix9ine below.
See Hip-Hop Fans Name The Most Disrespectful Diss Track of All Time