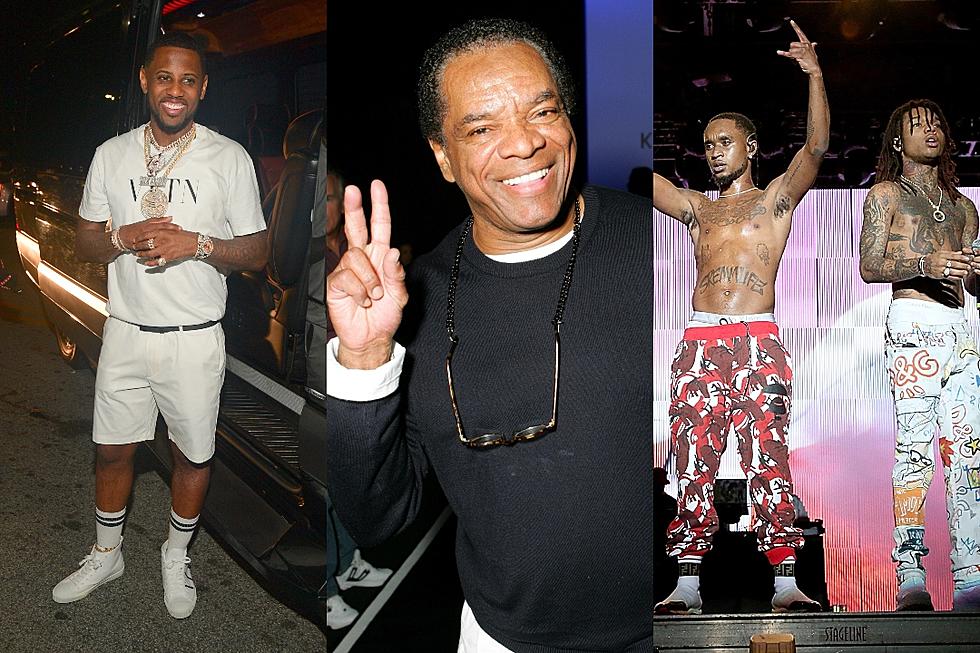 9 Hip-Hop Songs That Reference Comedian John Witherspoon
Prince Williams / John Shearer / Gary Miller, WireImage (2), Getty Images
Hip-hop and comedy have been intertwined for quite some time; both are sects of entertainment where Black artists have shined. John Witherspoon is a comedian who was loved by many, but the world of hip-hop held him particularly close. With his passing yesterday night (Oct. 29) at the age of 77, John received an outpouring of support from friends and fans alike.
John Witherspoon appeared on hip-hop generation TV shows like Martin and The Fresh Prince of Bel-Air, but he became a household name in the mid-to-late 1990s via his roles as Pops on The Wayans Bros. and Willie Jones in the Ice Cube-starred Friday franchise. He also voiced Grandad in the mid-2000s animated series The Boondocks—in the episode titled "The Story of Thugnificient," his fictional character hilariously engages in a bitter, brief rap battle with a rap group called Lethal Interjection (voiced by Snoop Dogg, Busta Rhymes and Nate Dogg). Witherspoon even made a cameo appearance in the music video for Jay-Z's "I Just Wanna Love U (Give It 2 Me)" in 2000.
The fingerprint that Witherspoon has left on Black culture can be spotted in hip-hop lyrics. His iconic "bang, bang, bang" bit from the 1992 film Boomerang is the most common reference, yet Ludacris nods to another memorable quote—"You got to coordinate!"—on his No. 1 single "Stand Up" from 2003's Chicken-N-Beer. His name has popped up in songs by everyone from Rae Sremmurd or Flatbush Zombies.
In memory of a rare, cross-generational talent, XXL compiles nine songs that name-drop John Witherspoon and some of his most memorable characters.
"Vacation"

Flatbush Zombies

"Zombie Gang, Gang, Gang, can't say it once/Who wanna bang, bang, bang? I'm Pops Wayans' cuz" —Meechy Darko

"Shake It Fast"

Rae Sremmurd Featuring Juicy J

"Leave this bitch then go get us a room/Then bang-bang-bang like John Witherspoon" - Juicy J

"Can't Tell Me"

Mustard Featuring Iamsu! and akaFrank

"And I'm making love to the cake, people tellin' me 'Get a room'/It's HBK gang bang, bang, bang like John Witherspoon" - Iamsu!

"You square up, win some, lose some/I need to save the day like John Witherspoon, son"

"Ghetto"

Fabolous Featuring Thara

"But remember the thangs, ain't too far/And y'all wanna hear em go bang bang bang/Like John Witherspoon, I'm watching em closely/I know the snakes gon' slither soon"

"Lookin' Boy"

Hotstylz Featuring Yung Joc

"This is the song that doesn't end, Lamb Chop lookin' boy/Bang-bang, bang-bang, bang-bang, old Pops lookin' boy" - Yung Joc

"Girlfriend"

Michael Christmas

"'Bang, bang, bang, bang, bang,' like Pops say/'Money, power, respect, and grilled cheese,' like The Lox say"

"While the block do what it gotta do to not consider a nigga pop/I'm more like Pops (Wayans brother), old soul"

"Underground Killa"

A$AP Mob Featuring Raekwon

"Like Pops from The Wayans when I fire/Switching lanes in the Porsche, gotta catch up to my tires" - A$AP Ferg