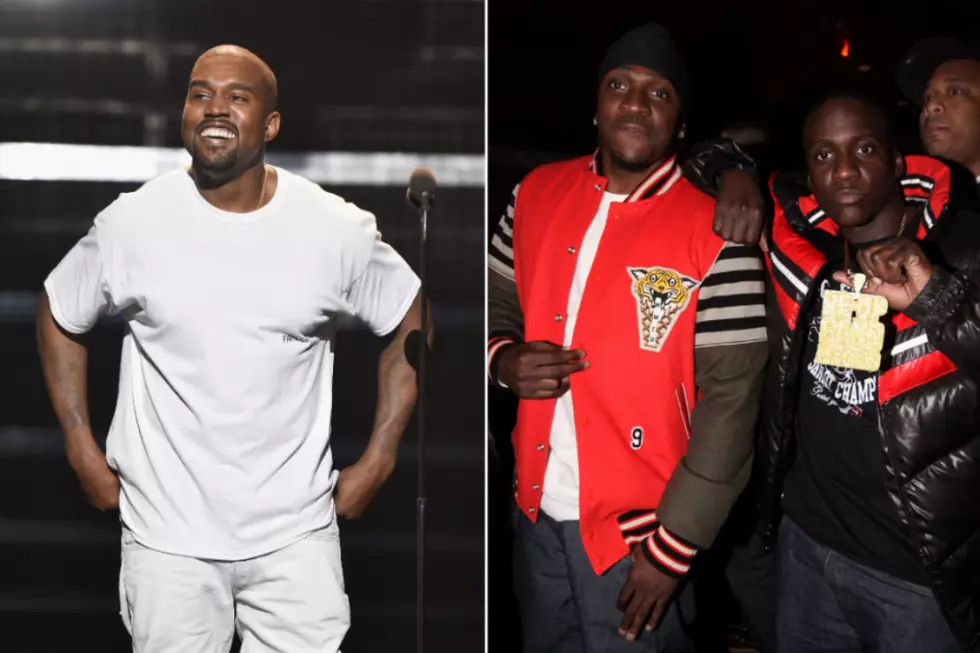 Kanye West Reunites Clipse for New Song on Jesus Is King Album
John Shearer / Johnny Nunez, Getty Images (2)
We are still waiting on Kanye West's Jesus Is King album, which is now slated to drop on Sunday (Sept. 29), but after a listening session of sorts in Detroit on Friday (Sept. 27), we have more details about the project. Most notably, Yeezy reportedly reunites the Clipse on the album's final song.
Kanye's big event, Jesus Is King: A Kanye West Experience, came after he failed to drop his new album at midnight on Friday, which understandably had the internet going nuts. On Friday night, however, Yeezy previewed the upcoming LP in the D at the Fox Theater. According to Billboard, Kanye played 10 tracks, totaling 35 minutes, and provided some commentary. The final track goes by the title "Use This Gospel for Protection," and features the Clipse and jazz legend Kenny G.
The news was also confirmed by Chicago music industry insider Andrew Barber, creator of FakeShoreDrive.com and Valee's manager. He heard the album in its entirety, and tweeted following the listening. "Just heard Kanye's new album Jesus Is King and saw the accompanying film. My favorite track is the last song and it features the Clipse. Both Push & No Malice. Kenny G is also on it. "New Body" has been cut from the album," he wrote on Twitter.
This appears to be the first time the Virginia duo has been on wax together in a few years. Brothers Pusha-T and No Malice last put out an album in 2009 with 'Til the Casket Drops. Shortly afterward, No Malice found Christ and has since been putting out Christian-based rap, which is fitting considered Kanye's new album has a faith-based theme.
After upsetting fans who were patiently waiting by their phones and computers for West's new album to drop for nothing, Jesus Is King is now set to drop on Sunday after West takes his show on the road and makes a few adjustments. Kanye's wife Kim Kardashian revealed the news on social media on Friday.
"Kanye's doing a listening session in Chicago tomorrow [Sept. 28], then NYC on Sunday [Sept. 29]. He's dropping the album Sunday. Just a few final tweaks to the mixes," she wrote.
See the 25 Longest-Charting Hip-Hop Albums in Billboard 200 History