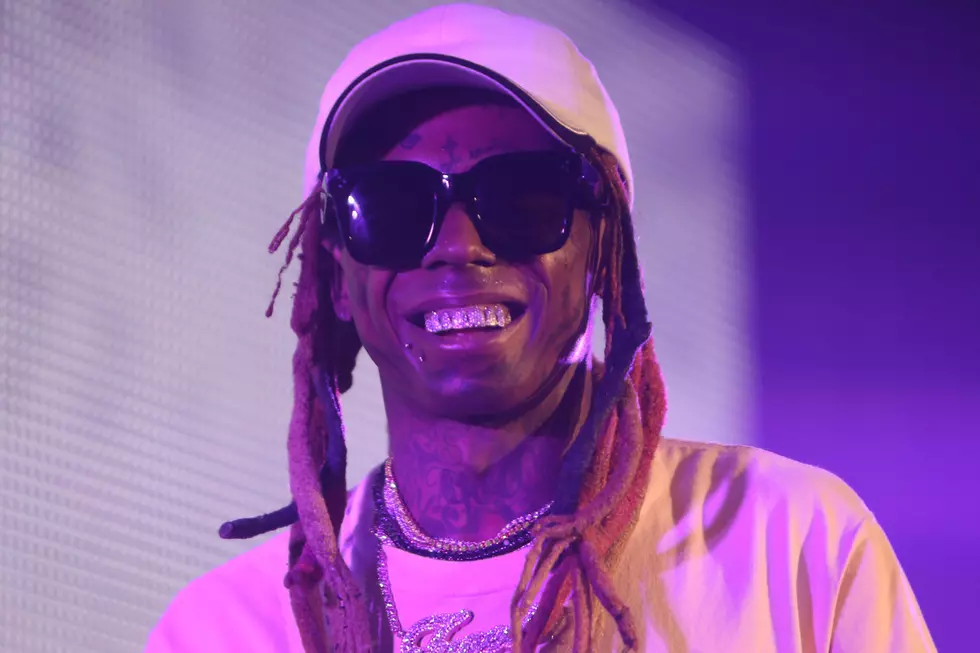 Lil Wayne's Rare Handwritten Lyrics on Sale for $250,000
Thaddaeus McAdams, Getty Images
UPDATE: Lil Wayne is doing the most to get his rhyme book back.
According to a report TMZ published Wednesday (March 27), Wayne's legal team sent a warning letter to Moment in Time, the group who is coordinating the sale, establishing that the Young Money rapper is the rightful owner of the book and doesn't have permission to sell it.
Wayne's lawyers claim that the Hollygrove, La. native had simply misplaced the book and is glad it was recovered. They also claim that the guy who found it absconded Wayne's personal item and hid it for years until he felt it was time to cash in. The owner of Moments in Time Gary Zimet responded by saying that if Wayne wants the notebook back, he'll have to pay up like everyone else.
If Moments in Time doesn't halt the sale, then Wayne's team is prepared to pursue legal action.
It's common knowledge that Lil Wayne doesn't write down a majority of his most memorable lyrics, but at one point in time, he did, and now, some of those written bars are up for sale, and the price is pretty high.
According to a report TMZ published today (March 25), a notebook full of Weezy's rare, handwritten lyrics is up for sale. Moments in Time, the group selling the one-of-a-kind artifact from the beginning of Wayne's career, is selling the notebook for a whopping $250,000.
Weezy's rare book of rhymes dates back to 1999 when the New Orleans native was a rising star in Hot Boys alongside Birdman, Juvenile and Turk. At the age of 17, Wayne scribbled the lyrics to his verses from Hot Boys' "We On Fire" and "I Feel" inside the composition book.
Since then, the rhyme book has survived hell and high water complete with water damage. The man who owns the notebook claims he found it in a car that once belonged to someone from Cash Money Records over a decade ago. When the dealership that the man works at took ownership of the car, he dug through what was left behind in the vehicle. Once he discovered the notebook, he took it and stored it in his garage.
Then, in 2005 Hurricane Katrina hit Louisiana. After the man evacuated from his home, he returned to what was left of his property. For the most part, everything was destroyed except for a few items in his garage, including the box where the notebook was stored.
Lil Wayne nor Cash Money have commented on the sale just yet.
See Photos of Lil Wayne's Different Looks Over the Years