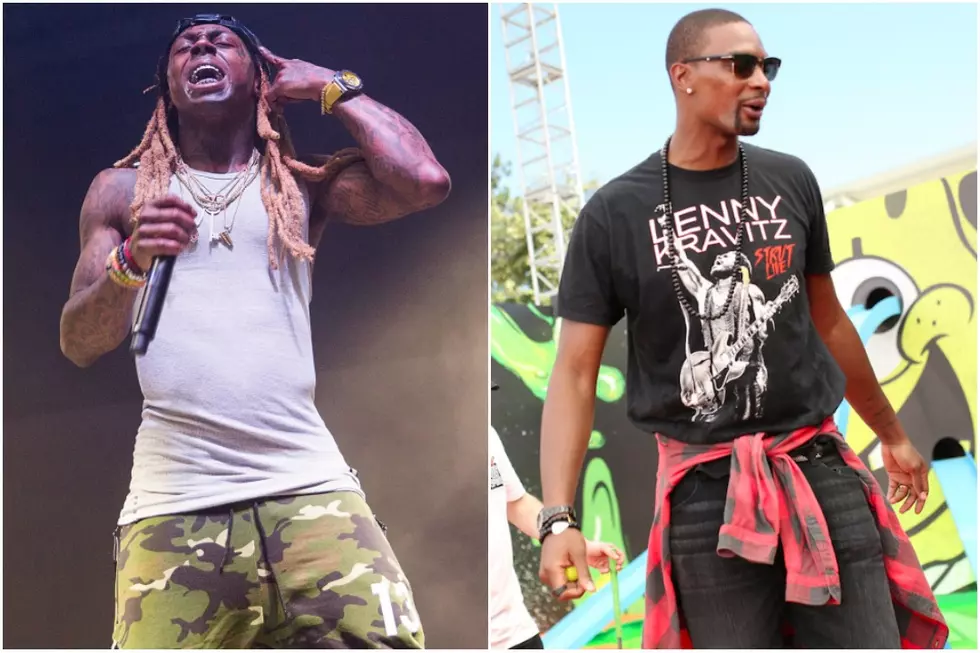 Lil Wayne Compares His Label Situation to Chris Bosh Getting Screwed by the Miami Heat
Rick Kern/Mike Windle, Getty Images
We all know Lil Wayne is going through it with Birdman and his Cash Money label over a dispute about the release of Carter V and Wayne's (lack of) advance payments for the album.
In a new interview on ESPN's His & Hers, Wayne drew a parallel between his own situation and that of Chris Bosh, who's seen medical tests derail his career on the Miami Heat. In fact, though the Heat have publicly expressed their hesitation over Bosh's continued blood blotting, they won't release him until March, making him ineligible for the playoffs. Wayne knows how it feels. He starts talking about Bosh around the 17:40 mark above.
"It's a perfect example that you aren't bigger than the game," said Wayne. "You're not bigger than the team, and once you're off the team, it's not—we don't care. Once you're off the team, we don't care. We're still a team and we have to conduct ourselves as such, and we have to make the most for us. Reason being, I'm going through the same situation myself. So I know how it is. Everything I've done for them, they wouldn't be them without me, but I'm off the team, so it's, 'Screw him as long as we can. Make sure we screw him as much as we can, and when we can't no more, let's see what happens.'"
When co-host Michael Smith says Bosh is essentially Carter V, Wayne isn't too keen on saying so explicitly, but it's pretty clear Weezy is talking about what he's done for Cash Money through the years and how they're now treating him in return.
Here Are the Most Anticipated Hip-Hop Projects for the Rest of 2016