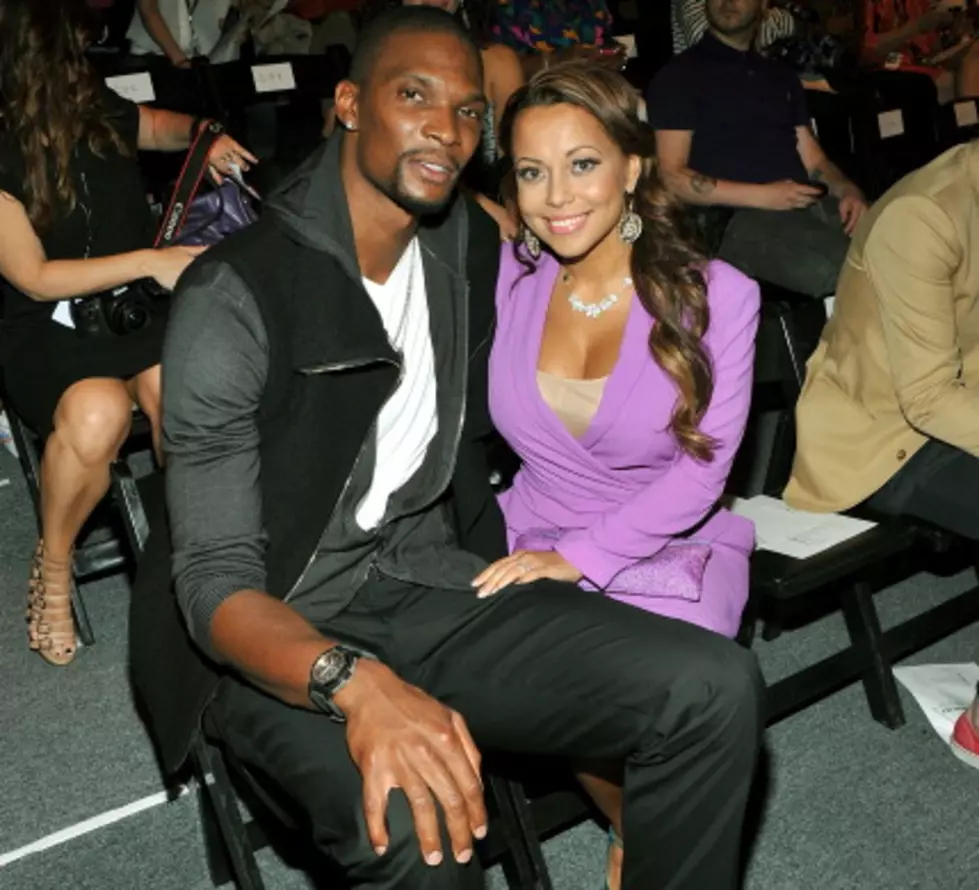 Chris Bosh And His Wife Adrienne Welcome Their Second Child — Tha Wire [VIDEO]
Stephen Lovekin/Getty Images
Chris Bosh is the proud father of a new baby girl.  The NBA superstar shared his joy and tweeted to the world, "I feel like I'm 10 ft. Tall right now! Very happy to welcome another child to the world!  #proudfather #Boshfamily."
Congratulations to NBA superstar Chris Bosh and his wife Adrienne.  The happy couple welcomed a baby girl, Dylan Skye last night.  As the Heat played his former team the Toronto Raptors, Chris stayed behind with his wife as the couple welcomed their second child into the world.
After little Dylan was born, Chris was quick to share the good news with his fans on Twitter about how happy he was.  By the way he wasn't the only one that wanted to share the joyful moment.  His wife Adrienne tweeted pic of the happy couple and their new baby as well.  Get more details below about the couple and what Chris's rep had to said about the birth of his baby girl.  All the details are below with Tha Wire.
Congrats once again to the happy couple.
In other news, Babyfaces L.A. mansion almost went up in smoke last Saturday after a fire broke out in one of the bathrooms.   TMZ reports an in-home sprinkler system extinguished the fire before respondents arrived on the scene.  Luckily nothing major was burned in the fire and no one was hurt, however the home did sustained a little water damage.
Get more details below with Tha Wire and find out who was in the house when it caught on fire.  In other Babyface news, his joint album with Toni Braxton, Love, Marriage, Divorce, is due out Nov. 25.
Finally, it doesn't look like things are going to good at Cash Money at least not for everybody.  According to a recent statement by Turk, he's not cool with the labels founding members Lil Wayne or  Birdman.  To go a step further Turk said he's on the outs with Juvenile and Mannie Fresh as well.  In a move that hopefully he won't regret, the rapper took to Youtube, and explained that he tried to reach out to his Hot Boys friends after his father passed, and heard nothing back.

He's pretty salty that's for sure.  Learn more now.  Press play to hear Tha Wire for the scoop, skinny, mess and drama.