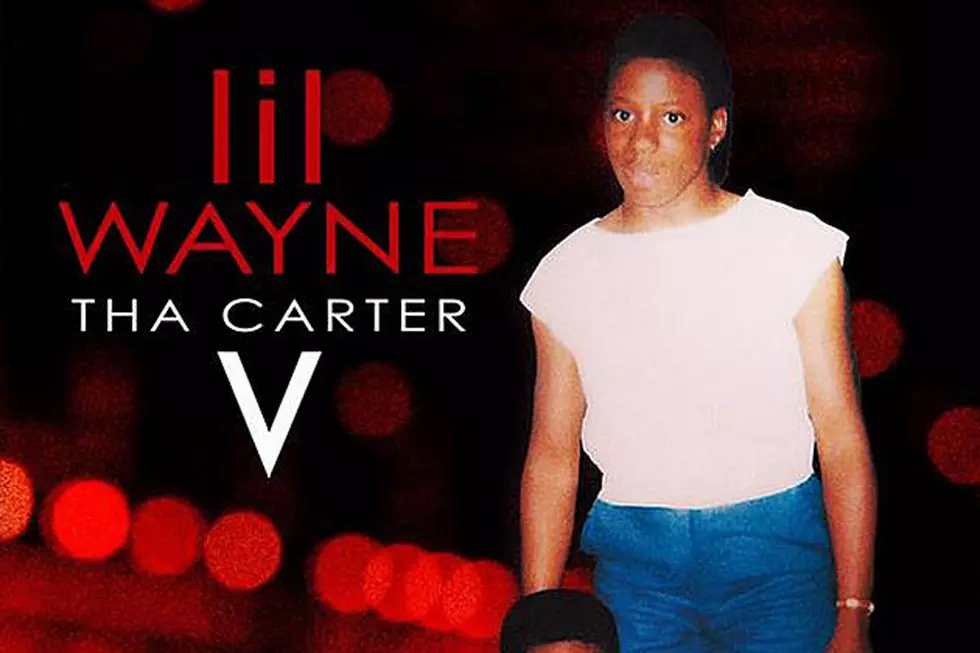 Lil Wayne Is at His Most Personal and Passionate on 'Tha Carter V' Album
Young Money
When Lil Wayne released Tha Carter III in June 2008, it was the Cool & Dre-produced single "Phone Home" that perhaps most accurately reflected the prolific rapper's place in hip-hop. The song's prevailing sentiment—"We are not the same I am a Martian"—felt more like the perspicacious observation of a clairvoyant alien than the blowhard exaggeration of a mere mortal.
A master of wordplay and consummate studio rat, Wayne has long maintained that his rhymes go straight from his mind to his mouthpiece, bypassing a notepad or word processor. This approach leaves little room for self-doubt or self-editing, revealing bars that are shared in their purest form. While he's certainly not the only artist to develop a process rooted in freestyle, few others have Wayne's gift of wit. His tendency to personify the incorporeal coupled with his ability to fold metaphor within allegory and then top it off with a wink-and-nudge sort of joke would be equally at home within a classic (albeit very unique) novel as it is in a rap song.
This is one element that makes Wayne such a unique force, particularly when he is firing on all cylinders. Wayne's mother, Jacinda Carter, who is featured prominently throughout Tha Carter V—his long-awaited 12th solo studio album—goes as far to call it genius on "Hittas," the album's 14th track. "He's a very smart child," she says. "And I just said he was a genius, you know what I'm sayin'? Which I used to pray and ask the Lord to send me one. You know, he did. He's so smart, I can't teach him nothin'. He's done been here before."
After years embroiled in litigation limbo that also resulted in the implosion and gradual rebuilding of his relationship with longtime father figure and mentor Bryan "Birdman" Williams, the long-awaited Tha Carter V offers glimpses of Jacinda's genius son. Yet even in doing so, the album doesn't quite manage to completely skirt the ravages of time or an underlying sense of inconsistency. At 23 tracks, it's on par with the length of Young Money protégé Drake's Scorpion, but unlike the OVO's founder's latest, C5 doesn't shamelessly offer songs in abundance as a strategy for pleasing everyone (and dominating streaming with its sheer bloat). Rather, it feels like a necessary form of catharsis, a conscious clearing of Wayne's archives from the past seven years. It's the sort of album that might not be remembered as Wayne's greatest (which widely varies depending on who you ask) but it certainly has the potential to be deemed one of his most personal and passionate.
"Mona Lisa," a Kendrick Lamar-featured standout, is probably the most comprehensive example of Wayne's narrative lyrical finesse. The song, which unfolds with all of the high drama of a Shakespearean tragedy, chronicles a successful honey trap in which a woman sets her boyfriend up to be robbed. Beyond that, it finds Wayne and Lamar at their poetic best. Wayne sets the scene in the first two stanzas, painting a picture of a mysterious beauty with questionable motives while simultaneously dropping pop culture references ranging from The Color Purple to Milli Vanilli, and as the song title implies, the enigmatic smile of Leonardo da Vinci's iconic namesake painting. For fans who view rapping as akin to jousting, hearing the duo's exchange will feel like sitting at a friendly match between two behemoth rivals.
"Let It All Work Out," which features the stirringly earnest crooning of British dynamo Sampha, houses Wayne's first true confession of self-harm: He reveals that the gunshot wound he suffered at the age of 12 was actually a suicide attempt and not an accident, as he has previously claimed. In "Open Letter," Wayne eschews a hook in favor of delivering a nearly five-minute monologue that touches on his life, relationship with fans, and probably most revealing, his relationship with his children. "Just got of the phone with my daughter/Told her I won't hesitate to fuck a young nigga up," he says in reference to his oldest daughter, Reginae Carter, who lends vocals on "Famous." She's currently dating rapper YFN Lucci, which inevitably raises some questions about just who the line references.
Following in the confessional style of tracks like Notorious B.I.G.'s "Suicidal Thoughts," Wayne embraces his own vulnerability while grappling with feelings of inadequacy and self-doubt. Such personal stories help to create some needed juxtaposition against bravado-driven tracks like "Dedication" or the Travis Scott-featured "Let It Fly," both of which reveal Wayne's more playful and swaggering side. Similarly, the triumphant "Uproar," which samples G-Dep's 2000 single "Special Delivery," has already produced a viral dance challenge based around the Harlem Shake dance that the source material first made popular.
If anything lets Tha Carter V down, it's the track sequencing and transitions, which can start to make the project feel like it's dragging about halfway through. However, that should hardly dissuade Wayne's most diehard fans, as even in its slowest moments, the album never loses its heady sense of rapture. Additionally, Wayne's decision to open the project with "Don't Cry," which features a posthumous appearance by the late XXXTentacion, will (and should) give many listeners pause. Perhaps for Lil Wayne, music can be completely devoid of politics, but for many, deciding to see it as such falls into a long tradition of men choosing to silence women rather than hold their problematic peers accountable (even those who are no longer with us).
For a project that was once touted to be Lil Wayne's final album, Tha Carter V wouldn't be a bad way for the rap vet of more than two decades to be remembered. The album is indeed memorable, as much for the journey that led to its release as the previously unseen layers that Weezy reveals. —Stephanie Smith-Strickland
See 12 Rappers Who Have 10 or More Solo Albums in Their Catalog