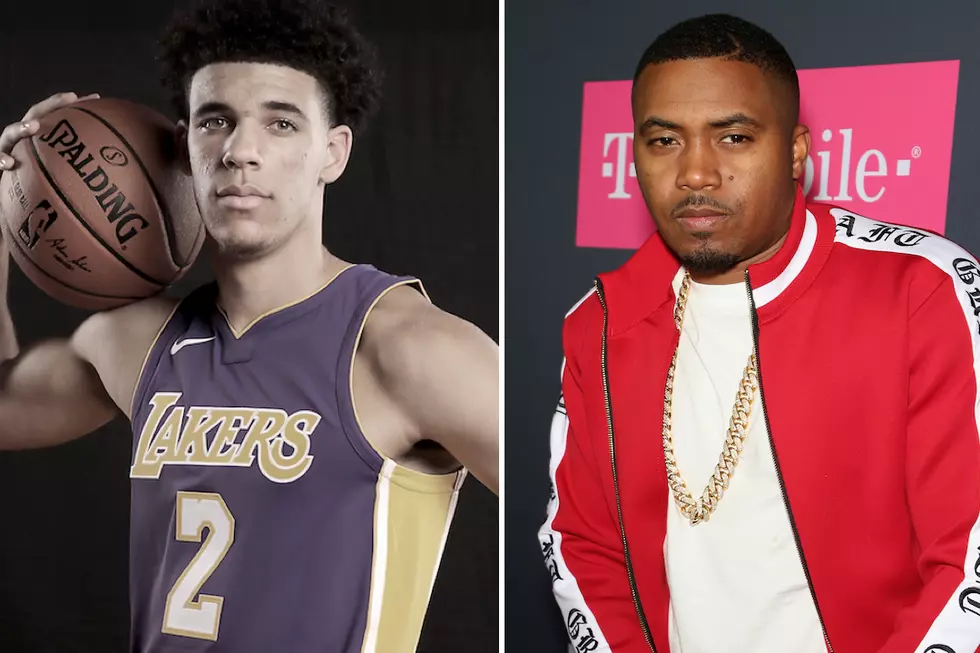 Lonzo Ball Disses Nas, Says Migos and Future Are 'Real Hip-Hop' [VIDEO]
Elsa / Gabe Ginsberg, Getty Images
The Balls are probably the most talked about celebrity family in sports right now. Recently, they launched their reality series Ball In the Family, which gives viewers an inside look at how they are handling their newfound fame.
While the family's patriarch, LaVar Ball, is usually the one making controversial statements, his son, Los Angeles Lakers rookie Lonzo Ball, has the internet in a tizzy over comments he made about hip-hop icon Nas.
In the first episode of Ball In The Family, Lonzo stated that the Queensbridge lyricist is outdated among today's rap generation. He then went on to say that rappers Future and the Migos are "real hip-hop."
Someone off-camera says, "They're going to get Lonzo to listen to some 'real hip-hop,' to which Lonzo replies, "That's not gonna happen. Y'all outdated man. Don't nobody listens to Nas no more. Real hip-hop is Migos and Future."
Of course, to hip-hop purists, this is quite blasphemous. People on Twitter were quick to deliver the slander.
"SMH Lonzo Ball dissing Nas. He needs that friend that slaps you on the back of the head and says shut up Dumb Ass," wrote one fan. Another user tweeted, "Everyone is entitled to their opinion but Lonzo ball is clueless about hip-hop stick to basketball."
At 19 years-old, you can't really expect Lonzo to be fluent in hip-hop culture. His list of the top five rappers of all-time says it all.
What do you think? Tell us in the comments below. Also, check out the Lonzo Ball slander below.
Watch Ball In The Family Reality Show