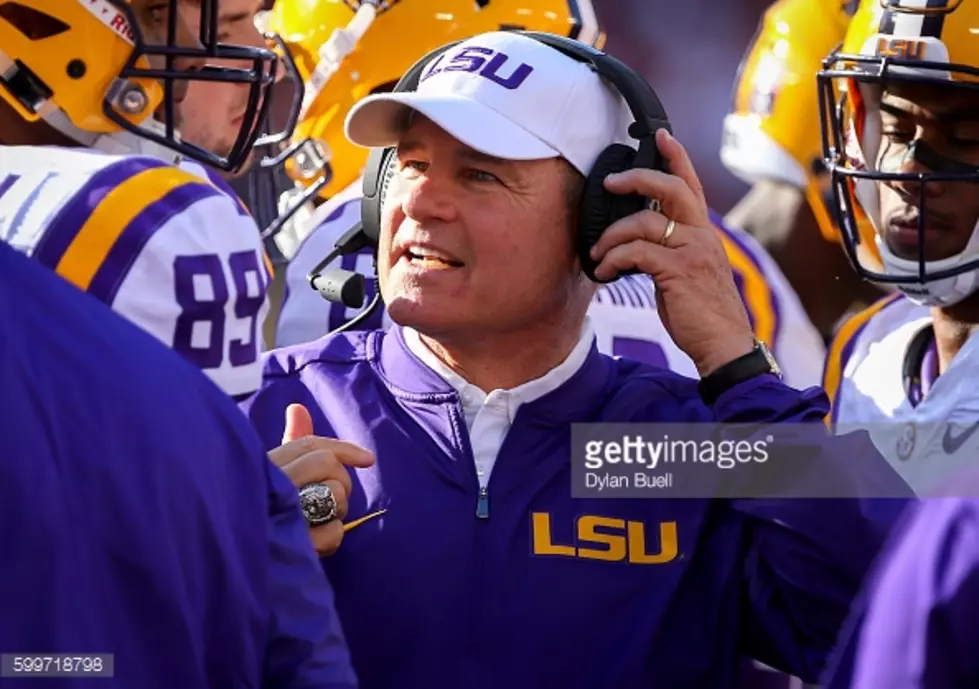 Dylan Buell
The Advocate reports that due to the worst start to a season (2-2) and the ridiculous loss to Auburn Saturday night (September 25, 2016), LSU announced the next day that they were firing longtime head coach Les Miles and Offensive Coordinator, Cam Cameron.
LSU confirmed that DL coach, Ed Orgeron, was named the interim coach at about 5 p.m. Sunday evening in a meeting. Orgeron and Verge Ausberry, LSU Deputy Athletic Director, were reportedly seen entering the football complex shortly after it was announced Miles was fired at about 3:35 p.m. This is the second time he's been placed in this situation. In 2013, Orgeron was interim head coach after Southern California's Lane Kiffin was given the boot. As far as experience, Orgeron was head coach for Ole Miss from 2005-07.
The decision to fire Miles came directly from
LSU
  president
F. King Alexander
, Athletic Director
Joe Alleva
, and a host of other university leaders. It's being reported that after being notified of his dismissal, Miles took the news well. According to
The Advocate
, a news conference will be held at 12:30 p.m. on Monday to further explain plans for the team going ahead. Alleva issued the following statement on the matter saying,
"Decisions like this are never easy ones to make.  Coach Miles has done tremendous job here and he's been a great ambassador for our University, which makes this even more difficult.  However, it's apparent in evaluating the program through the first month of the season that a change has to be made."

 

He continued, "Our commitment to excellence and competing at the highest level is unwavering, and our goals for the remainder of this season haven't changed. We have an obligation to our student-athletes to put them in the best position to have success on the football field each week and we have great confidence that coach Orgeron will do just that."
According to a source, also joining the staff is DL Coach Pete Jenkins. At 75 years old, the veteran collegiate coach has a good rapport with Orgeron and Aranda, serving as a consultant for the team last year. As for other administrative changes for the Tigers, Fox Sports is reporting Steve Ensminger, LSU Tight Ends coach, will take over as offensive coordinator for Cameron. He has plenty of experience in that department, having worked at Auburn in 2008 and various other universities.
Currently, LSU is 12-10 in its past 22 games against "Power Five" conference teams, and 4-5 in its past nine games overall. Below is a break-down on the money;
Les Miles' salary was $4.3 million a year, and his buyout of $12.9 million.
Cam Cameron's annual income was increased to $1.2 million per year after he signed a new 3-year contract in March that was good till 2018. Though he doesn't have a buyout, he had the next best thing: a "Miles Clause". This was written into his contract in the event Miles was terminated. Basically, it means he will receive six months of his salary.
The firing of Les Miles has been a long time coming. Some fans may be disappointed, while others will say it's about time. Last year was the Tigers' worst season since 1999, when they lost eight consecutive games. Prior to the final game, head coach Gerry DiNardo was fired. President F. King Alexander stopped short of firing Miles in spite of the embarrassing losing streak. Unfortunately, not much has improved this year.