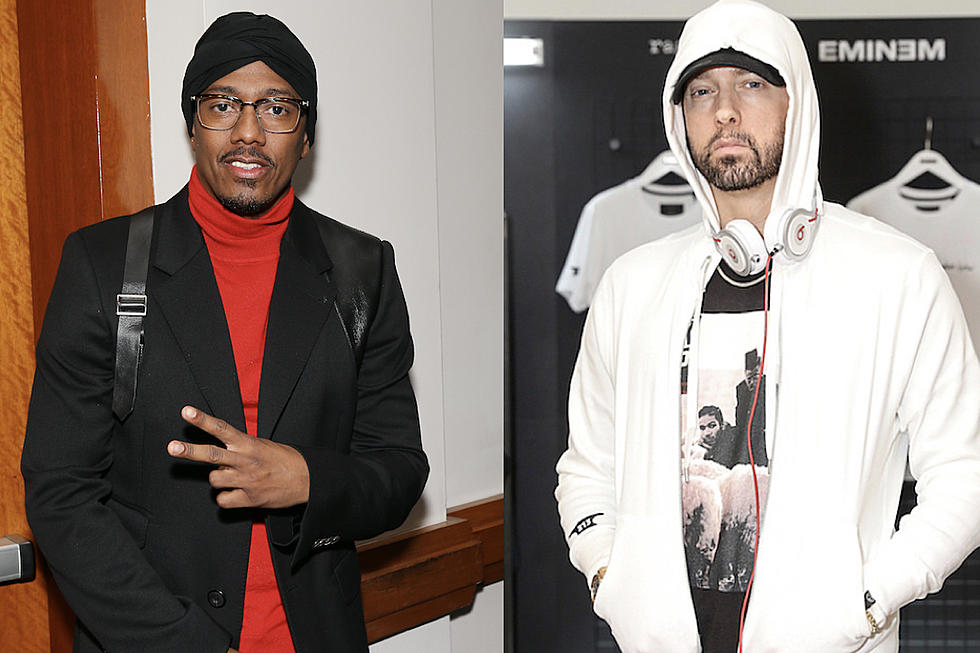 Nick Cannon Claims Eminem's Lawyers Contacted Him About Diss Track
Michael Tran / David M. Benett, Getty Images (2)
It looks like Eminem is not happy with what Nick Cannon said about him on his diss track.
On Monday (Dec. 9), following the release of the Hitmaka-produced "The Invitation," featuring Suge Knight and battle rappers Hitman Holla, Charlie Clips and Prince Eazy, Nick hopped on his Twitter account claiming that Em's attorneys gave him a call.
According to Nick, the Detroit rapper's legal team didn't like his acidic bars, "I heard your chauffeur got a video of you sucking a cock/You paid him off then laid him off, now who really the opps."
"FACTS! His lawyers didn't want that one out! They already on my line," Nick tweeted on his timeline.
On "The Invitation," Nick and his lyrical cohorts called out Eminem and challenged him to rap battle on MTV's Wild'N Out. But it's Suge Knight's appearance on the song that delivered the final blow. The incarcerated rap mogul, via a recorded phone call, called Em "the new Vanilla Ice" before ending his call with, "Eminem's a bitch!"
The duo's beef stems from Eminem revisiting their decade-long feud on Fat Joe's Family Ties song "Lord Above," which also features Mary J. Blige and producer Dre. On the track, Em brings up his former relationship with Nick's ex-wife Mariah Carey and disses Nick in the process.
"Word to the Terror Squad, Joe, this is all puns aside though/I know me and Mariah didn't end on a high note," Em raps. "But that other dude's whipped, that pussy got him neutered/Tried to tell him this chick's a nut job before he got his jewels clipped/Almost got my caboose kicked, fool, quit, you not gon' do shit/I let her chop my balls off, too 'fore I lost to you, Nick."
XXL has reached out to Eminem's camp for comment. Check out Nick Cannon's tweet below.
See 21 of Hip-Hop's Most Unfortunate Rap Beefs
[gallery galleryid="812:526524" galleryindex="0" template="xxl" showthumbs="yes" enablefullscreen="no" ids="526734,526730,526731,526732,526733,526735,526736,526737,526738,526739,526741,526742,526743,526745,526746,526747,526748,526749,526750,526751,526740,619513"]