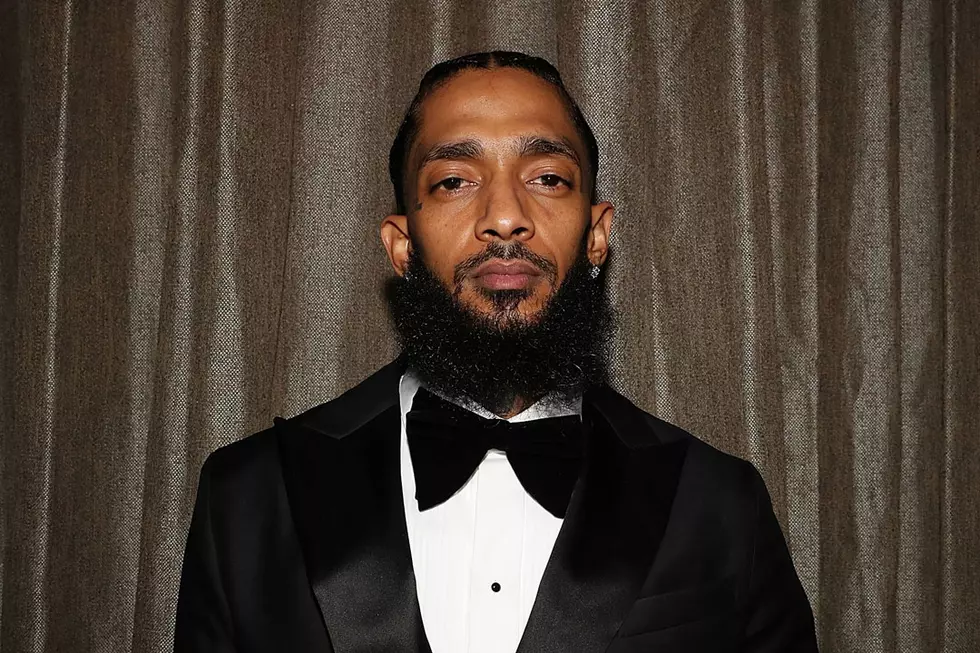 Nipsey Hussle Tower to Be Built Outside His Marathon Clothing Store
Shareif Ziyadat, Getty Images
Nipsey Hussle will soon posthumously receive the literal landmark tribute he deserves.
On Thursday, Lauren London, who is the mother of Nipsey's son, Kross, used her Instagram account to announce that there will be a Nipsey tower erected in the parking lot of his Marathon Clothing Store on Slauson Ave. in Los Angeles. The spot will be shut down until further notice so construction can begin on a tower in tribute to the later rapper who died on March 31, 2019.
"As a notice to the public, we're putting up a gate on Thursday, August 1st, 2019, to enclose the plaza at 3420 W. Slauson Ave. to start the early development stages of the forthcoming Nipsey Hussle Tower to commemorate and honor the life and legacy of Nipsey," reads the store's message London shared on her IG page. "The Marathon Clothing Store will remain closed, but you can shop online at TheMarathonClothing.com."
Also speaking on the tower was David A. Gross, who operated as Nipsey's business partner.
"We – his family and his team – are developing it together," Gross wrote in a Friday Instagram post. "This property, the corner of Slauson and Crenshaw, will always belong to Nipsey's family and people who love him. Nipsey's legacy is defined and solidified by his vision and the things he did while he was here. It will only be expanded by the things he set in motion while alive, but unfortunately will not be here to see. We will share the vision and progress behind the development, as we responsibly and thoughtfully execute, in a manner befitting of Nip Hussle tha Great 🔵🕊"
On Thursday (Aug. 1), construction crews built an 8-foot-high chain-link fence around the L-shaped strip mall where the Marathon Clothing Store and other shops reside, according to a Los Angeles Times report. "The fence is part of a larger plan that got hatched a long time ago so we see that as a continuation of that vision," said L.A. Councilman Marqueece Harris-Dawson.
There have been some safety concerns in the area regarding tourists and passersby who visit the Marathon Clothing store. The LAPD has increased patrols and are helping business owners install lighting in the area following several incidents of tourists being robbed near the location at night.
However, Kahllid Al-Alim, president of the Park Mesa Heights Community Council, told the L.A. Times that he was concerned about how the fence would affect other businesses in the strip mall, as well as people coming to the area to pay tribute to Neighborhood Nip.
"[Fans, tourists and locals should be able to grieve for him] in a way that's reflective of his family's values and what he would have wanted," Al-Alim told the newspaper. "I'm not sure what the fence would accomplish. I hope we can get past the fence real quickly."
You can read Lauren London's post about the Nipsey tower for yourself below.
See A History of Rappers With Streets Named After Them