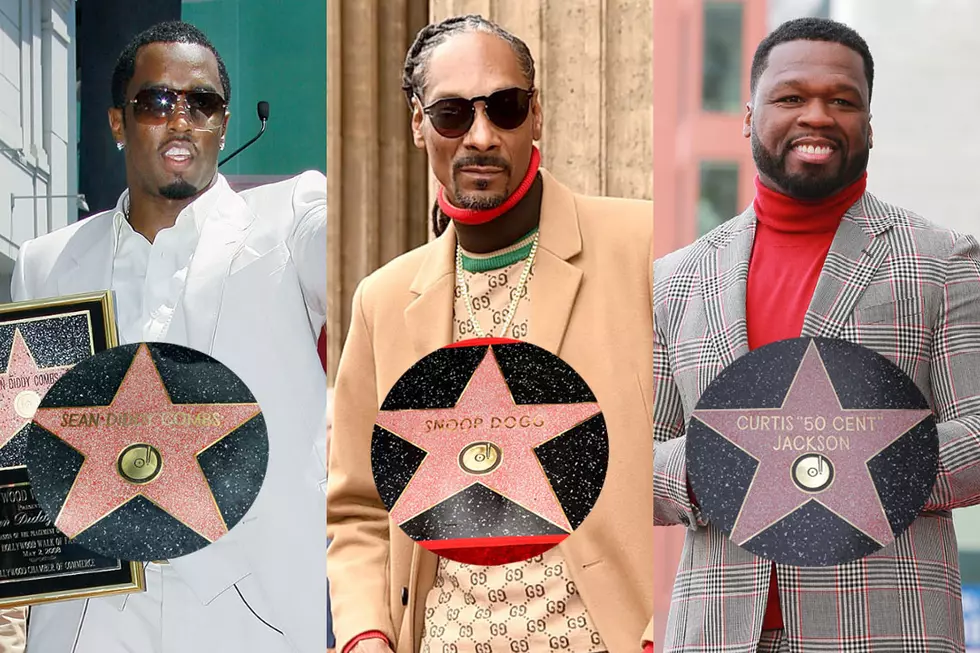 Rappers Who Have a Star on The Hollywood Walk of Fame
Vince Bucci/Kevin Winter/Leon Bennett/Getty Images (6)
Getting a star on the Hollywood Walk of Fame is an honor coveted by many a celebrity but one that few ever get to enjoy. And for rappers, the chances of getting a star on the Walk are even slimmer. To date, only 14 people in the hip-hop space have been blessed with a star.
The most recent rhymers enshrined on the prestigious Hollywood Walk of Fame are Ice-T, who had his star unveiled on Feb. 17, 2023, and Ludacris, who celebrated his achievement just months later on May 18, 2023. Up next was late hip-hop icon Tupac Shakur, who received the honor posthumously on June 7, 2023.
When Ice-T was announced as the next rapper to be enshrined on the world-famous Hollywood Blvd. back in January of 2023, the New Jersey-born, Los Angeles-bred MC took the time to jokingly look back on how far he's come via Twitter.
"When I think about how many times I got arrested in Hollywood," tweeted the rapper-actor about the honor. "This is a trip."
On the day of his unveiling, Ludacris hit up Instagram describing the monumental occasion as one of the best days of his life.
"When the best days of my life are considered, make sure to put this one in the rankings," the Fast and Furious thespian wrote accompanied by a number of photos from that day.
First conceived in 1953 and constructed in 1960 on both Hollywood Boulevard and Vine Street, the Walk of Fame is one of Hollywood's most recognizable public attractions. When it first started, the Walk's inductees were only motion picture stars, but the selection committee opened up its honoree requirements to include singers, athletes and television acts over the years. You don't even have to be a human to score a star on the walk. TV's lovable rescue dog, Lassie, for example, has a star on the Walk.
Queen Latifah was the first rapper to be awarded a star on the Walk in January of 2006 for her contributions to not only music but television and cinema as well. Let's not forget the New Jersey native and Flavor Unit frontwoman has been honored with an Academy Award and received an Emmy.
After the Queen, Diddy was awarded a star in 2008 while Pharrell and LL Cool J got their moments to shine in 2014 and 2016, respectively. LL was actually ushered in by Queen Latifah and Diddy in a trend that continues to carry on as many rappers who receive stars are presented the honor by those who came before them.
After Pitbull became the fifth rapper to receive a star on the Hollywood Walk of Fame in 2016, a new major player in hip-hop has been graced with the honor each year since. The past six years have seen the likes of Ice Cube, Cypress Hill, 50 Cent and Missy Elliot all having their names etched in Hollywood history forever.
When Snoop Dogg received his star in 2018, the South Central, Los Angeles icon delivered his now-famous "I want to thank me" speech that is often quoted throughout pop culture.
"I want to thank me for believing in me," said the Mount Westmore MC from the podium after offering up gratitude to Dr. Dre and the opportunities he presented to Snoop early in his career. "I want to thank me for doing all this hard work. I want to thank me for having no days off. I want to thank me for never quitting. I want to thank me for always being a giver, and trying to give more than I receive. I want to thank me for trying to do more right than wrong. I want to thank me for just being me at all times."
Following 50 Cent and Missy Elliot, who were awarded the honor in 2020 and 2021, respectively, the next hip-hop notables to receive a star on the Hollywood Walk of Fame were DJ Khaled and the late Nipsey Hussle. While Khaled isn't a rapper per se, the God Did producer-exec certainly represents hip-hop in every sense. In fact, when his star was unveiled in 2022, some of the rap game's most elite figures were in attendance to witness the moment including, Jay-Z, Diddy and Fat Joe.
All of these major names rooted in rap music being honored in such a way proves that after 50 years since its inception, hip-hop will leave its mark everywhere.
Here's a look at each person in hip-hop who has received a star on the Hollywood Walk of Fame.
See Every Rapper With a Star on the Hollywood Walk of Fame