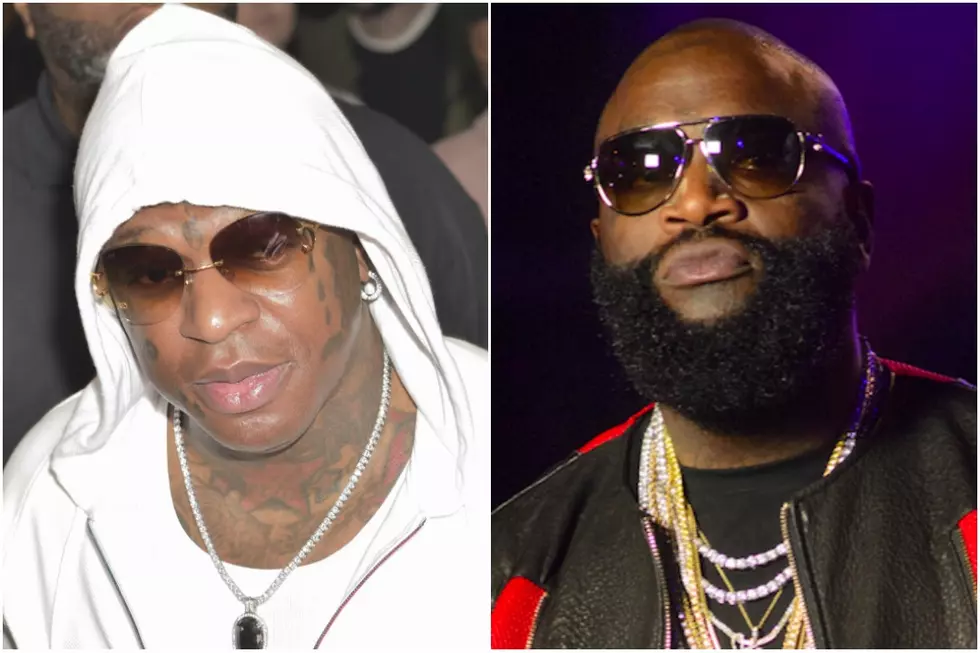 Rick Ross Is Still Asking Whether Birdman Has Paid Lil Wayne Yet
Robin Eckenroth / Jim Bennett, Getty Images (2)
It's been a while since Rick Ross first dissed Birdman on the song "Idols Become Rivals." While the feud appeared to be over, Ross recently called out the Cash Money Records CEO on Snapchat last week after Baby claimed he would settle things with Lil Wayne. Now, it appears Rozay isn't done with Baby just yet.
The Rather You Than Me rapper once again went on Snapchat to call out Birdman, posting his video with a "#PAYDATMAN" hashtag. In the video, Rozay can be heard saying, "It just ran across my mind. And I said, 'Damn, I wonder if Birdman paid that man yet?' Pay that man. Pay that man."
Ross added, "Man, that man sold a million his first week. Goddamn, what a nigga gotta do to get his money? What that man gotta do for you to pay him? Sell 10 million in the first two days? Then you'll pay that man? God damn... Man, let you sweet niggas ride around clean for a long time, man. Gon' get a loan and pay that man. You know what I don't like really the most about this shit is the fact that y'all two fightin' each other instead of y'all two fighting the White people. You switched out on him."
Last week, Birdman went live on Instagram to respond to fans and critics who claim the Cash Money CEO owes money to Weezy. In a lengthy video, Baby called Lil Wayne his son and assured people he would settle things with the rapper.
"I be hearing all you niggas talking about this Lil Wayne shit. Lil Wayne this, Lil Wayne that," he says in the video. "Bitch, Lil Wayne my son. I raised him. He ain't had nothin', and I brought him to be something, and he got some. Bitch, you think I ain't gonna make sure he straight? Suck a nigga dick, bitch. I'm gonna show all you pussy niggas that got in my business, fuck you nigga. I'm gonna show you don't play with me, nigga. I'm what you call a fucking real mastermind."
Check out Rick Ross' Snapchat post below.
See New Music Releases For October 2017