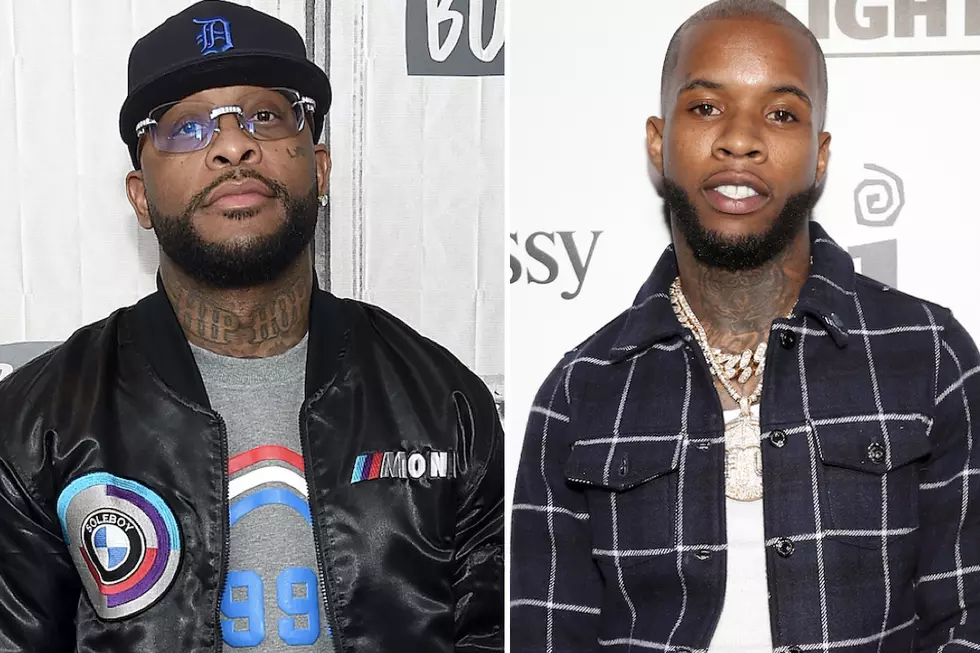 Royce Da 5'9″ Threatens Tory Lanez During Heated Twitter Argument
Jamie McCarthy / Cassidy Sparrow, Getty Images
Another day, another beef.
Royce's issue with Tory started when a fan randomly asked the Detroit rapper if Lanez won his verbal back-and-forth with Lucas. Royce responded "No."
Tory caught wind of Royce's reply and took offense. In a now-deleted tweet, the Love Me Now creator went back to Royce saying, "That's why u rappidy ass niggas always had the wrong conception of a W... shows why y'all careers look how they look now."
Royce replied, "No need to get upset Lil homie. I thought yours was dope too. Somebody like you disrespecting somebody like me is ridiculous tho. Ima let slide because you're 'new.'"
Lanez then came back at Royce and questioned the Detroit rapper's lyrical skills and relevancy in the rap game: "Ain't nobody scared of rolls 57 lyrically. I deleted my comment cuz I'm not gone keep acting like my nigga Joyner didn't do his thing . the old nigga kinda had a point .. what i said came off like some hating shit . People are aloud to think anybody won ... simple."
An agitated Royce shot back at Lanez with a heated tweet: "My nigga ... If you tryna get yo mufhkin ass beat, you doing everything right. I'm giving you the benefit of the doubt because you Canadian. Now go play somewhere before I get upset."
It appears both men have relaxed their Twitter thumbs for now, but if this goes any further, maybe hip-hop will get a Royce da 5'9" and Tory Lanez rap battle.
Check out tweets from this exchange below.
See Hip-Hop Fans Name The Most Disrespectful Diss Track of All Time