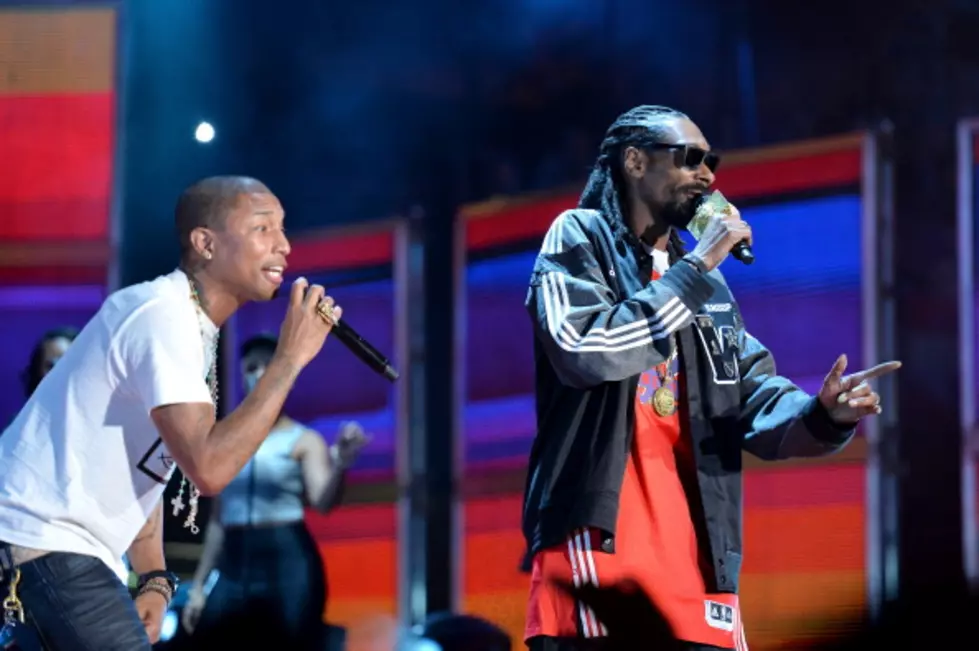 Snoop Dogg Teams-Up With Pharrell Williams For New LP – Tha Wire
(Photo by Mike Coppola/Getty Images)
MTV News reports, Snoop Dogg's teaming up with Pharrell Williams for his 13th studio album.   The 42-year-old rap legend confirmed the good news and said Pharrell is the sole producer on his new project adding,
"It feels good and I'm happy to be back in the studio working with one of my favorite producers and homeboys."  Snoop said of his new project, "It's different — it's completely different than anything we've ever done," " It feels good, sounds good, looks good."
This of course isn't the first time the two have made hit tracks together and hopefully it wont be the last.  Pharrell produced, sang the hook and offered a rap feature on Snoops monster hits "Beautiful" and "Drop It Like It's Hot" and it looks like Uncle Snoop is looking to create that same type of magic with his new project.
By the way, BET reports Snoops new album isn't the only project Pharrell has his super producer hands on.  Learn who else the skateboard P is working with below inside Tha Wire below.
In other news, singer/actress Jennifer Lopez had quite a scare over the weekend.  TMZ reports the Latin diva was a passenger as her BFF, actress Leah Remini drove her new car Saturday afternoon in Malibu, when out of nowhere a drunk driver rear ended.   J-Lo's 6-year-old twins, Emme and Max, and Remini's 10-year-old daughter, Sofia were also in the vehicle at the time of the accident, according the TheBoomBox.  Turns out it was a hit and run, but thankfully J-Lo and Remini were not hurt, but the driver of the other vehicle never stopped to find out.  According to TMZ, police were called out to the scene and shortly after getting a report, found the driver of the other vehicle not far from the scene.  The suspect was arrested for DUI and leaving the scene of an accident.
J-Lo took to Instagram to alert her fans and wrote in the caption: "Sitting at a light, Riding high right before some drunk fool rear ended us in my new whip!!! Thank god everyone ok!!! #GRATEFUL #THANKYOUGOD #DontdrinkandDrive!!!! #cursedthatfoolout #theBronxcameout #dontmesswithmycocnuts #mamabear #leahstayedcalm #thatwasweird."
One thing's for sure the two woman and their children are blessed to walk away unharmed, as some many aren't that lucky.
Now, TheBoomBox reports that was short lived and Ciara is officially done with the rapper.  This time it doesn't look like there's any hope of getting back together, as CiCi gave Future his 15-carat emerald-cut engagement ring back.  You wont believe how much the jaw dropping rings is estimated to worth be worth either.
Listen to Tha Wire now for more info on that and all of the above.  Plus, find out what celebs are celebrating birthdays today.