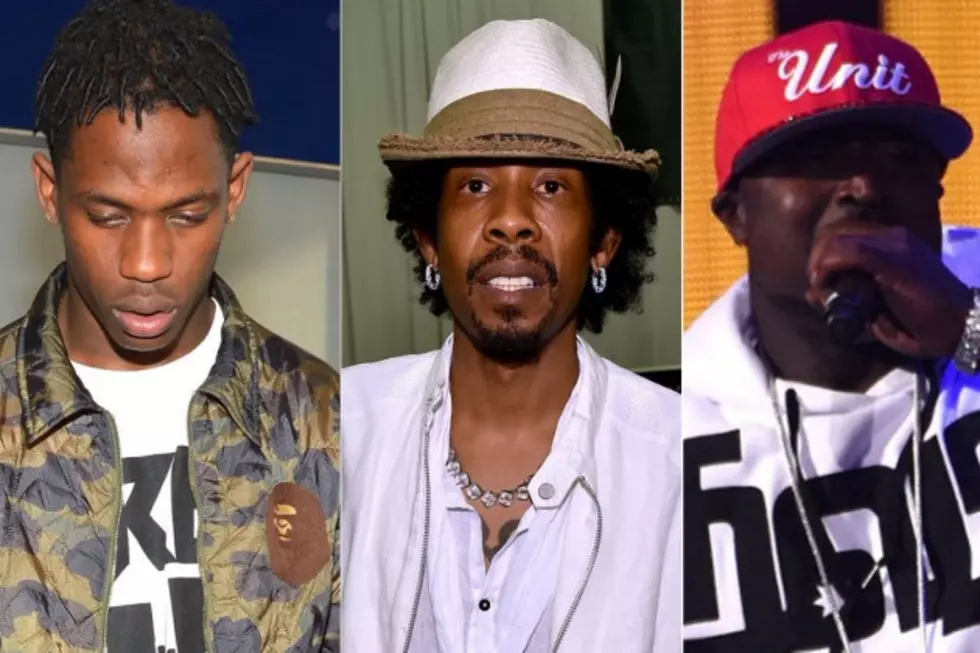 Best Songs of the Week: Travi$ Scott, Big Gipp and Young Buck
Mike Coppoa / Alberto E. Rodriguez / Ethan Miller, Getty Images
Last week, Action Bronson took the top slot in our Songs of the Week with his latest release, "Terry," while Big Sean and Mack Wilds rounded out the list. This week's lineup could possibly trump the previous one as it is filled with plenty of fire power. Big Sean continued to grab listeners attention with his "Me, Myself And I" hijack and Fashawn represent for the indie scene with the release of his sophomore LP, The Ecology, but truth be told, this week produced more news headlines than blockbuster music releases.
There are a few gems hidden in the rough that is the online terrain. Spanning from tried and true vets to relative unknowns, our three selections for this week are a unique, albeit potent mix of musical talent. Let's get to the matter at hand, which is running down the hottest tunes of the past seven days featuring the likes of Travi$ Scott, Big Gipp, Young Buck and more.
1

"Beautiful Lover"

Big Gipp Feat. Eric Benet

Maintaining a career that spans over two decades can take a toll on anyone, let alone someone whose profession is being a recording artist. Take it from Goodie Mob member Big Gipp, who said that he "had fallen out of love with rap" in a statement to fans that accompanies his latest release, "Beautiful Lover."

Featuring R&B singer Eric Benet, the track is an uptempo number dominated by claps and guitar riffs that Gipp manipulates into his own sonic playground. Benet gives an passionate performance on the hook. Produced by DR Freak, "Beautiful Lover" is the first single off Gipp's upcoming album, Zagga, slated for release in spring.

2

"Drug Money"

Young Buck Feat. Troy Ave & 50 Cent

Young Buck has been on quite a tear since his reemergence on the scene following G-Unit's reunion last summer. He showed out on the new tracks that the crew has released in addition to dropping a slew of noteworthy cuts of his own. Fresh off the release of a quick-strike EP earlier this month, the Tennessee native is back with another scorcher, "Drug Money."

Enlisting the help of rising Brooklyn rapper Troy Ave and 50 Cent, the trio link up and cook up some audio dope for the rap fiends enjoyment. Kilos get sold and pies get baked on this aggressive banger of a record that will leave you fixing for continuous replays.

3

"Trippin On Me"

Tommy Brown Featuring Travi$ Scott & Eric Bellinger

Long relegated to the background, music producers are now stepping to the forefront of the industry and making great songs for themselves as well as hot beats for others. The latest example of this is Los Angeles-based producer Tommy Brown, who impresses with his debut release on the mic, "Trippin On Me."

Featuring Travi$ Scott and Eric Bellinger, the inspiration for the song came from his relationship with Travi$ and Bellinger. "Being around them both early in their career and knowing they were both artists starting from ground zero, focused on what they were doing but coming from opposite worlds, I thought it would be cool to bring those two together and work on an idea that would mess people up," Brown states.

Well, Brown's plan was executed to perfection, as this infectious number snags the top spot in this edition of Songs of the Week and hits a homerun on his first at-bat. Not bad at all.