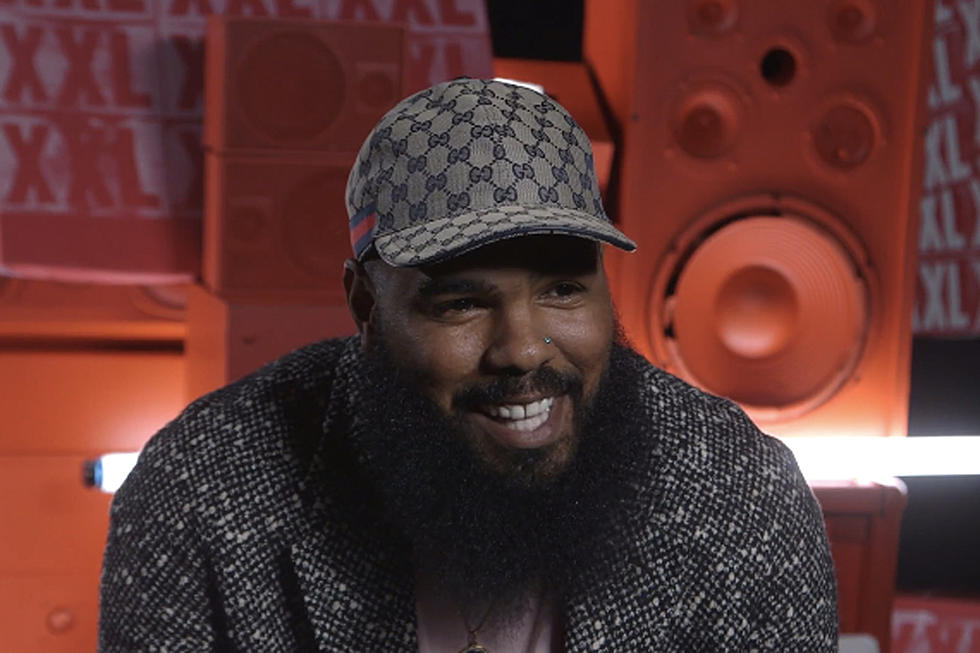 Stalley Focuses on Growing His Brand After Parting Ways With Maybach Music Group
XXL
Stalley may be flanked by a considerable entourage as he makes his way into the XXL office in New York City, but he's adamant about riding solo when it comes to his music. The Ohio native has a fresh outlook on his career and his go-to word of choice to describe how he feels at this moment in life is free.
"The joys for Stalley in 2017 is creative freedom and just having control and being able to do what I want musically and being able to put music out at the pace that I want to put it out and just having no strings attached, you know what I mean?" Stalley tells XXL. "That's probably the biggest joy right now for me."
This freedom stems from parting ways with Rick Ross' Maybach Music Group and the Atlantic Records umbrella. After dropping his debut album, Ohio, and appearing on compilation efforts like Self Made Vol. 3 as part of the label, Stalley's been releasing solo efforts like New Wave and Another Level without the help of his former MMG crew. He prides himself on being a solo artist and his new Supah Mario-produced EP, Tell the Truth: Shame the Devil, reflects the mental space he's in.
"What I've learned in this recording process is I learned a lot about myself," the 35-year-old MC shares. "I grew up a lot, as not only a man but as an artist or should I say not only as artist but as a man. I learned a lot. I took on a new method of recording. I stopped writing. Now I just put on the beat and go in the booth and just rap. And that freedom was something that was just so rejuvenating and it reminded me why I love music, why I love hip-hop and what I grew up loving."
"1 Deep (Solo)," the opening track on the project, gives fans a brief listen into what he's been going through over the last few years. His joy, frustrations and goals going forward are all part of the lyrical story. A look at the cover of Tell the Truth: Shame the Devil, illustrated by Dallas artist Kamau, showcases the battle between his demons and self-conscious.
Stalley gets the truth off his chest with this project but also brings some friends along to assist in the message, namely Migos on the rattling track "My Line" and Young Scooter on the melodic banger "Green Eyed."
Migos impressed Stalley with their work ethic and professionalism when all four of them recorded the track a few years ago. "They blew my mind just how hard they work and how creative they were and how attention to detail they were to everything they did and hands on they were with working with the engineers and everything, man," he recalls. "I was blown away 'cause I'm that myself. I'm such a hard worker, such a tedious worker at that and so attention to detail and to see somebody come in and do the same thing, it was ill. It made the record that much better."
The seven-track EP may be void of names like Rick Ross, Meek Mill and Wale, but creatively, that's fine by Stalley. "I tell people all the time, my stance with me MMG is like before MMG I was a solo artist," he affirms with a smile. "We wasn't NSync; we not a boy band. And I'm still a solo artist. So that's what I'm focused on—building my brand and building myself. There's no hard feelings, there was no bad blood. It's just a conscious decision to take my career in my own hands. I'm someone who works like that, I work better like that, I work better control everything and controlling myself and not waiting on anyone because That's where the frustrations come in."
According to Stalley, born Kyle Myricks, the decision to leave the MMG fold was an easy one. "When I first mentioned [parting ways] to [Rick Ross], it was a while ago and then we tried to work it out and tried to see like what we could do to make it work," the rhymer says. "It was just creative, you know, it wasn't making sense. My relationship with Ross now, I'm not sure. I haven't spoken to him in a while. It's been a minute since we spoke, but the last time we did speak was on good terms and it was all love and wishing each other the best."
He may no longer rep the MMG brand, but that doesn't mean his thoughts aren't with Meek Mill, who's currently incarcerated in a Pennsylvania prison after receiving a two-to-four-year sentence for violating probation. "My thoughts on Meek's situation is it's unjust," Stalley asserts. "It's sad. It's a sad situation for someone to still be paying for something that they done as a child, really, as an adolescent. It's just crazy the justice system is still kinda putting us in a place where we're fighting our way out with our backs against the wall.
"But I know he's a strong dude. I wish him the best. I hope that he gets to come home soon and that our voices are heard. It was great to see the hip-hop community come together and really support him. You had Dr. J, you had the owner of the Sixers, a lot of people came out and showed support of him. And I just hope that's being heard at the top of the totem pole or whoever makes those decisions because it's just unfair."
Looking ahead, Stalley has a busy few months planned for himself with the release of two more EPs in the trilogy. "The project starts very aggressive, very like up front and in your face but it gradually grows more and more...," the bearded Midwest artist says of the next two efforts. "Just like the artwork, it grows more and more with the story as well. So, you'll see me come into myself and mature almost through the music.
"People've never heard me like this before. Never heard me over these type of beats. So, it might shock some of the core fans or the core listeners, but I think they'll understand once they hear it because they'll feel the frustrations and they'll hear the things that they've been seeing over the past few years on record and they'll get a lot of answers to their questions as well. I got some more good features on the next two projects too. They'll be coming within the next three months."
With less than two months left in 2017, the new Atlanta resident is focused on growing his brand and his Blue Collar Gang imprint. Now is Stalley's time to show and prove what he can bring to the table as a truly indie artist. "My goals going into 2018 is just growing—growing my brand, growing Stalley, growing the BCG brand," he says matter-of-factly. "I have a lot of artists that I'm looking forward to helping and putting out. All I want to do is work and show people, I want to let people know that the star that they know is here, is here. I feel like people have been waiting for that moment and that's how we gonna work."
See New Music Releases for November 2017