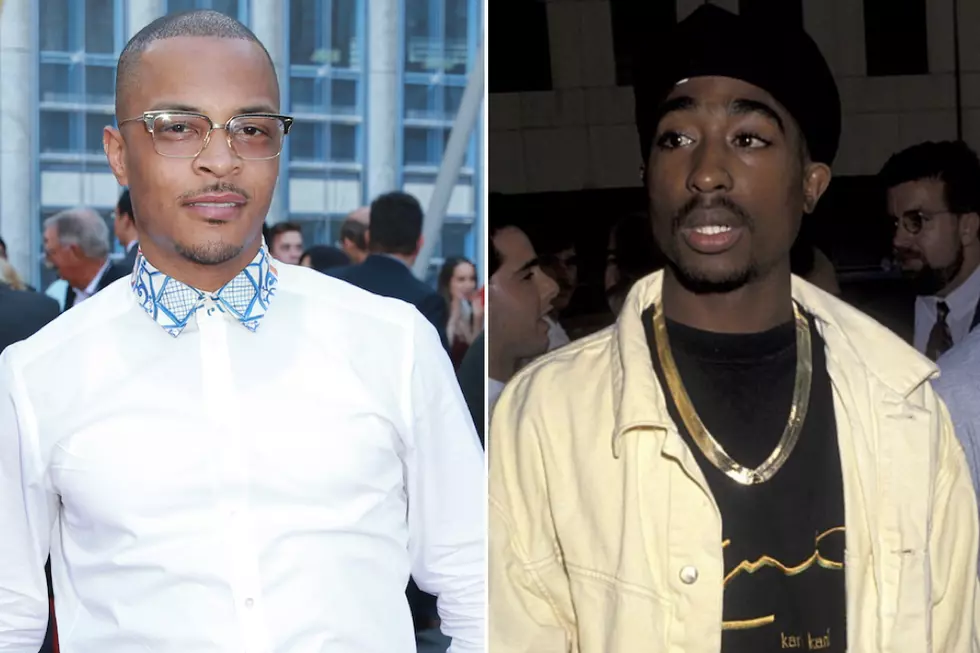 T.I. Thinks He's on Tupac Shakur's Level
Rich Fury, Getty Images / Ron Galella, WireImage (2)
T.I. is arguably one of the most multi-faceted artists in the rap game right now. But is he on the same level as Tupac Shakur? He seems to think so.
On Tuesday (March 12), Tip hopped on his Instagram account and compared himself to the late rapper who died on Sept. 13, 1996. "Any way you slice it... I'm the very best at what I do... impossible to duplicate... accept no substitution!!!" he wrote alongside a photo collage of himself in fashionable attire.
"When you get done buuuulshittin'... Riddle me this.... Who since 2Pac has maintained as much consistent diversity within music genres, businesses & other opportunities?" continued Tip, who famously rocked a Tupac-inspired outfit for the late rapper's 2017 Rock and Roll Hall of Fame induction ceremony. "I'll wait..."
A fan wrote in the comment section, "Jay-Z," to which Tip responded, "Respectfully to da goat...what major feature film he [starred] in?"
While T.I. may have a point, it must be mentioned that, by his own criteria, he's got some competition. Artists like Ludacris and Ice Cube have dabbled in music, film and other business ventures as well.
In XXL's 20th Anniversary Issue, T.I. expressed gratitude for being among a list of rappers who have opened the door for hip-hop to grow beyond the music genre.
"I don't wanna say that I had any more of a contribution than anyone else, just because we all—as storytellers—put our lives to music and offered it to the world. The more we offered, the more they wanted. I think that was just as true for me as it was for anyone else," he said.
"So, I don't ever wanna say or ever think that I had any more of a contribution than anyone else. I think all of us—collectively —the community of hip-hop, the community of us all kinda put our lives on these songs, created these projects over time and used our life experiences," he continued. "And, you know, put slices of it in videos, or used our taste to comment on fashion pieces and did collaboration."
"Every last one of us that did something with a major corporation where people had not done business with hip-hop people in that corporation before," he added. "Each and every last one of us who done that did something to open the door for it being the biggest genre today."
Check out T.I.'s Instagram post where he proclaims that he is on Tupac Shakur's level below.
See Rappers With Acronyms in Their Name