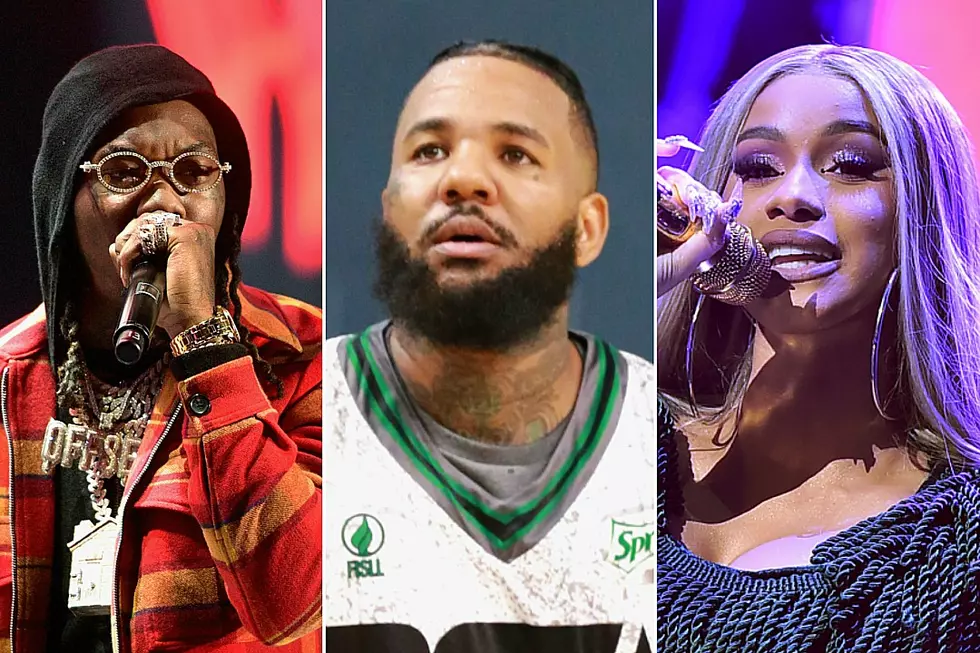 The Game Wants Cardi B to Forgive Offset
Matt Winkelmeyer / Leon Bennett / Theo Wargo , Getty Images (3)
Following Offset's apologetic stunt during Cardi B's Rolling Loud performance, Game used an Instagram video to try to convince Bardi to forgive her estranged husband for allegedly entertaining other women.
"This message is for Cardi B in my nigga Offset's defense," The Game says in a video he posted on Sunday (Dec. 16). "I really feel like y'all need to get back together. I feel like y'all are a family unit. A) you've got a beautiful, beautiful brand new baby. B) It's the holidays and C) y'all are a family unit man. You can't break up man."
"So Cardi b just forgive a nigga," The Game continued. "We're all guilty of entertaining women, texting women but he didn't do it. he didn't go through with it it's the holiday season and cardi b without offset is kinda like Jay-z without beyonce. it just don't make sense. Y'all are a unit. I feel like y'all are soulmates. Y'all gotta get it back together especially for the holidays."
Along with The Game, 50 Cent recently advised Cardi to take Offset back. 21 Savage also offered his support for Offset when he let the rapper come onstage for his 2018 Rolling Loud Los Angeles set to lead the crowd in a chant imploring Cardi to forgive the father of her daughter Kulture.
Watch The Game make his case about Offset to Cardi B below.
See Cardi B's Different Looks in 2018