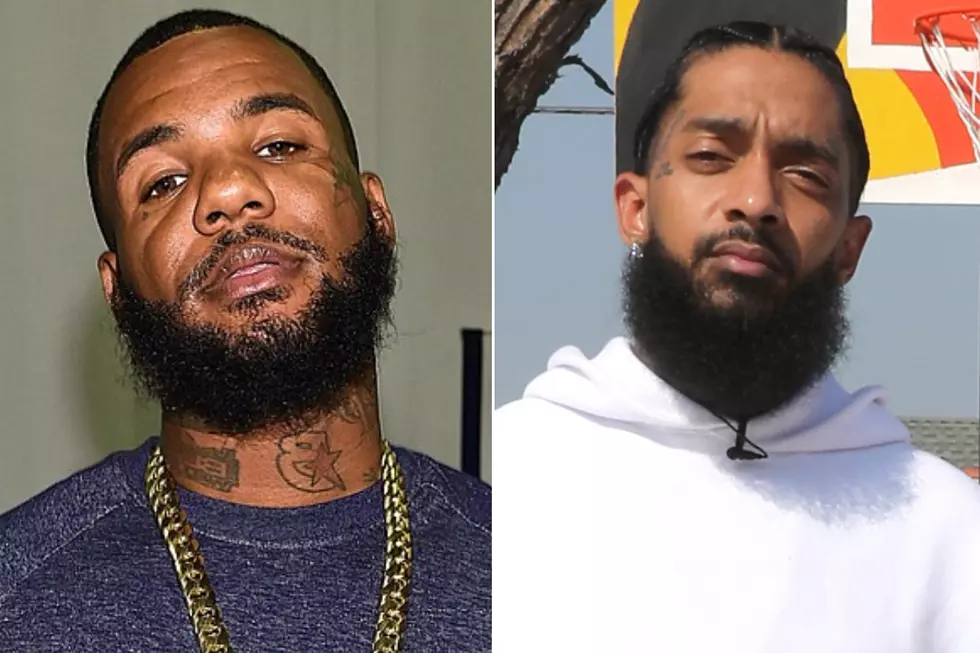 The Game Calls Out L.A. Streets for Nipsey Hussle's Death: "L.A. on Some Bulls@!t"
Shareif Ziyadat / Jerritt Clark , Getty Images (2)
Hours after the shooting, Game posted a video of himself driving down W Slauson Avenue towards the slain rapper's Marathon clothing store onto his Instagram story this morning (April 1). As he speeds over to Nip's spot, Game vents about how disgusted and startled he is by the tragic event.
"Driving down Slauson at 4 a.m. because I can't sleep over what happened to Nip man. Why niggas do the homie like that man," Game says as his voice begins to break. "At his own muthafuckin' shop. In his own fucking hood man. He was trying to do good for these niggas man. Shit's crazy man I can't even fucking sleep man. I'm fucking disgusted by this shit man. That's how y'all do ya homie? In his own city! In his own hood! In his own place of business? that's how niggas do niggas. L.A. on some bullshit homie ON ME!"
The Game's late-night trip to The Marathon store wasn't a random act of sadness or anger. According to Nipsey himself, both Los Angeles rappers met on the corner of Crenshaw and Slauson when Nip was handing out mixtapes as an aspiring rapper. It's also the near the same place Nipsey was shot at on Sunday afternoon.
"I actually met The Game in my hood on Crenshaw and Slauson," Nipsey recalled during a February 2018 episode of Desus & Mero. "I was outside on the block with 20 of my homies. I see the Range Rover and we all walked up to his car. I handed him my CD. On my daughter, he had a glock on his lap. I'm like 'I'm from the 60's this is my music check me out.' [Game] was like, 'I'm gonna do that, bro.' Game's always been open arms with me."
Authorities have yet to announce a suspect in the case, but law enforcement sources tell TMZ that the shooting was a gang-related one.
Watch The Game's emotional talk about the late Nipsey Hussle below.
             See 19 Rappers Who Were Shot While They Were in the Spotlight