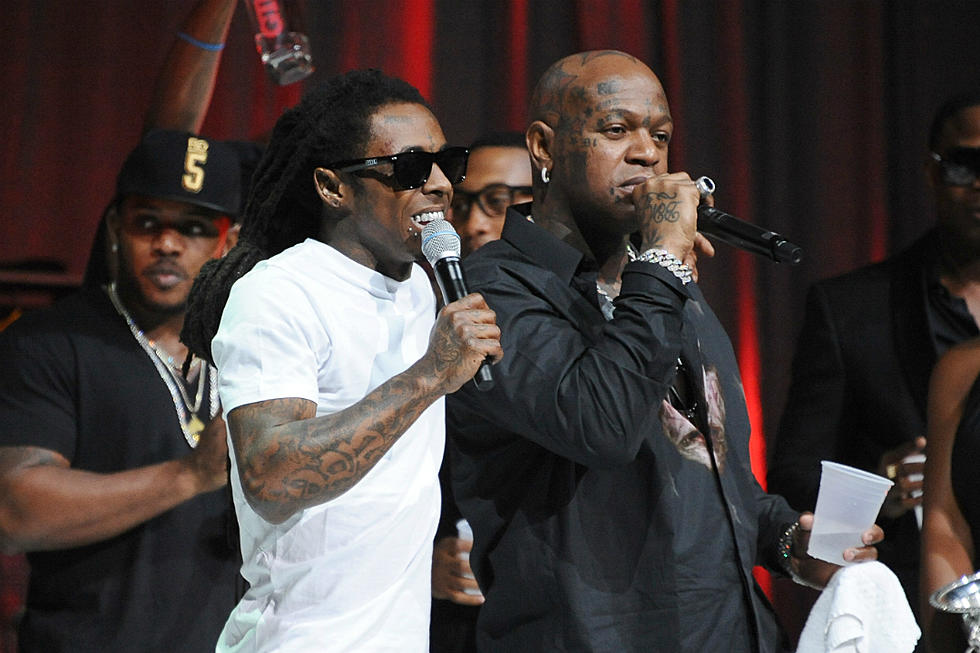 Here's a Timeline of Lil Wayne and Birdman's Relationship
Gary Gershoff, Getty Images
Birdman's Cash Money Records has a storied history in the pantheon of rap labels and through the years, Lil Wayne has undoubtedly been the team's franchise player. But, as has been documented, Baby and Weezy's relationship is anything but the average owner/artist union.
Stunna initially met Weezy when he was 8 years old and became a mentor and father figure to the aspiring spitta whose own father was not around and whose stepfather was later murdered. Three years after their meeting, Weezy made his first official introduction on the label. As Cash Money spread its wings and became a nationwide powerhouse, so did Wayne, ascending into best rapper alive status in the minds of many. Even as labelmates departed for other recording pastures, Tune remained loyal to his "daddy" for two decades.
In 2015, following murmurs that he was disgruntled with the label, Wayne sued Cash Money for $51 million, claiming he had been shorted on royalty payments and not given advances. From there, things went all the way left with Wayne seemingly going on a multi-year "Fuck Cash Money" crusade, while others like Rick Ross and Pusha-T famously weighed in.
Now that all seems to be right between the previously inseparable pair, XXL dips into the history books and traces the ups and downs of Birdman and Birdman Jr.
Lil Wayne and Baby Meet

1991

Birdman and Lil Wayne initially meet when Weezy is only 8 years old via another rapper already on the label named Lil Slim.

Wayne's mother is not initially receptive to her son being associated with a budding CEO with notoriety in the streets. Yet after Wayne continues to come around, Birdman eventually takes the preteen rapper under his wing.

"I just wanted to help him because I didn't want him to live my life," Birdman told Ebro Darden in 2018 about initially meeting . "I just saw some young bro with some talent and I wanted to help him. And that's what I did."

Lil Wayne Signs to Cash Money Records

1995

At the age of 12, Lil Wayne joins the burgeoning label as part of the duo B.G.'z, with B.G. The two drop their only album together, True Story, in 1995. Wayne goes on to join the label's Hot Boyz quartet along with B.G, Juvenile and Young Turk in 1997.

The same year, Wayne's stepfather, Reginald "Rabbit" McDonald, is killed. As a result, Birdman takes on even more of a father figure role on the young MC's life.

In November 1998, Lil Wayne signs an official solo contract with Cash Money Records.

Lil Wayne Launches Young Money Entertainment

Feb. 2003

In February 2003, Wayne launches his Young Money Entertainment label, a joint venture with Birdman's Cash Money Records. Weezy owns 49 percent of the company with Cash Money holding the remaining 51 percent and having the responsibility to fund the sister operation. All profits from the label are to be split accordingly.

Lil Wayne Contemplates Jumping Ship

2005

By 2005, Lil Wayne is the only person left on the Cash Money roster from the label's breakout years. Following the release of his album Tha Carter, Wayne flirts with the idea of signing with other labels, most notably Jay-Z's Roc-A-Fella Records.

According to Wayne, Hov only offers him $175,000 to join his ranks. Needless to say, he turns the offer down. After a renegotiation of his contract, Weezy sticks with Cash Mula.

Kevin Winter, Getty Images

Kevin Winter, Getty Images

A Photo Surfaces of Lil Wayne and Baby Kissing

Oct. 2006

A shocking picture surfaces that shows Lil Wayne and Birdman engaged in a kiss. The Internet goes nuts. Birdman defends the pic a short time later during an interview with New Orleans' Q93 Radio.

"Before I had a child, Wayne and all of them were my children, you heard me?" he says. "Wayne to me is my son—my first-born son—and that's what it do for me. That's my life, that's my love and that's my thing. That's my lil' son. I love him to death."

'Like Father, Like Son' Album Drops

Oct. 2006

Lil Wayne's newly-configure contract stipulates that he drop two duet albums. He fulfills one of the obligations by recording the Like Father, Like Son project with Birdman. The LP features the breakout tracks "Stuntin Like My Daddy" and "Leather So Soft."

Lil Wayne Announces He Wants Off of Cash Money

Dec. 2014

Frustrated by the constant hold up on his album Tha Carter V—and apparently more issues that were not publicly known at the time—Wayne shockingly vents on Twitter about wanting off of the only label home he's ever known.

"I want off this label and nothing to do with these people but unfortunately it ain't that easy," he tweets.

Lil Wayne Sues Cash Money Records for $51 Million

Jan. 2015

Kevin Winter,Getty Images

Kevin Winter,Getty Images

Lil Wayne Disses Birdman in Young Money Cypher

March 2015

Birdman Denies Being Behind Lil Wayne Shooting

Aug. 2015

In April 2015, Lil Wayne's tour bus is shot at on an interstate in Atlanta following a club performance. The suspect in the shooting, Jimmy Carlton Winfrey, has ties to Young Thug, and the timing of the situation leaves people speculating that Birdman is involved.

Baby denies the rumors. "No legal battle would ever make me try and kill or hurt my son," he tells TMZ.

Matt Winkelmeyer, Getty Images

Matt Winkelmeyer, Getty Images

Lil Wayne and Birdman Reunite at Drake's New Year's Eve Party

Jan. 2016

Kevin Winter/Matt Winkelmeyer, Getty Images (2)

Kevin Winter/Matt Winkelmeyer, Getty Images (2)

Lil Wayne Says He'll Never Work With Birdman Again

Sept. 2016

Wayne appears on Skip Bayless and Shannon Sharpe's Undisputed show on Fox Sports and is asked about his tattered relationship with Birdman and if he will work with the Cash Money CEO again. Weezy's response is simple: "No sir. Give me mine and I'll walk off free."

Ethan Miller, Getty Iamges

Ethan Miller, Getty Iamges

Birdman Claims 'Tha Carter V' Is Definitely Dropping

Jan. 2017

"It's definitely coming out," the Cash Money boss tells Travis Scott on .wav radio. "The situation with me and my son, I'm going to put it all behind us and just let it move forward. Wayne is one of the best artists ever to do the game, and I want to see him continue to do what he been doing, and I'm going to support whatever he's doing."

Matt Winkelmeyer, Getty Images

Matt Winkelmeyer, Getty Images

Lil Wayne and Baby Reunite Again

March 2018

Ethan Miller / Matt Winkelmeyer, Getty Images (2)

Ethan Miller / Matt Winkelmeyer, Getty Images (2)

Lil Wayne Released From Cash Money Contract

June 2018

Wayne's attorney Ron Sweeney issues a statement on the victory which reads: "Per our settlement agreement, the matter has been amicably resolved to the satisfaction of all parties. In terms of the particulars, we're prohibited legally from saying anything further. I can say that my client is happy. He is his own man, a man that owns his assets, his music and himself. At some point, Wayne will let his fans know what's going to happen next."

Ronald Martinez, Getty Images

Ronald Martinez, Getty Images

Birdman Apologizes to Lil Wayne at 2018 Lil Weezyana Fest

Aug. 2018

With their legal issues a thing of the past, Birdman joins Wayne onstage at the rapper's 2018 Lil Weezyana Fest in New Orleans. During a break in the action, Stunna offers Weezy F. Baby a heartfelt apology.

"It feel amazing, bruh, to be home fucking with my son," Birdman announces to the packed crowd. "I love that nigga to death. I don't know what y'all know but I know what the fuck I know and I know what I feel about what I know. I knew that day was gon' come, but I didn't know when it was gon' come. But this nigga right here; the best nigga, the realest nigga, the illest nigga. And I wanted to apologize to my nigga worldwide to let him know that, you heard me? That nigga put his life in my hands and I'ma keep it real with that nigga and we gon' do this shit 'till the day we die. It's YMCMB for death. Fuck you, you heard me?"

State_Of_Shine via Instagram

State_Of_Shine via Instagram