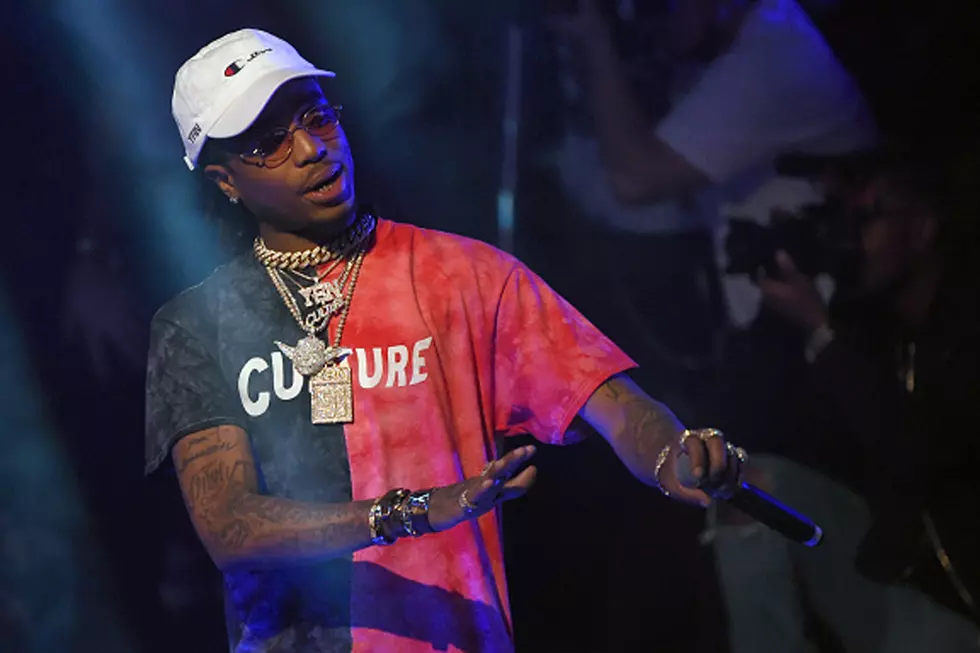 Watch This Ridiculous Footage of Quavo Throwing a Football Into a Basketball Net
David Becker, Getty Images
Quavo's arm strength and accuracy have not waned. The former high school quarterback showed off his skills at the shoot of a Champ Sports commercial. In a video captured during a break on set, Quavo throws a football into basketball net that is pretty far away from him. The athletic display shows that the Atlanta rapper's quarterbacking past is no joke.
While many people dream of playing pro sports, Quavo is surely happy about how life turned out for him. He and his Migos brethren scored the No. 1 song and album in the country earlier this year. That success helped the trio land a deal with Motown and Capitol Records.
"This is a very exciting time for QC and Migos," Quality Control CEO Pierre Thomas said. "We have been independently building our brand, and though our partnership with Motown/Capitol they have shown us that this is the right home to take our business to a global platform."
Big things are happening for Quavo outside of the music world too. The rapper is rumored to be dating Chris Brown's ex Karreuche Tran. The model was spotted backstage at a Migos concert Saturday night (April 8) at Gulf Coast Spring Fest in Biloxi, Miss. Tran was reportedly seen embracing Quavo and exited the venue in the same vehicle as the Georgia MC.
Watch Quavo throw a football through a basketball net below.
133 Rapper-Launched Record Labels From the Past and Present