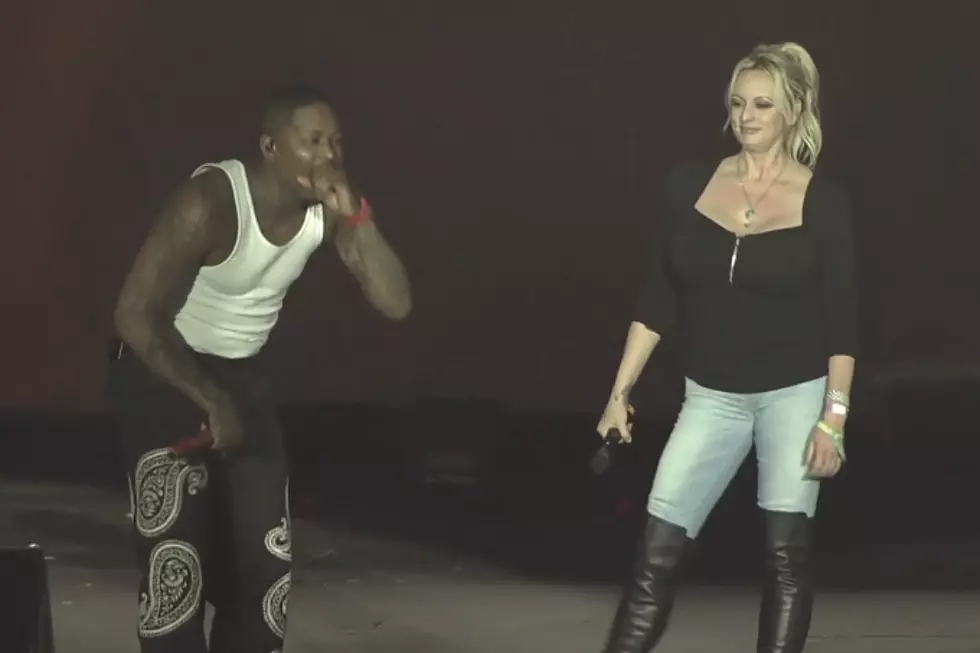 YG Brings Out Adult Film Star Stormy Daniels to Perform "F*!k Donald Trump" at Tyler, The Creator's 2019 Camp Flog Festival: Watch
connrrsy via Reddit
YG recruits adult film star Stormy Daniels for an unexpected shade fest directed at President Donald Trump.
On Sunday night (Nov. 10), YG had Stormy help him deliver his usual mid-concert ritual—which involves having a fan come up on stage to denounce the president—to Tyler, The Creator's 2019 Camp Flog Gnaw Carnival before he performed his Nipsey Hussle-assisted song "Fuck Donald Trump."
"My name is Stormy Daniels, and I'm the reason Donald Trump is fucked!" Daniels told the audience. For his part, YG appeared to suggest that he didn't know who Stormy was, but needless to say, it's unlikely that's actually the case.
For the unfamiliar, Stormy Daniels is the adult film star whom President Trump allegedly told his former lawyer Michael Cohen to pay off in order to conceal an alleged affair Trump and Daniels had during the early years of his marriage to Melania Trump. The 4Real 4 Real rapper. Since that revelation, Daniels has intermittently shaded Trump, and this is just the latest example.
While Daniels had no qualms about denouncing the polarizing president, there has been at least one fan who turned down the chance to do so. A few weeks ago, a fan who was called up to the stage at YG's set at the 2019 Mala Luna Music Festival in San Antonio, Texas declined to scream out the song's hook. After that, YG asked him to leave the stage. Video of the interaction went viral and even prompted a response from the White House.
"Another example of the tolerant left," White House press secretary Stephanie Grisham said in a sarcastic tone.
Check out YG's moment with Stormy Daniels for yourself below.
Read 10 Wild Stories That Took Place During Hip-Hop Tours