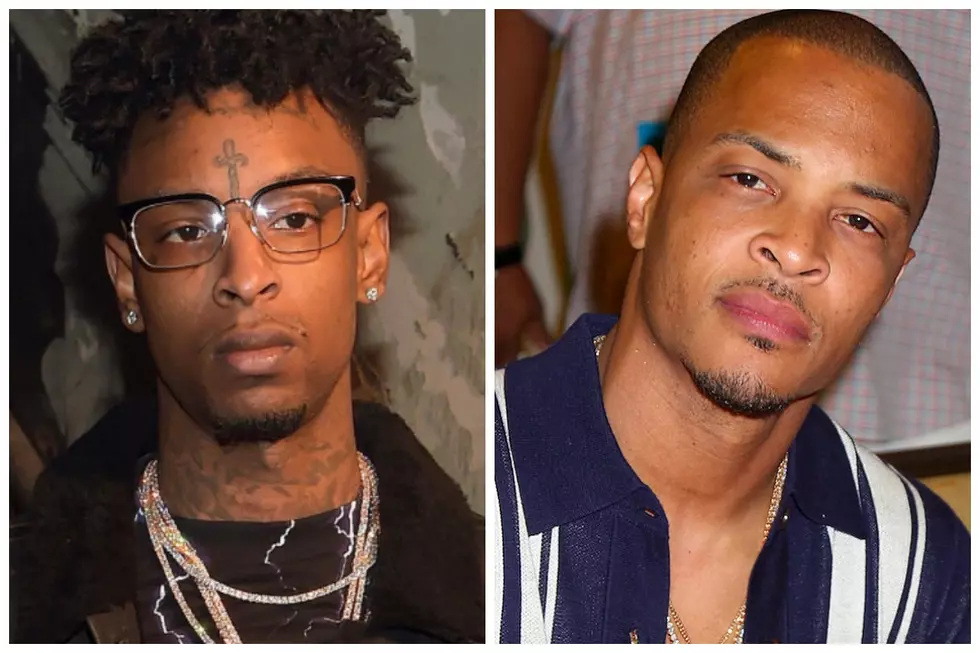 21 Savage Rebukes 'OG Rappers' for Attacking Hip Hop's New Generation, T.I. Responds
Jason Kempin/Maury Phillips, Getty Images
21 Savage offered some advice to O.G. rap critics yesterday—basically asking rap's elders to stop being hypocritical.
The new versus old rap debate is nothing new, becoming fodder for hip-hop discussions over the past year or so, especially with Pete Rock, Lil Yachty, 9th Wonder, Ebro and even Kendrick Lamar finding themselves in the midst of the conversation with various points of view. This latest round came courtesy of Pete Rock, who again expressed his discontent with the new generation of rappers and their proclivity for druggie lyrics, particularly in light of the recent death of 21 year-old rapper, Lil Peep. While Pete aimed at Waka Flocka's comments about the elders not passing down hip-hop history, 21 Savage stepped into the fray with a lengthy post discouraging "OG rappers" from being so hyper-critical of the new generation.
"They say we make drug user music like making drug selling music is better[.] what's the difference?" 21 Savage wrote on Twitter. "What about the fact that rap is the number one genre of music right now[,] none of y'all acknowledge that."
Although the Atlanta rapper is firmly part of the new generation of rappers that are frequently criticized, and often raps about popping Xanax and Percocet, his lyrics have widely been acknowledged as containing more depth and insight into present-day impoverished black communities. Stark and minimalist, his record Issa Album, is one of the cornerstones for the discussion about new rap, it's influence, and whether or not it's simply a reflection of the community, as 21 says it is.
"If the message in the previous generation of rap was so good why did so many of our parents abandon us for crack?" 21 asked in his note. "Why we still killing each other? Don't use us as the scapegoat! Our music is a reflection of what's going on in our community and all we doing is using our talent to escape that community."
Veteran rapper T.I. has since responded on Instagram, basically siding with his younger Atlanta rap peer.
"@21savage lil bro speaking real truth tho. The fact of the matter is... There's been good, bad, great, mediocre artists,&otherwise in EVERY generation .... Even ours(2000s) , The Founding era (80s) & the golden era of the 90s," he wrote, citing artist like Dr. Dre and Three Six Mafia as hyping up drug use.
"Regardless of the subject matter...This is THEY TIME. Couldn't nobody tell us how to run ours, or make us sound how they thought we should... Live ya life & do ya stuff young'n," he wrote, "Just bare with us,&try to understand .... y'all niggaz kinda different & take some getting used to. As the elders gotta understand they're SUCCESS JUSTIFIES the CHANGE. The Numbers DONT LIE!!!"
This isn't a debate that's likely to end any time soon, that's for sure. Check out both 21 Savage's and T.I.'s posts below.
The 25 Greatest Rap Albums of 1996