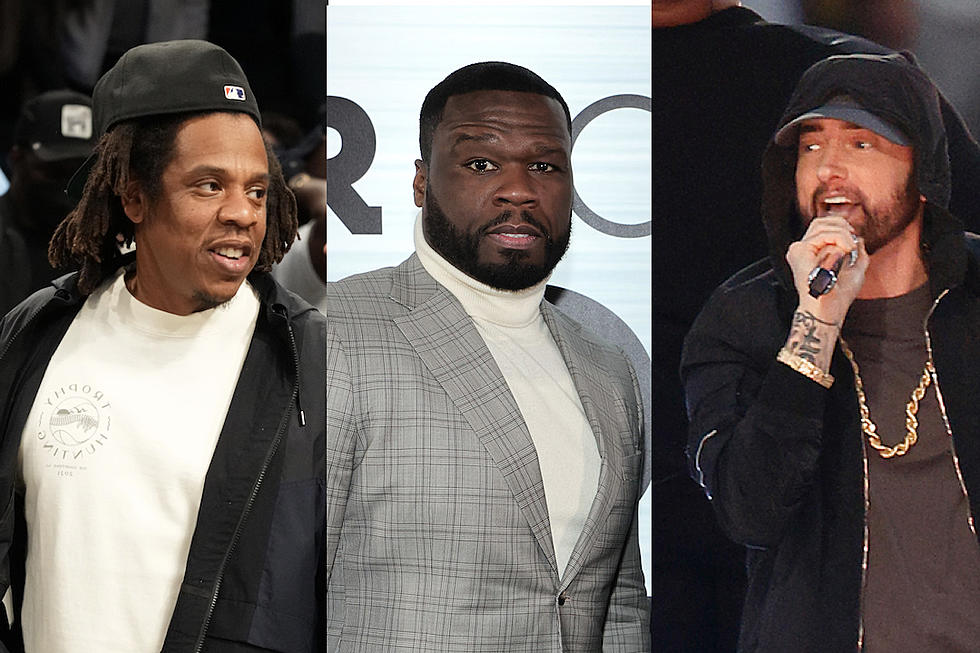 50 Cent Slams Jay-Z After It Was Revealed Eminem Wouldn't Play 2022 Super Bowl Without Fif
Jesse D. Garrabrant / Jamie McCarthy / Ronald Martinez, Getty Images (3)
50 Cent recently slammed Jay-Z on social media after it was revealed that Eminem wouldn't perform at the 2022 Super Bowl halftime show without Fif.
On Sunday (April 17), the Power co-creator jumped on his Instagram page and shared a screenshot of an XXL headline about N.O.R.E. revealing on a Drink Champs episode with Snoop Dogg that Jay, who is the NFL's Live Music Entertainment Strategist, told him that Eminem wasn't going to perform at the Super Bowl LVI halftime show without 50.
"Why would he have to say that should be the question?" Fif wrote, speculating that possibly Hov wasn't letting 50 perform at the Super Bowl before Em forced his hand. "NORE Your big homie is running around trying to look like a gay painter. LOL," he added, along with a palette emoji and painter emoji.
50 didn't stop there. The former G-Unit leader called out Jay in another IG post for how he worded Eminem as "the White guy," according to N.O.R.E.'s story. 50 posted a two-photo collage of the late painter Jean-Michel Basquiat and an image of Jay pretending to be Basquiat and rocking the same dreadlock hairstyle for Halloween back in 2014.
"Why did he say the white boy, why he didn't say the biggest rap artist in the world? Happy Easter! man enjoy the holidays," he wrote with a laughing emoji.
This all stems from N.O.R.E. detailing his story to Snoop on Drink Champs that Jay told him that Eminem requested 50 to join the Super Bowl LVI halftime show lineup or else he's not performing. In the end, Dr. Dre brought out Snoop, Em, 50, Mary J. Blige and Kendrick Lamar for a phenomenal Super Bowl performance.
"I said to Jay-Z, I have to ask this straight up. 'Who is gonna perform at the NFL?' And he [Jay] said to me—and I'm sorry for everybody who don't understand—and he [Jay] said, 'the White guy called for 50 Cent,'" he recalled. "I said, 'Who is the White guy? Jimmy Iovine? And he said, 'No, Eminem called directly for Fifty and he said, I can't do it if I can't bring 50 with me.'"
N.O.R.E. concluded: "That's spiritual."
Snoop responded, "Of course, that's his guy! And guess who's Dre's guy? It's me!"
That's when N.O.R.E. and the whole podcast team applauded Em and Snoop with handclaps for their loyalty to 50 cent and Dr. Dre, respectively.
You can watch the Drink Champs podcast with guest Snoop Dogg below.
See Wild Rap Beefs That'll Probably Never Be Resolved
Pusha-T and Drake, YG and 6ix9ine, and more.